Classic One Adult / Children's Horse Riding Jodhpur Boots - Black
Product Code : 2961 8206478
Designed for (young) beginner riders in all weather conditions wanting versatile leather boots that are easy to put on.
Long elasticated boots. Boots that are pleasant to wear and developed in tandem with the Classic half chaps.
---
Color : BLACK
UK C13 - EU 32 Online stock 0
UK 1 - EU 33 Online stock 0
UK 1.5 - EU 34 Online stock 0
UK 2.5 - EU 35 Online stock 0
UK 3 - EU 36 Online stock 0
UK 4 - EU 37 Online stock 0
UK 5 - EU 38 Online stock 0
UK 5.5 - EU 39 Online stock 0
UK 6.5 - EU 40 Online stock 0
UK 7 - EU 41 Online stock 0
UK 8 - EU 42 Online stock 0
UK 8.5 - EU 43 Online stock 0
UK 9.5 - EU 44 Online stock 0
Home Delivery : Between 3 and 5 days
Pick up in-store
Service not available
Home Delivery
Select Your Location
FREE for orders above HKD499
Currently not available online. Click to check the stock in stores. Check stock in stores !
Our Stores
Notify me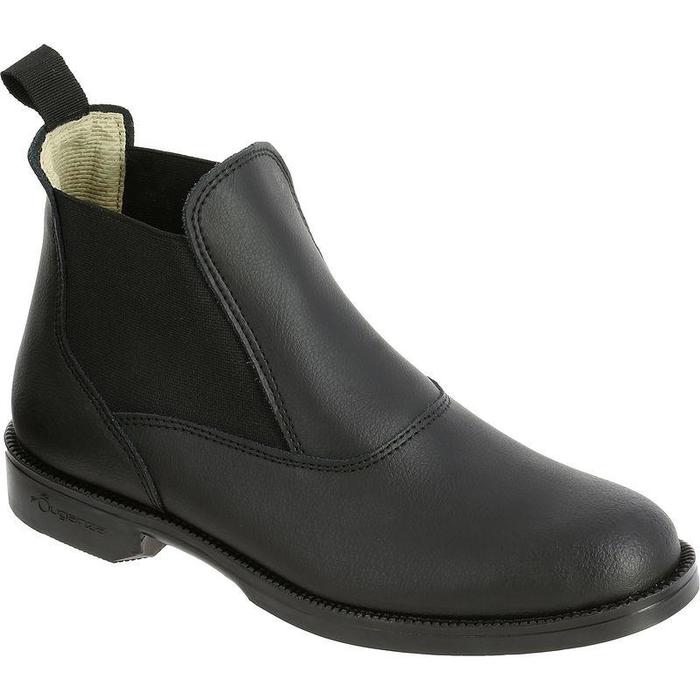 Your request has been registered
You will receive a notification at :
­
Please validate the captcha
Products benefits
Fitting comfort
Cambrelle insole to absorb more perspiration.
Durability
Sole stitched at the front and glued.
Fit
Holds the ankle in place thanks to elastics on the sides.
Ease of use
2 wide elastic side panels and rear tab make them easier to slip on.
Care advice
Clean regularly with a damp sponge and glycerine soap.Do not leave to dry near a heat source. Tongue and top part of the upper made of synthetic material for easy care.
How to use
Split leather horse riding jodhpur boots that are perfect for beginners who want durable footwear to go with their CLASSIC 100 half-chaps.
Ease of use
The elastics on the side make them easy to put on. Very easy to clean using glycerine soap.
Style:
Boots that go perfectly with the CLASSIC 100 half chaps.
product.productCharacteristic.Warranty.title
2 years
Product concept & technology
Maintenance advice
Clean with a soft brush.
STORAGE ADVICE
Store in a dry place and do not dry near a heat source.
Product Composition
Upper of : 100.0% Leather - Cow Outer sole of : 100.0% Rubber - Butadiene Rubber (BR) Lining and sock of : 100.0% Polyamide 6 (PA6)
Upper of : 100.0% Leather - Cow Outer sole of : 100.0% Rubber - Butadiene Rubber (BR) Lining and sock of : 100.0% Polyamide 6 (PA6)
Upper of : 100.0% Leather - Cow Outer sole of : 100.0% Rubber - Butadiene Rubber (BR) Lining and sock of : 100.0% Polyamide 6 (PA6)
Upper of : 100.0% Leather - Cow Outer sole of : 100.0% Rubber - Butadiene Rubber (BR) Lining and sock of : 100.0% Polyamide 6 (PA6)
Upper of : 100.0% Leather - Cow Outer sole of : 100.0% Rubber - Butadiene Rubber (BR) Lining and sock of : 100.0% Polyamide 6 (PA6)
Upper of : 100.0% Leather - Cow Outer sole of : 100.0% Rubber - Butadiene Rubber (BR) Lining and sock of : 100.0% Polyamide 6 (PA6)
Upper of : 100.0% Leather - Cow Outer sole of : 100.0% Rubber - Butadiene Rubber (BR) Lining and sock of : 100.0% Polyamide 6 (PA6)
Upper of : 100.0% Leather - Cow Outer sole of : 100.0% Rubber - Butadiene Rubber (BR) Lining and sock of : 100.0% Polyamide 6 (PA6)
Upper of : 100.0% Leather - Cow Outer sole of : 100.0% Rubber - Butadiene Rubber (BR) Lining and sock of : 100.0% Polyamide 6 (PA6)
Upper of : 100.0% Leather - Cow Outer sole of : 100.0% Rubber - Butadiene Rubber (BR) Lining and sock of : 100.0% Polyamide 6 (PA6)
Upper of : 100.0% Leather - Cow Outer sole of : 100.0% Rubber - Butadiene Rubber (BR) Lining and sock of : 100.0% Polyamide 6 (PA6)
Upper of : 100.0% Leather - Cow Outer sole of : 100.0% Rubber - Butadiene Rubber (BR) Lining and sock of : 100.0% Polyamide 6 (PA6)
Upper of : 100.0% Leather - Cow Outer sole of : 100.0% Rubber - Butadiene Rubber (BR) Lining and sock of : 100.0% Polyamide 6 (PA6)