Fit 3 Women's Fitness Inline Skates - Black/Fuchsia
Product Code : 6018 8216988
Designed for beginners wanting to do inline skating and touring on asphalt over short distances.
Skates pairing the comfort of shoes with the right glide quality so that you can start skating safely.
---
UK 3 - EU 36 Online stock 0
UK 4 - EU 37 Online stock 0
UK 5 - EU 38 Online stock 0
UK 5.5 - EU 39 Online stock 0
UK 6.5 - EU 40 Online stock 0
Home Delivery - :
Pick up in-store
Service not available
Home Delivery -
Select Your Location
FREE for orders above HKD499
Currently not available online. Check the stock in stores on product page. Check stock in stores !
Our Stores
Notify me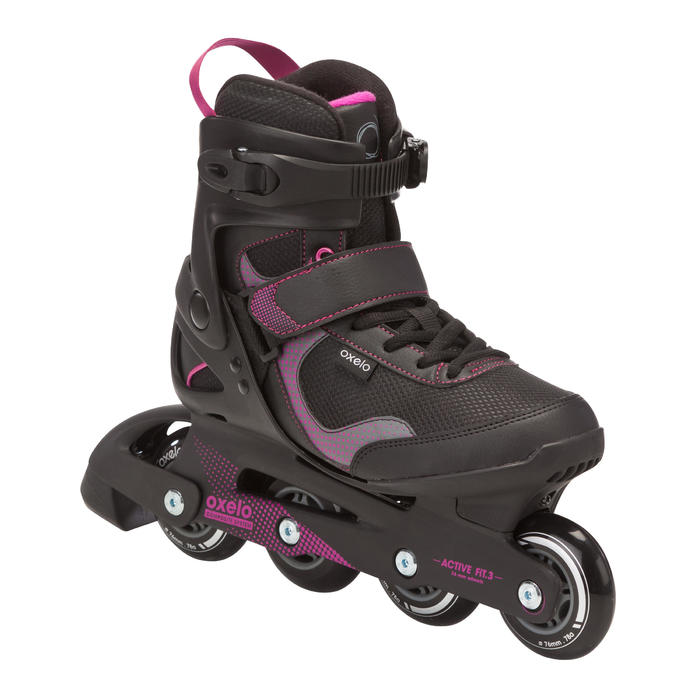 Your request has been registered
You will receive a notification at :
­
Please validate the captcha
Products benefits
Fitting comfort
Semi-soft construction and thick tongue.
Glide quality
76 mm wheels, ABEC 3 bearings, to enjoy getting started with skating.
Fit
Laces, micrometric buckle, and instep strap.
Technical information
Do you need to choose between glide quality and handling?
Thanks to the design of the Decathlon FIT 3 skates, no!
The composite frame, 76mm wheels and ABEC 3 bearings provide a glide performance that's suitable for beginners.
The monobloc frame cushions vibrations really well. It is reinforced with fibreglass to make it more rigid, and its length makes it easy to handle while remaining stable.
The soft 78A wheels offer better traction and dampen vibrations.
How do they stay comfy and fitted?
The boot is made from mesh which is light, breathable and comfortable. The foam padding added to the back of the liner, around the ankle, and to the tongue, also helps add comfort.
The "cuff" (the part of the boot that comes up your leg) is stiff in order to hold your foot and ankle in place. A triple fastening system (laces, rip-tab and buckle ) holds your foot snugly inside the boot.
How much do the FIT 3 women's skates weigh?
2.2 kg per pair in size 6½.
How can you maintain/repair your skates?
You can replace parts or repair your skates using spare parts available in store, online and at your local Decathlon store's workshop.
The parts you can change are the 76mm wheels and ABEC 5 or ABEC 7 bearings. The brake stoppers fit both the left and right foot.
How can you make your skates last longer?
To extend the lifespan of your skates after skating through water, dust or sand, take the wheels off, dry them and degrease the bearings with a dry cloth.
You can also make your wheels last longer by regularly swapping them around so that they wear more evenly.
What is the maximum weight these Oxelo women's skates can take?
These women's skates comply with the EN 13843 class A standard (adult inline skates). This standard applies to "Roller sports equipment - inline skates" designed for a person weighing between 20kg and 100kg. This European standard defines the safety requirements and the specifications for the test methods, markings, and information provided by the manufacturer, with the aim of reducing the risk of injury.
How can you make the wheels last longer?
It's normal to switch your wheels around because they don't wear out evenly. The reason? We often skate with our feet sloping slightly inwards when we push off and turn.
If you want to stop them wearing out, switch your wheels around! It's best to do so in pairs.
Product concept & technology
Maintenance advice
After skating through water, remove the wheels and dry and degrease the bearings. This helps prevent the bearings from seizing up. Be sure to change the brake pad once it has worn down to its limit. We recommend rotating the position of the wheels so they wear down evenly (see instructions). To further improve glide performance, replace the bearings with ABEC 5 or 7 bearings. Care advice is available on the Oxelo YouTube channel.
STORAGE ADVICE
We recommend you keep your inline skates in a dry, cool place. After use do not dry near a naked flame or in direct contact with a heat source.
User Restrictions
Not suitable for hockey or aggressive inline skating.
Product Composition
ILS Boot : 80.0% Polypropylene (PP), ILS Boot : 20.0% Polyurethane (PU) ILS wheels : 100.0% Polyurethane (PU) Upper Part - Main Fabric : 100.0% Polyester (PES) ILS Cuff : 100.0% Polypropylene (PP) Bearing : 100.0% STEEL Brake : 50.0% Rubber - Synthetic, Brake : 50.0% Polyamide 6.6 (PA6.6) Buckles : 50.0% Polyurethane (PU), Buckles : 50.0% Polyamide 6.6 (PA6.6)
ILS Boot : 80.0% Polypropylene (PP), ILS Boot : 20.0% Polyurethane (PU) ILS wheels : 100.0% Polyurethane (PU) Upper Part - Main Fabric : 100.0% Polyester (PES) ILS Cuff : 100.0% Polypropylene (PP) Bearing : 100.0% STEEL Brake : 50.0% Rubber - Synthetic, Brake : 50.0% Polyamide 6.6 (PA6.6) Buckles : 50.0% Polyurethane (PU), Buckles : 50.0% Polyamide 6.6 (PA6.6)
ILS Boot : 80.0% Polypropylene (PP), ILS Boot : 20.0% Polyurethane (PU) ILS wheels : 100.0% Polyurethane (PU) Upper Part - Main Fabric : 100.0% Polyester (PES) ILS Cuff : 100.0% Polypropylene (PP) Bearing : 100.0% STEEL Brake : 50.0% Rubber - Synthetic, Brake : 50.0% Polyamide 6.6 (PA6.6) Buckles : 50.0% Polyurethane (PU), Buckles : 50.0% Polyamide 6.6 (PA6.6)
ILS Boot : 80.0% Polypropylene (PP), ILS Boot : 20.0% Polyurethane (PU) ILS wheels : 100.0% Polyurethane (PU) Upper Part - Main Fabric : 100.0% Polyester (PES) ILS Cuff : 100.0% Polypropylene (PP) Bearing : 100.0% STEEL Brake : 50.0% Rubber - Synthetic, Brake : 50.0% Polyamide 6.6 (PA6.6) Buckles : 50.0% Polyurethane (PU), Buckles : 50.0% Polyamide 6.6 (PA6.6)
ILS Boot : 80.0% Polypropylene (PP), ILS Boot : 20.0% Polyurethane (PU) ILS wheels : 100.0% Polyurethane (PU) Upper Part - Main Fabric : 100.0% Polyester (PES) ILS Cuff : 100.0% Polypropylene (PP) Bearing : 100.0% STEEL Brake : 50.0% Rubber - Synthetic, Brake : 50.0% Polyamide 6.6 (PA6.6) Buckles : 50.0% Polyurethane (PU), Buckles : 50.0% Polyamide 6.6 (PA6.6)