Free 500 Women's Ski and Snowboard Jacket - Purple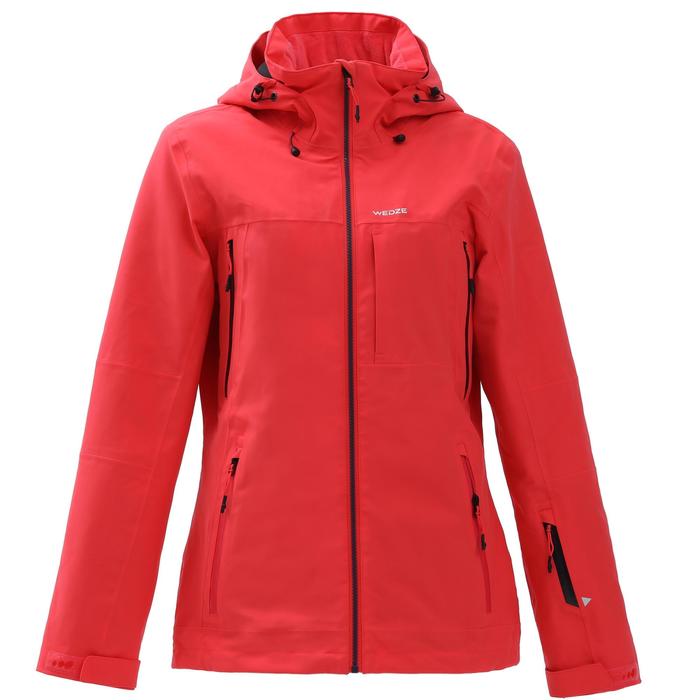 Jacket - Evaluation of the entire life cycle of the product, its impact on the environment, including climate change and the depletion of natural resources.
Know more
FREE 500 WOMEN'S SKI AND SNOWBOARD JACKET - PINK
Product Code : 160620 8494367
Designed for intermediate freeride skiers and snowboarders practising in all weather conditions
A jacket that will keep you very warm, for freeriding in all weather conditions.
---
Color : Strawberry pink
Size
M Online stock 0
L Online stock 0
XL Online stock 2
Home Delivery : Available
---
FREE Standard Home Delivery for orders above $499
Add $80 for Same Day Delivery
Pick up in-store
Service not available
Home Delivery
Select Your Location
FREE for orders above HKD499
Currently not available online. Click to check the stock in stores. Check stock in stores !
Our Stores
Notify me
Your request has been registered
You will receive a notification at :
Please validate the captcha
Size Guide
Products benefits
Waterproof
10 000 mm membrane. 100% taped seams.
Breathability
Membrane facilitates perspiration wicking. Ventilation zips.
Freedom of movement
Its cut and the mechanical stretch of the component follows all your movements.
Warmth
Technical 100g/sqm wadding on the body, 80g/sqm on the sleeves. Cuffs
Pockets
7 pockets: 4 hand pockets, 2 inner pockets, 1 ski pass pocket
Adjustable
Hood adjusts to fit a helmet thanks to two small elastics.
Ease of use
Ventilation at the front for easier opening with a backpack
Robustness
Resistant component, designed for freeriding
3D hood
Fed up with your hood falling onto your nose, or preventing you from looking left and right? Wedze has given this ski jacket a hood with double tightening for better protection against bad weather. It's suitable for wearing with a helmet.
Cuffs
Elastane cuffs, anti-snow intrusion to keep you dry and warm in case of snowfall, or a fall in the snow.
Ventilation zip
The position of the ventilation zips has been designed to facilitate use, especially when wearing a backpack, essential for transporting your safety equipment. This frontal positioning also maximises the ventilation function in use because these vents are proper air intakes. Ideally, we open the vents before getting too hot while skiing and close them so as not to get cold when the activity level decreases.
What to wear under your ski jacket?
To keep warm and dry, apply the 3-breathable-layers rule: 1 skiing base layer, 1 liner jacket to keep warm and 1 ski jacket to protect you from bad weather.
The first layer
This is what helps you stay dry by ensuring the transfer of perspiration from the skin to the other layers.
The second layer
To provide warmth, you need a second layer that insulates you from the cold. This is the role of sweaters and fleeces, but also down jackets.
The third layer:
Protection against external elements (snow, rain and wind) by preventing them from entering (while still allowing perspiration to escape so as not to become "wet from the inside"). It is therefore ideally waterproof AND breathable. The third layer can also provide insulation in the case of lined trousers or jackets and thus complement the action of the second layer.
How can I prevent snow from getting in when I fall?
The snow skirt is a protection system at waist level that closes with press studs at the bottom of the ski or snowboard jacket. It prevents snow and air from entering during practice and especially in the event of a fall.
How can I be sure my jacket is strong enough?
We know how much energy is expended during a day's skiing or snowboarding. That's why we take particular care in choosing all the elements that make up our products to guarantee the best possible protection.
How can I insulate the exposed areas of my body?
The finishing at the end of the sleeves has adjustable velcro fastenings to go on top of or underneath gloves, allowing a better seal and preventing snow from entering in case of a fall or uncomfortable cold air from getting in. What's more, given that the cold is a source of irritation, Wedze has added a soft fleece chin guard that protects your face to avoid any risk of neck and chin irritation.
Can I be sure my jacket will give me enough protection in bad weather?
To better cope with bad weather (rain, snow, wind, etc.), the FREE 500 jacket is rigorously developed and assembled to prevent water from entering and to feel the wind less. To check its waterproof rating, the jacket has been placed in a special shower reproducing the conditions a skier may have to cope with. Finally, we wore it for several days' skiing under all conditions to validate this waterproofness
What's the point of having a water-repellent jacket?
The water repellent property of a fabric is its capacity to allow water to run off its surface without seeping in. The FREE 500 jacket is made from water resistant materials to prolong its resistance to bad weather. This is an additional technical solution for staying dry for as long as possible on the ski slopes. You should repeat this treatment regularly using products sold in our stores to maintain these properties.
I often hear people talk about "coated" jackets. What are the advantages of this coating?
The coating is an impermeable material that is spread on the inner face of the material. It prevents water from seeping into the garment but allows the water vapour produced by an active body to escape. So you will stay dry and comfortable on the slopes
Water often gets in through the seams. Does my jacket have taped seams?
As well as the waterproof material, taped seams are incorporated to further improve the waterproofing of the FREE 500 jacket. These are waterproof adhesive strips taped to the inside seams of the garment to make it perfectly watertight. These taped seams are present on the areas most exposed to snow. These are usually located on the shoulders and chest.
What is a membrane and what's it for?
The membrane is a very fine component applied to the inner surface of the outer fabric. This hydrophilic component prevents water from seeping in while wicking away the perspiration produced by the body. The membrane is unbeatable when it comes to staying warm and dry.
How does my ski jacket keep me warm?
We use wadding for insulation to keep you warm. Wadding is a synthetic material with a polyester base that stores a greater or lesser quantity of air depending on the size of the fibres used. There are different types of wadding, including standard, technical and siliconised, which all have different properties (for warmth, lightness and suppleness...)
What is a "breathable" jacket?
It's the ski jacket's ability to let moisture produced during exercise escape to the outside, in order to keep you dry. To find out if a fabric is breathable, its evaporative resistance, called RET (standardised test ISO 11092), is measured. The lower the RET, the more breathable the fabric. Wedze uses technical components and solutions (zips, ventilation, mesh) preventing condensation inside the garment.
Where can I put my ski pass when taking the ski lifts?
You no longer need to get your ski pass out because your sleeve has a ski pass pocket to allow you to access the cable cars quickly
Can I compare products' environmental impact?
"The product's environmental impacts are calculated across its entire life cycle using various indicators. An ABCDE rating is provided to help you easily identify the most eco-friendly products by comparing products of a similar type (T-shirts, trousers, backpacks). For Decathlon, this initiative to display environmental data is a priority.
Explanatory video: https://youtu.be/8t63KkRwn_8
sustainability.decathlon.com"
Product concept & technology
Product Composition
Main fabric : 100.0% Polyester (PES) Main lining : 100.0% Polyester (PES) Padding : 100.0% Polyester (PES) Secondary lining : 100.0% Polyamide
Main fabric : 100.0% Polyester (PES) Main lining : 100.0% Polyester (PES) Padding : 100.0% Polyester (PES) Secondary lining : 100.0% Polyamide
Main fabric : 100.0% Polyester (PES) Main lining : 100.0% Polyester (PES) Padding : 100.0% Polyester (PES) Secondary lining : 100.0% Polyamide
STORAGE ADVICE
Store on a hanger and do not fold, as this can damage the fabric coating. Make sure that the garment is completely dry before storing in a dry and well-ventilated place
TESTS
All Wed'ze products are designed and developed in the Mont Blanc Valley. They are then tested under the same conditions as you would experience in real-life use (snow, cold, powder snow, etc.). The design teams make sure that the programme for which the product is designed and developed corresponds perfectly to its use in the field.
PRODUCT MAINTENANCE

Machine wash - 30° max - normal

Do not bleach

Tumble dry - low heat

Do not iron

Do not dry-clean
Approved By
12 Decathlon clients who took part in the product validation process during the field tests conducted at Tignes as part of the final product development phase. Are you interested in becoming a tester? Contact us at wedze.com!