G-View 600 Asia S3
Product Code : 172987 8543643
Designed for The skier and snowboarder looking for 100% ANTI UV goggles with optimal anti-fogging and a maximum vision field for fair weather
The G-VIEW 600 fair weather are ski goggles with a rigid, spherical lens to minimise optical distortion. They have anti-fogging and an optimal vision range.
---
Home Delivery : Between 3 and 5 days
Pick up in-store
Service not available
Home Delivery
Select Your Location
FREE for orders above HKD499
Currently not available online. Click to check the stock in stores. Check stock in stores !
Our Stores
Notify me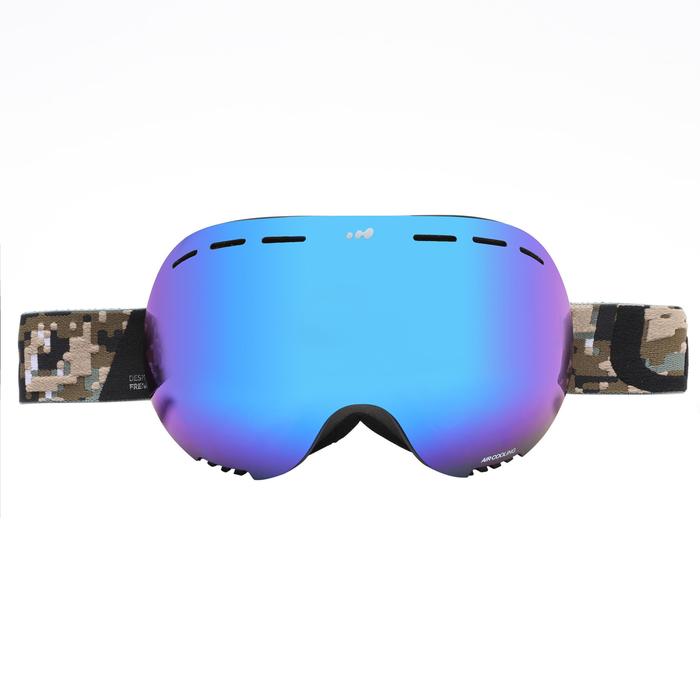 Your request has been registered
You will receive a notification at :
­
Please validate the captcha
Products benefits
Sun protection
100% anti UV, brown lens ideal for fair or cloudy weather.
Anti-fogging
Optimal Anti-fogging treatment with dual ventilated lens.
Field of vision
Spherical lens, wide horizontal and vertical field of vision.
User comfort
Double density of ergonomic foam and comfortable textile.
Stability
40mm wide elastic with a double strip of anti-skidding silicone.
Adjustable
2 Buckles for a rapid adjustment of the length of the elastic band
Visibility
Brown lens, for better visibility in sunny and cloudy weather.
100% UV Protection
UV rays are harmful for the eyes. All our goggles are certified 100 % anti-UV in accordance with EN standard 174. The ski goggles are the best protection response: They perfectly cover your eyes and prevent any UV rays entering including, via glare.
Optimal Anti-fogging
Top of the Wed'ze range, the Optimal anti-fogging links a dual lens, an anti-fogging treatment on the inner part and ventilation through aeration inside the lens and ski goggle frame. To allow good ventilation inside the goggles, avoid obstructing these aerations (with a neckwarmer for example).
Ventilated dual lens
A goggle design with a dual screen allows to limit fog formation: The air trapped between the 2 screens provides thermal insulation. The thermal shock is lower, which slows the formation of fog on the inner screen of the goggles. The latter also receives an anti-fogging treatment and air vents which also ensure good air circulation.
Spherical lens
The lens's spherical shape provides a better horizontal and vertical field of vision. It also allows us to reduce optical distortion. The exterior screen is made of a very impact resistant poly carbonate; the interior screen is made of cellulose propionate.
Strap
Elastic cord made of polyamide, polyester and rubber, 40mm in height, with a strip of anti-skid silicone.
Coloured lens with multi-layer treatment
The coloured Flash coating on the external side of the ski goggles reduces the amount of light transmitted to the eye. The aim is to reduce glare and improve greater clarity in bright conditions.
EN 174 Standard
The EN 174 standard is a European regulation applicable to goggles used for eye protection when skiing or doing similar alpine activities such as snowboarding.
Avoid the formation of fog
Humidity causes the formation of fog. It is therefore necessary to avoid gorging the foam with humidity and not putting the ski goggles on a wet helmet or wet cap. Falling face down in the snow can also cause your goggles to fog up. This is why in all cases, you must let your ski goggles dry overnight, so as to eliminate any trace of moisture and to be able to ski again the next day with a perfectly dry product.
product.productCharacteristic.Warranty.title
2 years
Product concept & technology
STORAGE ADVICE
It is advisable to store your mask in a Wed'ze pouch after use.
TESTS
All Wed'ze products are tested in target use conditions... In the snow, in the cold, in all the conditions you could encounter when skiing. Our design teams, product managers, engineers and garment designers ensure that products are suitable for their intended use and hold up in real world conditions.
Product Composition
Frame : 100.0% Thermoplastic polyurethane (TPU) Lens (for mask) : 60.0% Polycarbonate (PC), Lens (for mask) : 40.0% Cellulose Elastic Band : 36.0% Rubber - Synthetic, Elastic Band : 33.0% Polyamide, Elastic Band : 31.0% Polyester (PES) Foam : 100.0% Polyurethane (PU)
Frame : 100.0% Thermoplastic polyurethane (TPU) Lens (for mask) : 60.0% Polycarbonate (PC), Lens (for mask) : 40.0% Cellulose Elastic Band : 36.0% Rubber - Synthetic, Elastic Band : 33.0% Polyamide, Elastic Band : 31.0% Polyester (PES) Foam : 100.0% Polyurethane (PU)
Frame : 100.0% Thermoplastic polyurethane (TPU) Lens (for mask) : 60.0% Polycarbonate (PC), Lens (for mask) : 40.0% Cellulose Elastic Band : 36.0% Rubber - Synthetic, Elastic Band : 33.0% Polyamide, Elastic Band : 31.0% Polyester (PES) Foam : 100.0% Polyurethane (PU)