Girls' Ballet Tights - White
Product Code : 182091 8490217
Designed for ballet.
In semi-opaque fabric with preformed toes to avoid wrinkles in your shoes. Reinforced crotch and double-cotton lined gusset for greater comfort and improved durability.
---
Color : Snow white


4 Years Online stock 43
6 Years Online stock 68
8 Years Online stock 51
10 Years Online stock 45
12 Years Online stock 16
14 Years Online stock 17
4 Years Online stock 0
6 Years Online stock 58
8 Years Online stock 13
10 Years Online stock 0
12 Years Online stock 10
14 Years Online stock 12
Home Delivery : Between 3 and 5 days
Pick up in-store
Service not available
Home Delivery
Select Your Location
FREE for orders above HKD499
Currently not available online. Click to check the stock in stores. Check stock in stores !
Our Stores
Notify me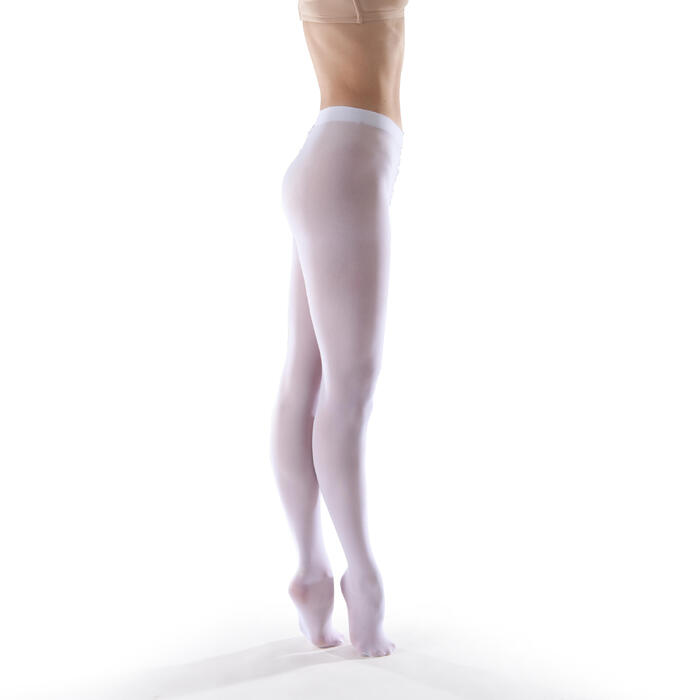 Your request has been registered
You will receive a notification at :
­
Please validate the captcha
Products benefits
Stretch
The cut and fabric are ideal for a range of expansive movements.
Durability
Flat waistband and reinforced gusset.
Softness
A cotton-lined gusset for extra comfort
How to choose a ballet outfit
Traditional ballet outfits are often recommended or required by dance teachers. They are normally worn without a base layer.
The combination of a leotard and tights helps to hold the outfit together and avoids it moving around, whatever the moves performed.
The perfect outfit for a dancer combines the following: a leotard, tights, demi-pointe shoes, and to ensure that muscles remain warm before and after the lesson, we recommend wearing a wrap as well.
Why choose dance tights?
Thanks to their technical features and their finishes, these dance tights are comfy and fit well. They perfectly emphasise leg movements. The cotton gusset and reinforced feet provide greater durability. They are suitable for use during lessons and on the stage.
How to choose dance tights
You'll find many different types of tights in our dance range. The most basic are tights with feet. You can also get footless tights, which are used for ballet, contemporary dance and gymnastics. We also offer a "convertible" range of tights, with an easy opening so you can put your feet in or out of them during the lesson. They are ideal for practising pointe exercises as they provide protection for the toes during lessons.
A rating to compare the environmental impact of products
A product's environmental impact is calculated for its entire life cycle using various indicators. An overall rating (ABCDE) is given, allowing you to easily identify products with the best environmental performance by comparing similar products to each other (T-shirts, bottoms, backpacks etc.).
Decathlon openly displays the environmental ratings of its products.
Find out more: http://sustainability.decathlon.com/
Product concept & technology
TESTS
This product has undergone washing and drying tests to ensure it retains its shape and colour. These tests are performed regularly by an external laboratory to confirm that our quality requirements are always upheld.
Product Composition
Main fabric : 89.0% Polyamide, Main fabric : 11.0% Elasthane Gusset : 82.0% Cotton, Gusset : 18.0% Polyamide
Main fabric : 89.0% Polyamide, Main fabric : 11.0% Elasthane Gusset : 82.0% Cotton, Gusset : 18.0% Polyamide
Main fabric : 89.0% Polyamide, Main fabric : 11.0% Elasthane Gusset : 82.0% Cotton, Gusset : 18.0% Polyamide
Main fabric : 89.0% Polyamide, Main fabric : 11.0% Elasthane Gusset : 82.0% Cotton, Gusset : 18.0% Polyamide
Main fabric : 89.0% Polyamide, Main fabric : 11.0% Elasthane Gusset : 82.0% Cotton, Gusset : 18.0% Polyamide
Main fabric : 89.0% Polyamide, Main fabric : 11.0% Elasthane Gusset : 82.0% Cotton, Gusset : 18.0% Polyamide
Main fabric : 89.0% Polyamide, Main fabric : 11.0% Elasthane Gusset : 82.0% Cotton, Gusset : 18.0% Polyamide
Main fabric : 89.0% Polyamide, Main fabric : 11.0% Elasthane Gusset : 82.0% Cotton, Gusset : 18.0% Polyamide
Main fabric : 89.0% Polyamide, Main fabric : 11.0% Elasthane Gusset : 82.0% Cotton, Gusset : 18.0% Polyamide
Main fabric : 89.0% Polyamide, Main fabric : 11.0% Elasthane Gusset : 82.0% Cotton, Gusset : 18.0% Polyamide
Main fabric : 89.0% Polyamide, Main fabric : 11.0% Elasthane Gusset : 82.0% Cotton, Gusset : 18.0% Polyamide
Main fabric : 89.0% Polyamide, Main fabric : 11.0% Elasthane Gusset : 82.0% Cotton, Gusset : 18.0% Polyamide
product.InfoConceptTechnology.maintenancePicture.label

Machine wash - 40° max - normal

Do not bleach

Do not tumble dry

Do not iron

Do not dry-clean