Girls' Voile Ballet Skirt - Pink
Product Code : 178931 8399594
Our troupe of designers has created this voile skirt for ballet dancers of all levels who want to add a touch of grace to their outfit!
Do you want to dance freely? The skirt sits on your waist so that you can still pirouette freely! Match it with your favourite style of leotard!
---
Color : Candyfloss


4 Years Online stock 0
6 Years Online stock 12
8 Years Online stock 0
10 Years Online stock 0
12 Years Online stock 0
14 Years Online stock 8
16 Years Online stock 0
4 Years Online stock 26
6 Years Online stock 18
8 Years Online stock 23
10 Years Online stock 18
12 Years Online stock 9
14 Years Online stock 0
6 Years Online stock 12
8 Years Online stock 18
10 Years Online stock 10
12 Years Online stock 0
14 Years Online stock 7
16 Years Online stock 0
Home Delivery : Between 3 and 5 days
Pick up in-store
Service not available
Home Delivery
Select Your Location
FREE for orders above HKD499
Currently not available online. Click to check the stock in stores. Check stock in stores !
Our Stores
Notify me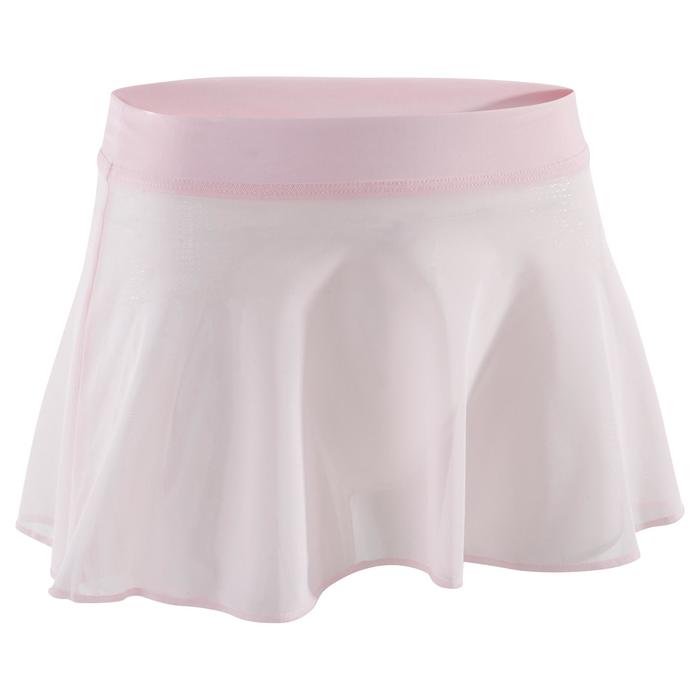 Your request has been registered
You will receive a notification at :
­
Please validate the captcha
Products benefits
Freedom of movement
A voile skirt that moves with you.
Stability
A pull-on skirt that stays in place on the leotard.
Flowing fabric
Very lightweight fabric that allows movements to be seen.
What is a ballet outfit composed of?
Ballet uniforms are often recommended or even required by teachers so we suggest asking your dance studio what uniform dancers need.
The perfect dance outfit is a leotard and tights as this will stop your clothing shifting around no matter what move you're performing! You can add a skirt if you like.
As for footwear, you should check with your teacher whether you need full soles or split soles.
Our tip for keeping your muscles warm? Wear a wrap top!
How to choose a ballet outfit
Our motto is fit and comfort. Your leotard and tights should be neither too tight nor too loose. We want to see a smile on your face!
To make sure you're comfortable, do a few moves in the fitting room: raise one arm and lean forwards. Your outfit shouldn't budge.
When it comes to skirts (which aren't always needed), it's a question of style! They should fit around your waist and be able to follow your movements.
All set? Let's hit the dance floor!
Why wear a skirt
It perfectly complements the dancer's outfit and helps to develop their artistic expression.
Skirts are optional but they go perfectly with any shape of leotard. Choose your favourite combinations!
And don't forget to think about a tutu so you look the part for all of your shows!
Can I mix and match my outfit to suit my tastes?
Of course! Our entire ballet collection has been designed with this in mind!
Choose the leotard that suits you best in the colour of your choice from our seven options:
- Leotards with thin straps that highlight the lines of your body,
- Leotards with wide straps and a square neckline for optimal support and for enhancing the carriage of your head,
- Short-sleeved leotards that cover more of your body for added comfort.
And you can always add a skirt or tutu!
Product concept & technology
Product Composition
Main fabric : 90.0% Polyester (PES), Main fabric : 10.0% Elasthane Yoke (General) : 82.0% Polyester (PES), Yoke (General) : 18.0% Elasthane
Main fabric : 90.0% Polyester (PES), Main fabric : 10.0% Elasthane Yoke (General) : 82.0% Polyester (PES), Yoke (General) : 18.0% Elasthane
Main fabric : 90.0% Polyester (PES), Main fabric : 10.0% Elasthane Yoke (General) : 82.0% Polyester (PES), Yoke (General) : 18.0% Elasthane
Main fabric : 90.0% Polyester (PES), Main fabric : 10.0% Elasthane Yoke (General) : 82.0% Polyester (PES), Yoke (General) : 18.0% Elasthane
Main fabric : 90.0% Polyester (PES), Main fabric : 10.0% Elasthane Yoke (General) : 82.0% Polyester (PES), Yoke (General) : 18.0% Elasthane
Main fabric : 90.0% Polyester (PES), Main fabric : 10.0% Elasthane Yoke (General) : 82.0% Polyester (PES), Yoke (General) : 18.0% Elasthane
Main fabric : 90.0% Polyester (PES), Main fabric : 10.0% Elasthane Yoke (General) : 82.0% Polyester (PES), Yoke (General) : 18.0% Elasthane
Main fabric : 90.0% Polyester (PES), Main fabric : 10.0% Elasthane Yoke (General) : 82.0% Polyester (PES), Yoke (General) : 18.0% Elasthane
Main fabric : 90.0% Polyester (PES), Main fabric : 10.0% Elasthane Yoke (General) : 82.0% Polyester (PES), Yoke (General) : 18.0% Elasthane
Main fabric : 90.0% Polyester (PES), Main fabric : 10.0% Elasthane Yoke (General) : 82.0% Polyester (PES), Yoke (General) : 18.0% Elasthane
Main fabric : 90.0% Polyester (PES), Main fabric : 10.0% Elasthane Yoke (General) : 82.0% Polyester (PES), Yoke (General) : 18.0% Elasthane
Main fabric : 90.0% Polyester (PES), Main fabric : 10.0% Elasthane Yoke (General) : 82.0% Polyester (PES), Yoke (General) : 18.0% Elasthane
Main fabric : 90.0% Polyester (PES), Main fabric : 10.0% Elasthane Yoke (General) : 82.0% Polyester (PES), Yoke (General) : 18.0% Elasthane
Main fabric : 90.0% Polyester (PES), Main fabric : 10.0% Elasthane Yoke (General) : 82.0% Polyester (PES), Yoke (General) : 18.0% Elasthane
Main fabric : 90.0% Polyester (PES), Main fabric : 10.0% Elasthane Yoke (General) : 82.0% Polyester (PES), Yoke (General) : 18.0% Elasthane
Main fabric : 90.0% Polyester (PES), Main fabric : 10.0% Elasthane Yoke (General) : 82.0% Polyester (PES), Yoke (General) : 18.0% Elasthane
Main fabric : 90.0% Polyester (PES), Main fabric : 10.0% Elasthane Yoke (General) : 82.0% Polyester (PES), Yoke (General) : 18.0% Elasthane
Main fabric : 90.0% Polyester (PES), Main fabric : 10.0% Elasthane Yoke (General) : 82.0% Polyester (PES), Yoke (General) : 18.0% Elasthane
Main fabric : 90.0% Polyester (PES), Main fabric : 10.0% Elasthane Yoke (General) : 82.0% Polyester (PES), Yoke (General) : 18.0% Elasthane
product.InfoConceptTechnology.maintenancePicture.label

Machine wash - 40° max - normal

Do not bleach

Do not tumble dry

Iron - Maximum temperature of 110°C - No Steam

Do not dry-clean