SH100 Warm Junior Snow Hiking Jacket - Mauve
Product Code : 158651 8399964
Designed for Protect your child from the cold and rain during winter hikes.
Kids' favourite thanks to the reversible style!
---
Color : MAUVE/BLUE

2 Years Online stock 0
3 Years Online stock 0
4 Years Online stock 0
5 Years Online stock 0
6 Years Online stock 0
2 Years Online stock 51
3 Years Online stock 48
4 Years Online stock 0
5 Years Online stock 0
6 Years Online stock 0
Home Delivery :
Pick up in-store
Service not available
Home Delivery
Select Your Location
FREE for orders above HKD499
Currently not available online. Check the stock in stores on product page. Check stock in stores !
Our Stores
Notify me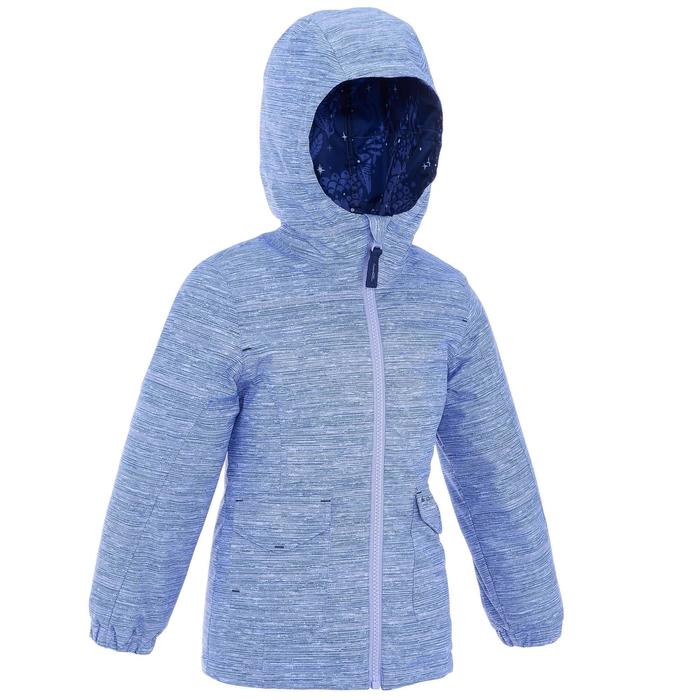 Your request has been registered
You will receive a notification at :
­
Please validate the captcha
Products benefits
Warmth
100g/m² wadding for maximum warmth and comfort.
Waterproof
Waterproof Component (2000 Schmerbers) and main seams taped.
Windproof
The fabric is windproof thanks to its outer coating.
Protection from the weather
Waterproof hood, elasticated cuffs.
Ease of use
2 closing pockets.
Wadding:
Wadding is a synthetic component made by assembling polyester fibres. Depending on the size of the fibres, more of less air is trapped. With the same blend of fibres, wadding that is thicker will trap more air and be warmer.
Waterproofing of the component
We measure a fabric's resistance to water pressure, expressed in terms of the height of a water column in mm (based on the ISO 811 standard). The higher the pressure, the higher the waterproof rating of the fabric. A component with 2000 mm waterproof rating can therefore withstand the pressure of a 2000 mm column of water (which is approximately equivalent to a 2-hour rain shower).
What do you mean by taped seams or waterproof strips?
Its seams are sealed (or taped) using heat-sealed, waterproof strips. They are placed behind the seams and are essential for waterproofing clothing so that water cannot enter by capillary action (water being absorbed by the threads and holes of the fabric).
Waterproofing of the garment
This garment has been subjected to a shower test involving 60 L/sqm/hour of water for 1 hour. This test reproduces the conditions of a rain shower.
Windproof:
A coating or membrane applied to the inside of the fabric makes it waterproof and therefore windproof. A waterproof fabric has the technical characteristics needed to be certified windproof. Protection from the wind, when moving or stationary, is very important because of its powerful cooling effect on the body.
Practical details:
Reversible jacket with two different styles, so you can easily change style. One waterproof side and one non-waterproof side. Attached hood, 2 hand pockets.
Component resistance test
"We conduct tests on the resistance to abrasion and rubbing.
Colour fastness test: the colour fastness is verified to make sure the colours cannot bleed.
Ageing test: repeated washing should not alter the fabric's properties, behaviour, thickness or appearance."
Additional recommended products
Care products: spray or wash-in waterproofing products. To restore the fabric's water-repellent properties and optimise your clothing's performance throughout its lifetime, we recommend using these products at least at every wash.
A score for comparing the products' environmental impact
The product's environmental impact is calculated over its entire life cycle using different indicators. An overall rating from A to E is provided to help you easily identify the more eco-friendly products by comparing products of the same type (T-shirts, trousers and backpacks, etc.)
Decathlon is committed to displaying the environmental information of its products.
For more info: http://sustainability.decathlon.com/
product.productCharacteristic.Warranty.title
2 years
Product concept & technology
STORAGE ADVICE
Ensure that this waterproof protective garment is perfectly dry before storing, preferably on a hanger. To avoid damaging the fabric, store unfolded in a dry place.
TESTS
Our design team is based at the foot of Mont Blanc, in Haute-Savoie (France). All year round, our designers create and develop products that are appealing, simple and technologically advanced. These are then ruthlessly tested in the field, as we remain convinced that only through rigorous testing under real world conditions, like the ones you will be using them in, can we continue to provide you with better products than ever.
User Restrictions
Reversible jacket with one waterproof side and the other not.
Product Composition
Main fabric : 100.0% Polyester (PES) Main lining : 100.0% Polyester (PES) Padding : 100.0% Polyester (PES) Coating : 100.0% Polyurethane (PU)
Main fabric : 100.0% Polyester (PES) Main lining : 100.0% Polyester (PES) Padding : 100.0% Polyester (PES) Coating : 100.0% Polyurethane (PU)
Main fabric : 100.0% Polyester (PES) Main lining : 100.0% Polyester (PES) Padding : 100.0% Polyester (PES) Coating : 100.0% Polyurethane (PU)
Main fabric : 100.0% Polyester (PES) Main lining : 100.0% Polyester (PES) Padding : 100.0% Polyester (PES) Coating : 100.0% Polyurethane (PU)
Main fabric : 100.0% Polyester (PES) Main lining : 100.0% Polyester (PES) Padding : 100.0% Polyester (PES) Coating : 100.0% Polyurethane (PU)
Main fabric : 100.0% Polyester (PES) Main lining : 100.0% Polyester (PES) Padding : 100.0% Polyester (PES) Coating : 100.0% Polyurethane (PU)
Main fabric : 100.0% Polyester (PES) Main lining : 100.0% Polyester (PES) Padding : 100.0% Polyester (PES) Coating : 100.0% Polyurethane (PU)
Main fabric : 100.0% Polyester (PES) Main lining : 100.0% Polyester (PES) Padding : 100.0% Polyester (PES) Coating : 100.0% Polyurethane (PU)
Main fabric : 100.0% Polyester (PES) Main lining : 100.0% Polyester (PES) Padding : 100.0% Polyester (PES) Coating : 100.0% Polyurethane (PU)
Main fabric : 100.0% Polyester (PES) Main lining : 100.0% Polyester (PES) Padding : 100.0% Polyester (PES) Coating : 100.0% Polyurethane (PU)
product.InfoConceptTechnology.maintenancePicture.label

Machine wash - 30° max - normal

Do not bleach

Do not tumble dry

Do not iron

Do not dry-clean