Hike 500 Children's Waterproof Hiking Jacket - Navy
Product Code : 5327 8301380
Designed for protecting young hikers from wind and rain.
This boy's hiking jacket is a sure way of protecting your children from the rain, thanks to a waterproof component, with sealed seams on the shoulders and hood.
---
Color : DARK BLUE



2 Years Online stock 57
3 Years Online stock 0
2 Years Online stock 23
3 Years Online stock 17
4 Years Online stock 22
5 Years Online stock 23
6 Years Online stock 22
89-95cm 2-3Y Online stock 38
96-102cm 3-4Y Online stock 41
103-112CM 4-5Y Online stock 68
113-121CM 5-6Y Online stock 69
Home Delivery : Between 3 and 5 days
Pick up in-store
Service not available
Home Delivery
Select Your Location
FREE for orders above HKD499
Currently not available online. Click to check the stock in stores. Check stock in stores !
Our Stores
Notify me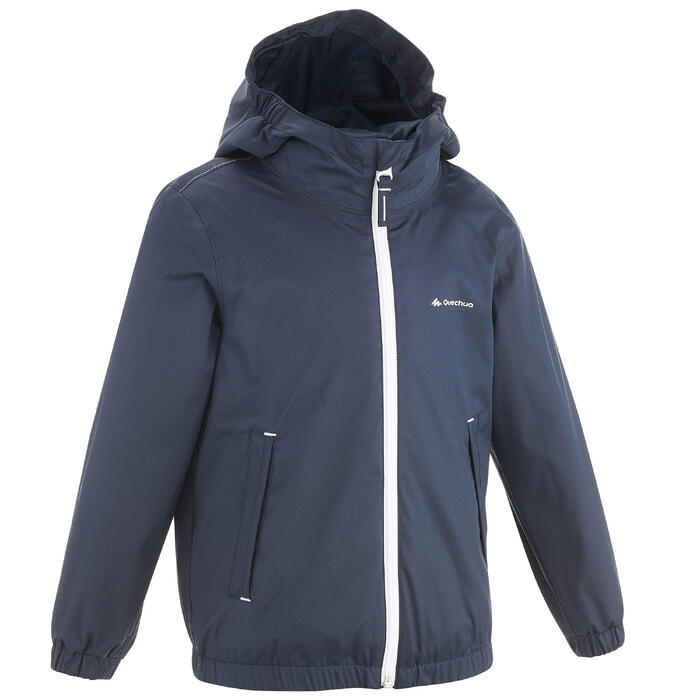 Your request has been registered
You will receive a notification at :
­
Please validate the captcha
Products benefits
Waterproof
Waterproof coating (2000 mm). Sealed main seams.
Breathability
Hydrophilic coating (RET=12): reduces condensation in the garment.
Durability
Ripstop component to resist withstand small adventurers. 2-year guarantee.
Component waterproofing
This product is designed to withstand the conditions of a downpour in the mountains.
Component breathability
To assess the breathability of the fabric, the evaporative resistance, RET (test based on the ISO 11092 standard), is measured. The lower the fabric's resistance, the more water vapour generated by physical activity is evaporated, and the higher the fabric's breathability. For example: RET < 9 = extremely breathable fabric / 920 = little or no breathability.
Durability of the components
Test of the resistance to abrasion and rubbing: we check, for example, that our fleeces do not pill using tests conducted in the laboratory. Colour fastness test: colour-fastness is verified to make sure that the colours do not bleed when coming into contact with saliva. Ageing test: repeated washing should not affect the fabric's properties, behaviour, thickness or appearance.
Product environmental impact comparison score
The environmental impact of the product is calculated based on its full life cycle using different indicators. An overall ABCDE mark is given to help you easily identify products with the best environmental performance by comparing similar products to each other (T-shirts, trousers, backpacks, etc). Decathlon is committed to displaying the environmental data of its products. For more info: http://sustainability.decathlon.com/
Care
1/ Machine wash (30 to 40°C): fasten hook & loop tabs, use gentle detergent. Wash jackets and trousers inside out. Loosen straps and elastics. 2/ Avoid folding the garment too much in the washing machine: this can damage it. 3/ Do not mix clothing styles and colours. 4/ Don't use bleach. 5/ Choose a full rinse and gentle spin cycle. 6/ Either line or tumble dry (low temperature, short cycle).
product.productCharacteristic.Warranty.title
2 years
Product concept & technology
Maintenance advice
1. Machine wash at 40°C: fasten riptabs, wash inside-out. Loosen straps and elastics. 2. Avoid folding the garment in the washing machine, as this can damage it. 3/ Do not bleach. 4/ Select a long rinse and gentle spin cycle. 5. Air dry. 6. Cool iron. 7. Do not dry clean.
STORAGE ADVICE
Store folded in a clean and dry place.
TESTS
Our design team is based at the foot of Mont-Blanc, in Haute-Savoie (France). All year round, we create and develop products that are beautiful, simple and technologically advanced. These are then ruthlessly tested in the field, as we remain convinced that only through rigorous testing under real world conditions, like the ones you will be using them in, can we continue to provide you with better products than ever.
User Restrictions
Keep away from all heat sources.
Product Composition
Main fabric : 100.0% Polyester (PES) Main lining : 100.0% Polyester (PES) Coating : 100.0% Polyurethane (PU)
Main fabric : 100.0% Polyester (PES) Main lining : 100.0% Polyester (PES) Coating : 100.0% Polyurethane (PU)
Main fabric : 100.0% Polyester (PES) Main lining : 100.0% Polyester (PES) Coating : 100.0% Polyurethane (PU)
Main fabric : 100.0% Polyester (PES) Main lining : 100.0% Polyester (PES) Coating : 100.0% Polyurethane (PU)
Main fabric : 100.0% Polyester (PES) Main lining : 100.0% Polyester (PES) Coating : 100.0% Polyurethane (PU)
Main fabric : 100.0% Polyester (PES) Main lining : 100.0% Polyester (PES) Coating : 100.0% Polyurethane (PU)
Main fabric : 100.0% Polyester (PES) Main lining : 100.0% Polyester (PES) Coating : 100.0% Polyurethane (PU)
Main fabric : 100.0% Polyester (PES) Main lining : 100.0% Polyester (PES) Coating : 100.0% Polyurethane (PU)
Main fabric : 100.0% Polyester (PES) Main lining : 100.0% Polyester (PES) Coating : 100.0% Polyurethane (PU)
Main fabric : 100.0% Polyester (PES) Main lining : 100.0% Polyester (PES) Coating : 100.0% Polyurethane (PU)
Main fabric : 100.0% Polyester (PES) Main lining : 100.0% Polyester (PES) Coating : 100.0% Polyurethane (PU)
product.InfoConceptTechnology.maintenancePicture.label

Machine wash - 30° max - normal

Do not bleach

Tumble dry - low heat

Do not iron

Do not dry-clean