Hunting Silent Breathable Jacket 500 - Woodland Camouflage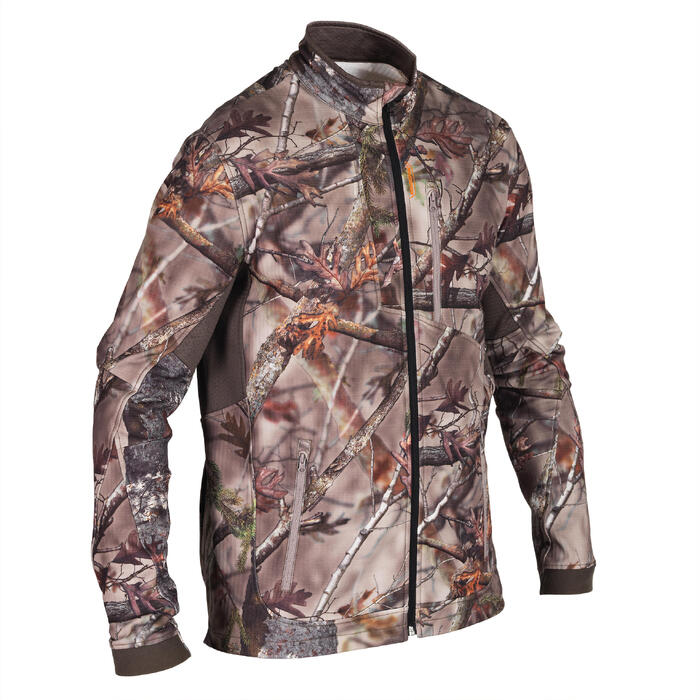 Jacket - Evaluation of the entire life cycle of the product, its impact on the environment, including climate change and the depletion of natural resources.
Know more
Hunting Silent Breathable Jacket 500 - Woodland Camouflage
Product Code : 172754 8493967
Designed for stalking and still hunting for big game in cold weather. Suitable for hunting migratory small game and drive hunting.
On cool mornings or evenings this jacket keeps you warm without weighing you down or restricting your movements. You can take this very compact jacket anywhere. Recommended for use in 10 to 20°C.
---
Color : CAMOUFLAGE
Size
S Online stock 0
M Online stock 0
L Online stock 0
XL Online stock 0
2XL Online stock 0
Size large (100%)
100 %
of users say this fits Large
Our customers evaluate the size
Home Delivery :
---
FREE Standard Home Delivery for orders above $499
Add $80 for Same Day Delivery
Pick up in-store
Service not available
Home Delivery
Select Your Location
FREE for orders above HKD499
Currently not available online. Click to check the stock in stores. Check stock in stores !
Our Stores
Size Guide
Products benefits
Noise level
Move noiselessly thanks to the silent cotton fabric and close-fit straight cut.
Freedom of movement
Focus fully on your hunt, the jacket will follow your every move.
Warmth
No need to worry about the cold any more, optimal comfort between 10 and 20°C.
Breathability
When the hunt hots up, the ventilated fabric wicks perspiration away.
Compact design
Take it with you on all your hunts, it will fold away into a 7 litre waist bag.
Weight
400 grams in size L 210 g/sqm fabric.
Camouflage
The Kamo Brown pattern will keep you camouflaged in any season.
Silent
Because silence is the key to success when hunting, especially in the cooler parts of the day, our designers searched for a supple polar fabric which was soft to the touch to reduce friction noise while stalking.
Our designers have also come up with a closer fit to ensure that you move in silence. And our engineers have invented a secure pocket with silent access. Keep your rangefinder or call handy right up to within a few metres of an animal.
Freedom of movement
Want to protect yourself from the cold without being weighed down or losing freedom of movement? This jacket features 8% elastane stretch fabric which acts like a second skin guaranteeing you totally unhindered freedom of movement while stalking or still hunting. And with a weight of only 400g in size L, you'll feel no extra weight on your shoulders.
Warmth
When the temperature hovers between 10 and 20°C, you need to protect yourself from the cold. The 210 g/sqm polar fabric with soft feel lining will easily keep out the cold. You can wear a long sleeved T-shirt underneath. And you can also add a thicker fleece over the top when the cold begins to bite, or a silent waterproof jacket if it rains.
Sizes S, M, L:
S:
- Jacket length: 62 cm
- Chest: 95 cm
- Sleeve length: 61 cm
M:
- Jacket length: 63.5 cm
- Chest: 100 cm
- Sleeve length: 61.5 cm
L:
- Jacket length: 65 cm
- Chest: 106 cm
- Sleeve length: 62 cm
Sizes XL, 2XL, 3XL:
XL:
- Jacket length: 67 cm
- Chest: 116 cm
- Sleeve length: 65 cm
2XL:
- Jacket length: 69 cm
- Chest: 126 cm
- Sleeve length: 67 cm
3XL:
- Jacket length: 71 cm
- Chest: 126 cm
- Sleeve length: 69 cm
Product concept & technology
Product Composition
Main fabric : 92.0% Polyester, Main fabric : 8.0% Elasthane Yoke : 92.0% Polyester, Yoke : 8.0% Elasthane Pocket : 100.0% Polyester
Main fabric : 92.0% Polyester, Main fabric : 8.0% Elasthane Yoke : 92.0% Polyester, Yoke : 8.0% Elasthane Pocket : 100.0% Polyester
Main fabric : 92.0% Polyester, Main fabric : 8.0% Elasthane Yoke : 92.0% Polyester, Yoke : 8.0% Elasthane Pocket : 100.0% Polyester
Main fabric : 92.0% Polyester, Main fabric : 8.0% Elasthane Yoke : 92.0% Polyester, Yoke : 8.0% Elasthane Pocket : 100.0% Polyester
Main fabric : 92.0% Polyester, Main fabric : 8.0% Elasthane Yoke : 92.0% Polyester, Yoke : 8.0% Elasthane Pocket : 100.0% Polyester
PRODUCT MAINTENANCE

Machine wash - 30° max - normal

Do not bleach

Do not tumble dry

Do not iron

Do not dry-clean