KALENJI KIPRUN WIND WOMEN'S RUNNING JACKET - WHITE
Product Code : 165771 8395789
Designed for female runners seeking lightweight clothing for windy weather.
This ultra-light running jacket protects from wind and light rain. Easy to carry in your pocket when you don't need it and can be held in the hand when running!
---
Color : Snow white
UK 6 - EU 34 Online stock 5
UK 8 - EU 36 Online stock 6
UK 10 - EU 38 Online stock 0
UK 12 - EU 40 Online stock 0
UK 14 - EU 42 Online stock 0
UK 16 - EU 44 Online stock 0
Home Delivery : Between 3 and 5 days.
Pick up in-store
Service not available
Home Delivery
Select Your Location
FREE for orders above HKD499
Currently not available online. Check the stock in stores on product page. Check stock in stores !
Our Stores
Notify me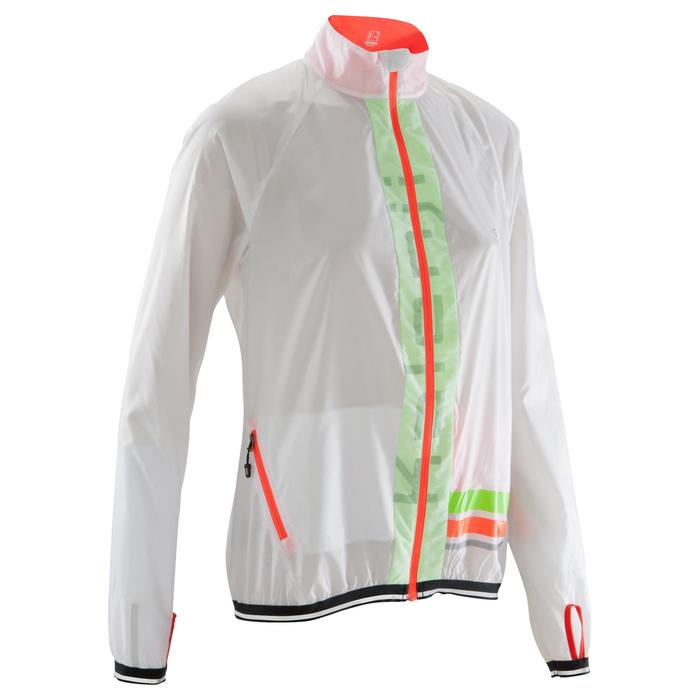 Your request has been registered
You will receive a notification at :
­
Please validate the captcha
Products benefits
Windproof
The fabric structure resists air penetration to protect from the wind.
Compact design
The jacket folds into its pocket. Carry it in your hand with the elastic.
Ventilation
Vents under the arms and in the back for improved air circulation
Water repellent
The fabric is waterproof coated to protect you from light rain.
Easy reading
Openings at the end of the sleeves let you check your watch when running
Lightweight
Ultra-light, the jacket only weighs 120 grammes in M size.
Technical information
COMPACT DESIGN
Made of extremely fine fabric, the jacket can be folded down and stored in its pocket, then carried in your hand or on your arm thanks to the elastic.
The fabric under the elastic can also be used to wipe perspiration away.
A score to compare the environmental impact of products
The environmental impact of the product is calculated across its entire life cycle using a range of indicators. An overall ABCDE score is calculated to help you more readily identify products with the best environmental performance by comparing the same type of product (T-shirts, trousers, backpacks, etc.). Decathlon is committed to visually displaying environmental information.
For more information visit: http://sustainability.decathlon.com/
Product concept & technology
Product Composition
Main fabric : 100.0% Polyester (PES) Yoke (General) : 82.0% Polyester (PES), Yoke (General) : 18.0% Elasthane
Main fabric : 100.0% Polyester (PES) Yoke (General) : 82.0% Polyester (PES), Yoke (General) : 18.0% Elasthane
Main fabric : 100.0% Polyester (PES) Yoke (General) : 82.0% Polyester (PES), Yoke (General) : 18.0% Elasthane
Main fabric : 100.0% Polyester (PES) Yoke (General) : 82.0% Polyester (PES), Yoke (General) : 18.0% Elasthane
Main fabric : 100.0% Polyester (PES) Yoke (General) : 82.0% Polyester (PES), Yoke (General) : 18.0% Elasthane
Main fabric : 100.0% Polyester (PES) Yoke (General) : 82.0% Polyester (PES), Yoke (General) : 18.0% Elasthane