Keepdry 100 Adult Football Long-Sleeved Base Layer - Mottled Blue
Product Code : 171160 8394896
Designed for beginner football players in cold and cool weather, both indoors and out.
This long-sleeved base layer keeps you at just the right temperature by wicking away perspiration, and lets you move freely for a more enjoyable game.
---
Color : Asphalt blue/Electric blue



XS Online stock 85
S Online stock 123
M Online stock 207
L Online stock 178
XL Online stock 178
2XL Online stock 100
XS Online stock 251
S Online stock 631
M Online stock 865
L Online stock 628
XL Online stock 386
2XL Online stock 215
S Online stock 0
M Online stock 0
L Online stock 0
XL Online stock 0
2XL Online stock 0
S Online stock 0
M Online stock 0
L Online stock 0
XL Online stock 0
2XL Online stock 0
Home Delivery : Between 3 and 5 days
Pick up in-store
Service not available
Home Delivery
Select Your Location
FREE for orders above HKD499
Currently not available online. Click to check the stock in stores. Check stock in stores !
Our Stores
Notify me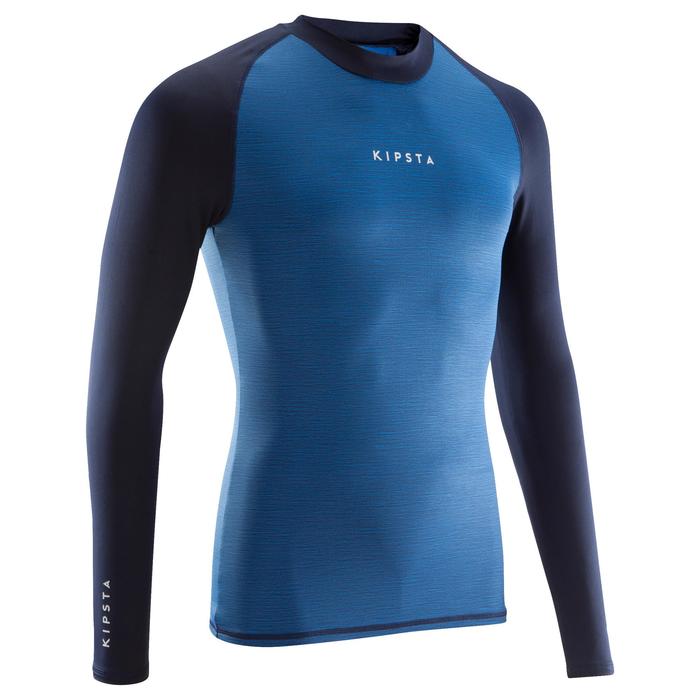 Your request has been registered
You will receive a notification at :
­
Please validate the captcha
Bundlespdo_productconversionzone.scala.html
Kipsta

Keepdry 100 Adult Breathable Long-Sleeved Base Layer Top - Black

Available in More Colors

Kipsta

F500 Adult Football Shorts - Grey/Yellow

Available in More Colors

Kipsta

F500 Adult Football Socks - Black/Grey

Available in More Colors

Kipsta

F900 FIFA PRO Thermobonded Football Size 5 - White/Blue/Red

Available in More Colors
Products benefits
Moisture management
Made from material that helps wick perspiration away and dries more quickly.
Freedom of movement
The fluid fabric and fitted cut make it easy to move.
Why wear a base layer?
The base layer, also known as the inner layer, helps:
. absorb perspiration and transfer it to the outside. Your skin stays dry and your body does not get cold
. retain body heat; even more so when the product is close-fitting.
. provide an additional barrier against bad weather
. keep your football shirt dry, even when you're running hard.
Playing with a technical base layer keeps you on the pitch for longer.
What our design team has to say
Our team of footballers has designed the Keepdry 100 base layer for beginner footballers, as they are prone to getting cold. With heavy physical exercise over short distances interspersed with match stoppages, beginner players experience major temperature fluctuations. In order for football, whether played at a club or recreationally, to remain a pleasurable experience over time, it's essential to stay protected from the cold and the effects of perspiration.
A rating for comparing products environmental impact
Product's environmental impacts are calculated throughout its life cycle and with different indicators. An "ABCDE" rating system has been created to help you quickly see which products offer the best environmental performance. Use it to compare two similar products (T-shirts, bottoms, backpacks).
Decathlon voluntarily displays its products' environmental details.
Web: sustainability.decathlon.com
Explanation video: https://youtu.be/8t63KkRwn_8
product.productCharacteristic.Warranty.title
2 years
Product concept & technology
STORAGE ADVICE
Keep in a dry and ventilated place, away from the damp.
Product Composition
Main fabric : 84.0% Polyester (PES), Main fabric : 16.0% Elasthane
Main fabric : 84.0% Polyester (PES), Main fabric : 16.0% Elasthane
Main fabric : 84.0% Polyester (PES), Main fabric : 16.0% Elasthane
Main fabric : 84.0% Polyester (PES), Main fabric : 16.0% Elasthane
Main fabric : 84.0% Polyester (PES), Main fabric : 16.0% Elasthane
Main fabric : 84.0% Polyester (PES), Main fabric : 16.0% Elasthane
Main fabric : 84.0% Polyester (PES), Main fabric : 16.0% Elasthane
Main fabric : 84.0% Polyester (PES), Main fabric : 16.0% Elasthane
Main fabric : 84.0% Polyester (PES), Main fabric : 16.0% Elasthane
Main fabric : 84.0% Polyester (PES), Main fabric : 16.0% Elasthane
Main fabric : 84.0% Polyester (PES), Main fabric : 16.0% Elasthane
Main fabric : 84.0% Polyester (PES), Main fabric : 16.0% Elasthane
Main fabric : 84.0% Polyester (PES), Main fabric : 16.0% Elasthane
Main fabric : 84.0% Polyester (PES), Main fabric : 16.0% Elasthane
Main fabric : 84.0% Polyester (PES), Main fabric : 16.0% Elasthane
Main fabric : 84.0% Polyester (PES), Main fabric : 16.0% Elasthane
Main fabric : 84.0% Polyester (PES), Main fabric : 16.0% Elasthane
Main fabric : 84.0% Polyester (PES), Main fabric : 16.0% Elasthane
Main fabric : 84.0% Polyester (PES), Main fabric : 16.0% Elasthane
Main fabric : 84.0% Polyester (PES), Main fabric : 16.0% Elasthane
Main fabric : 84.0% Polyester (PES), Main fabric : 16.0% Elasthane
Main fabric : 84.0% Polyester (PES), Main fabric : 16.0% Elasthane
product.InfoConceptTechnology.maintenancePicture.label

Machine wash - 30° max - normal

Do not bleach

Do not tumble dry

Do not iron

Do not dry-clean