Keepdry 100 Kids' Breathable Tights - Black
Product Code : 14983 8311138
Our football designers created the Keepdry 100 tights for those starting to play the game in cool to cold weather.
Breathable tights make it comfortable to play by wicking away perspiration whilst keeping you warm.
---
Color : BLACK/Dark grey



6 Years Online stock 0
12 Years Online stock 0
14 Years Online stock 0
6 Years Online stock 541
8 Years Online stock 1277
10 Years Online stock 1444
12 Years Online stock 1329
14 Years Online stock 909
6 Years Online stock 168
8 Years Online stock 333
10 Years Online stock 360
12 Years Online stock 302
14 Years Online stock 172
Home Delivery :
Pick up in-store
Service not available
Home Delivery
Select Your Location
FREE for orders above HKD499
Currently not available online. Check the stock in stores on product page. Check stock in stores !
Our Stores
Notify me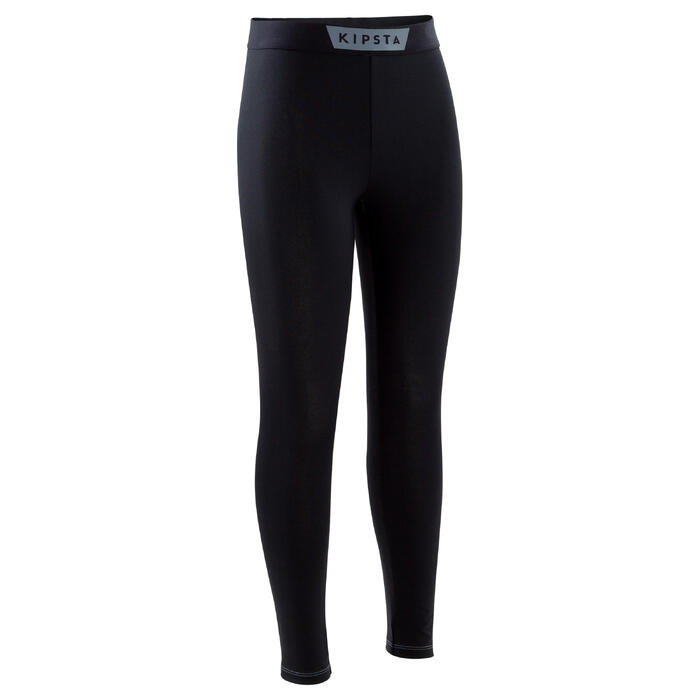 Your request has been registered
You will receive a notification at :
­
Please validate the captcha
Bundlespdo_productconversionzone.scala.html
Kipsta

T100 Children's Football Training Sweatshirt - Blue

Available in More Colors

Kipsta

Keepdry 100 Kids' Breathable Tights - Black

Available in More Colors

Kipsta

F500 Kids' Football Socks - Black/Grey

Available in More Colors

Kipsta

First FG Kids' Dry Pitches Football Boots - Black/White

Available in

Kipsta

F100 Kids' Football Shin Pads - Black

Available in
Products benefits
Moisture management
Made from material that helps wick perspiration away and dries more quickly.
Freedom of movement
Stretchy fabric in a close-fitting cut that provides of ease of movement.
Technical information
A rating for comparing products environmental impact
Product's environmental impacts are calculated throughout its life cycle and with different indicators. An "ABCDE" rating system has been created to help you quickly see which products offer the best environmental performance. Use it to compare two similar products (T-shirts, bottoms, backpacks).
Decathlon volunteers to actively play a part in this environmental labelling initiative.
Web: sustainability.decathlon.com
Explanation video: https://youtu.be/8t63KkRwn_8
Product concept & technology
Maintenance advice
Machine wash at 40°C. Do not iron. Do not tumble dry.
STORAGE ADVICE
Keep in a dry and ventilated place, away from the damp.
Product Composition
Main fabric : 87.0% Polyester (PES), Main fabric : 13.0% Elasthane Elastic Band : 88.0% Polyamide, Elastic Band : 12.0% Elasthane
Main fabric : 87.0% Polyester (PES), Main fabric : 13.0% Elasthane Elastic Band : 88.0% Polyamide, Elastic Band : 12.0% Elasthane
Main fabric : 87.0% Polyester (PES), Main fabric : 13.0% Elasthane Elastic Band : 88.0% Polyamide, Elastic Band : 12.0% Elasthane
Main fabric : 87.0% Polyester (PES), Main fabric : 13.0% Elasthane Elastic Band : 88.0% Polyamide, Elastic Band : 12.0% Elasthane
Main fabric : 87.0% Polyester (PES), Main fabric : 13.0% Elasthane Elastic Band : 88.0% Polyamide, Elastic Band : 12.0% Elasthane
Main fabric : 87.0% Polyester (PES), Main fabric : 13.0% Elasthane Elastic Band : 88.0% Polyamide, Elastic Band : 12.0% Elasthane
Main fabric : 87.0% Polyester (PES), Main fabric : 13.0% Elasthane Elastic Band : 88.0% Polyamide, Elastic Band : 12.0% Elasthane
Main fabric : 87.0% Polyester (PES), Main fabric : 13.0% Elasthane Elastic Band : 88.0% Polyamide, Elastic Band : 12.0% Elasthane
Main fabric : 87.0% Polyester (PES), Main fabric : 13.0% Elasthane Elastic Band : 88.0% Polyamide, Elastic Band : 12.0% Elasthane
Main fabric : 87.0% Polyester (PES), Main fabric : 13.0% Elasthane Elastic Band : 88.0% Polyamide, Elastic Band : 12.0% Elasthane
Main fabric : 87.0% Polyester (PES), Main fabric : 13.0% Elasthane Elastic Band : 88.0% Polyamide, Elastic Band : 12.0% Elasthane
Main fabric : 87.0% Polyester (PES), Main fabric : 13.0% Elasthane Elastic Band : 88.0% Polyamide, Elastic Band : 12.0% Elasthane
Main fabric : 87.0% Polyester (PES), Main fabric : 13.0% Elasthane Elastic Band : 88.0% Polyamide, Elastic Band : 12.0% Elasthane
Main fabric : 87.0% Polyester (PES), Main fabric : 13.0% Elasthane Elastic Band : 88.0% Polyamide, Elastic Band : 12.0% Elasthane
Main fabric : 87.0% Polyester (PES), Main fabric : 13.0% Elasthane Elastic Band : 88.0% Polyamide, Elastic Band : 12.0% Elasthane