Keepdry 500 Adult Long-Sleeved Base Layer - Black
Product Code : 169216 8394129
Our designers created this Keepdry 500 base layer for intermediate football players to wear in training or matches.
The Keepdry 500 keeps you warm. It is close-fitting so that perspiration can be wicked away and body heat kept in. The technical fabric dries quickly so you feel warm and dry throughout your match.
---
Color : BLACK





S Online stock 136
M Online stock 311
L Online stock 307
XL Online stock 140
2XL Online stock 48
S Online stock 0
M Online stock 95
L Online stock 108
XL Online stock 124
2XL Online stock 56
S Online stock 47
M Online stock 24
L Online stock 45
XL Online stock 7
2XL Online stock 22
S Online stock 19
M Online stock 0
L Online stock 0
XL Online stock 11
2XL Online stock 5
S Online stock 23
M Online stock 11
L Online stock 19
XL Online stock 23
2XL Online stock 28
Home Delivery : Between 3 and 5 days.
Pick up in-store
Service not available
Home Delivery
Select Your Location
FREE for orders above HKD499
Currently not available online. Check the stock in stores on product page. Check stock in stores !
Our Stores
Notify me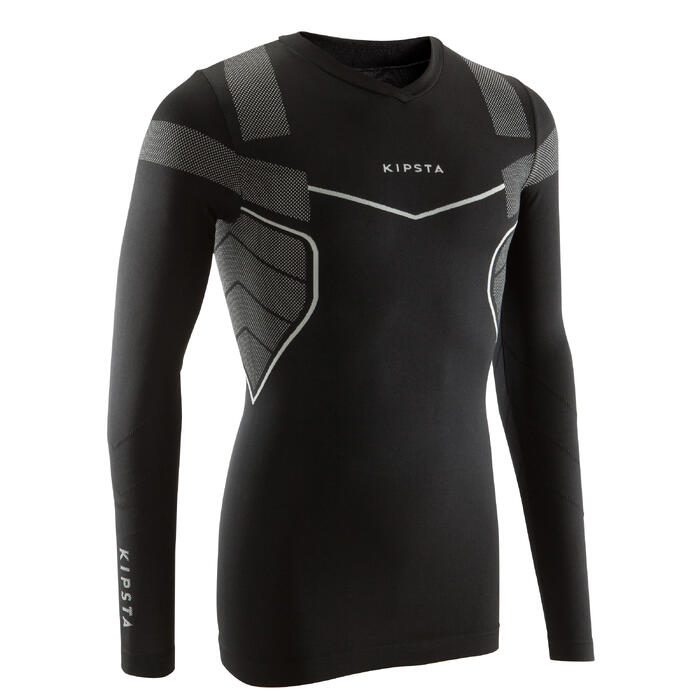 Your request has been registered
You will receive a notification at :
­
Please validate the captcha
Products benefits
Moisture management
The fabric quickly wicks away perspiration to keep you dry and warm.
Freedom of movement
Stretch fabric and slim fit for natural freedom of movement.
Reduced chafing
A slim-fitting base layer prevents irritation and chafing.
Why wear a base layer?
The base layer, also known as the inner layer, helps:
- absorb and wick away perspiration. The skin stays dry, so the body doesn't get chilled.
- retain body heat more effectively, particularly when the garment is close-fitting.
- provide an additional barrier against bad weather
- keep your football shirt dry, even when you're running hard.
Playing with a technical base layer keeps you on the pitch for longer.
What our design team has to say
We have listened to your needs and come up with a response aimed at intermediate footballers. In the heat of the action, your playing pace accelerates and the intensity varies immensely. Your kit needs to be ultra-breathable to regulate your body temperature during the more intense parts of the game. Your base layer also needs to be tight against your skin to keep you warm.
Composition
This base layer top is made from a weave of a polyester thread that helps wick away perspiration, and a polyamide thread for greater softness. These two materials, combined with elastane, ensure excellent comfort. The base layer's pique knit is soft and thick.
Breathability
To keep you dry and regulate your body temperature, Kipsta developed a breathable fabric that increases moisture wicking to the outside.
A special mesh knit is used to ensure greater effectiveness in perspiration areas. The knit quickly wicks away moisture to keep you warm during exercise.
Temperature regulation
The combination of the fabric and technology offers excellent body temperature regulation so you can play hard without getting chilled.
Coordinated
The range of available colours makes it easy to match with jerseys and shorts worn in training and matches.
A rating for comparing products environmental impact
Product's environmental impacts are calculated throughout its life cycle and with different indicators. An "ABCDE" rating system has been created to help you quickly see which products offer the best environmental performance. Use it to compare two similar products (T-shirts, bottoms, backpacks).
Decathlon actively promotes this visible environmental rating policy.
Web: sustainability.decathlon.com
Video: https://youtu.be/8t63KkRwn_8
Product concept & technology
STORAGE ADVICE
Keep in a dry and ventilated place, away from the damp.
Product Composition
Main fabric : 72.0% Polyester (PES), Main fabric : 24.0% Polyamide, Main fabric : 4.0% Elasthane
Main fabric : 72.0% Polyester (PES), Main fabric : 24.0% Polyamide, Main fabric : 4.0% Elasthane
Main fabric : 72.0% Polyester (PES), Main fabric : 24.0% Polyamide, Main fabric : 4.0% Elasthane
Main fabric : 72.0% Polyester (PES), Main fabric : 24.0% Polyamide, Main fabric : 4.0% Elasthane
Main fabric : 72.0% Polyester (PES), Main fabric : 24.0% Polyamide, Main fabric : 4.0% Elasthane
Main fabric : 72.0% Polyester (PES), Main fabric : 24.0% Polyamide, Main fabric : 4.0% Elasthane
Main fabric : 72.0% Polyester (PES), Main fabric : 24.0% Polyamide, Main fabric : 4.0% Elasthane
Main fabric : 72.0% Polyester (PES), Main fabric : 24.0% Polyamide, Main fabric : 4.0% Elasthane
Main fabric : 72.0% Polyester (PES), Main fabric : 24.0% Polyamide, Main fabric : 4.0% Elasthane
Main fabric : 72.0% Polyester (PES), Main fabric : 24.0% Polyamide, Main fabric : 4.0% Elasthane
Main fabric : 72.0% Polyester (PES), Main fabric : 24.0% Polyamide, Main fabric : 4.0% Elasthane
Main fabric : 72.0% Polyester (PES), Main fabric : 24.0% Polyamide, Main fabric : 4.0% Elasthane
Main fabric : 72.0% Polyester (PES), Main fabric : 24.0% Polyamide, Main fabric : 4.0% Elasthane
Main fabric : 72.0% Polyester (PES), Main fabric : 24.0% Polyamide, Main fabric : 4.0% Elasthane
Main fabric : 72.0% Polyester (PES), Main fabric : 24.0% Polyamide, Main fabric : 4.0% Elasthane
Main fabric : 72.0% Polyester (PES), Main fabric : 24.0% Polyamide, Main fabric : 4.0% Elasthane
Main fabric : 72.0% Polyester (PES), Main fabric : 24.0% Polyamide, Main fabric : 4.0% Elasthane
Main fabric : 72.0% Polyester (PES), Main fabric : 24.0% Polyamide, Main fabric : 4.0% Elasthane
Main fabric : 72.0% Polyester (PES), Main fabric : 24.0% Polyamide, Main fabric : 4.0% Elasthane
Main fabric : 72.0% Polyester (PES), Main fabric : 24.0% Polyamide, Main fabric : 4.0% Elasthane
Main fabric : 72.0% Polyester (PES), Main fabric : 24.0% Polyamide, Main fabric : 4.0% Elasthane
Main fabric : 72.0% Polyester (PES), Main fabric : 24.0% Polyamide, Main fabric : 4.0% Elasthane
Main fabric : 72.0% Polyester (PES), Main fabric : 24.0% Polyamide, Main fabric : 4.0% Elasthane
Main fabric : 72.0% Polyester (PES), Main fabric : 24.0% Polyamide, Main fabric : 4.0% Elasthane
Main fabric : 72.0% Polyester (PES), Main fabric : 24.0% Polyamide, Main fabric : 4.0% Elasthane
Main fabric : 72.0% Polyester (PES), Main fabric : 24.0% Polyamide, Main fabric : 4.0% Elasthane