Keepdry Adult Breathable Tights - Black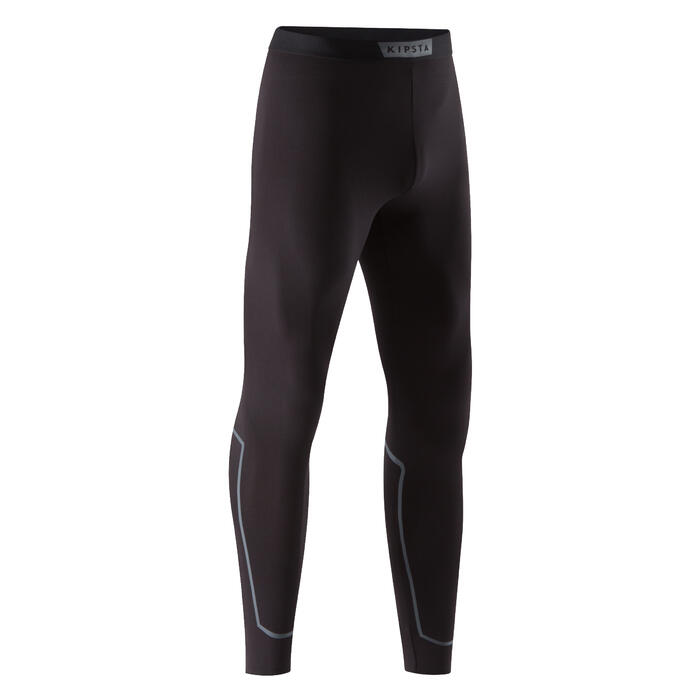 Tights - Evaluation of the entire life cycle of the product, its impact on the environment, including climate change and the depletion of natural resources.
Know more
Adult Tights Keepdry 100 - Black
Product Code : 7135 8496254
As designers and football players, we created these Keepdry 100 tights for beginner football players. They can be worn indoors and outdoors.
These breathable tights keep you comfortable during play by wicking away perspiration while keeping warmth in.
---
Color : BLACK/Abyss grey
Size
S Online stock 1
M Online stock 1
L Online stock 2
XL Online stock 1
2XL Online stock 2
Size as expected (50%)
50 %
of users say this fits As expected
Our customers evaluate the size
Home Delivery : Available
---
FREE Standard Home Delivery for orders above $499
Add $80 for Same Day Delivery
Pick up in-store
Service not available
Home Delivery
Select Your Location
FREE for orders above HKD499
Currently not available online. Click to check the stock in stores. Check stock in stores !
Our Stores
Notify me
Your request has been registered
You will receive a notification at :
Please validate the captcha
Size Guide
Products benefits
Moisture management
Made from material that helps wick perspiration away and dries more quickly.
Freedom of movement
Stretchy fabric in a close-fitting cut that provides of ease of movement.
A rating for comparing products environmental impact
Product's environmental impacts are calculated throughout its life cycle and with different indicators.
An overall ABCDE rating is performed to help you easily identify the products with the best environmental performance by comparing the same type of products with each other (t-shirts, trousers, backpacks,...).
Decathlon is a committed stakeholder in this environmental labelling approach.
To get more information: http://sustainability.decathlon.com/
Product concept & technology
Product Composition
Main fabric : 87.0% Polyester, Main fabric : 13.0% Elasthane Elastic band : 62.0% Polyamide, Elastic band : 27.0% Polyester, Elastic band : 11.0% Elasthane
Main fabric : 87.0% Polyester, Main fabric : 13.0% Elasthane Elastic band : 62.0% Polyamide, Elastic band : 27.0% Polyester, Elastic band : 11.0% Elasthane
Main fabric : 87.0% Polyester, Main fabric : 13.0% Elasthane Elastic band : 62.0% Polyamide, Elastic band : 27.0% Polyester, Elastic band : 11.0% Elasthane
Main fabric : 87.0% Polyester, Main fabric : 13.0% Elasthane Elastic band : 62.0% Polyamide, Elastic band : 27.0% Polyester, Elastic band : 11.0% Elasthane
Main fabric : 87.0% Polyester, Main fabric : 13.0% Elasthane Elastic band : 62.0% Polyamide, Elastic band : 27.0% Polyester, Elastic band : 11.0% Elasthane
Main fabric : 87.0% Polyester, Main fabric : 13.0% Elasthane Elastic band : 62.0% Polyamide, Elastic band : 27.0% Polyester, Elastic band : 11.0% Elasthane
Main fabric : 87.0% Polyester, Main fabric : 13.0% Elasthane Elastic band : 62.0% Polyamide, Elastic band : 27.0% Polyester, Elastic band : 11.0% Elasthane
Main fabric : 87.0% Polyester, Main fabric : 13.0% Elasthane Elastic band : 62.0% Polyamide, Elastic band : 27.0% Polyester, Elastic band : 11.0% Elasthane
Main fabric : 87.0% Polyester, Main fabric : 13.0% Elasthane Elastic band : 62.0% Polyamide, Elastic band : 27.0% Polyester, Elastic band : 11.0% Elasthane
Main fabric : 87.0% Polyester, Main fabric : 13.0% Elasthane Elastic band : 62.0% Polyamide, Elastic band : 27.0% Polyester, Elastic band : 11.0% Elasthane
Main fabric : 87.0% Polyester, Main fabric : 13.0% Elasthane Elastic band : 62.0% Polyamide, Elastic band : 27.0% Polyester, Elastic band : 11.0% Elasthane
Main fabric : 87.0% Polyester, Main fabric : 13.0% Elasthane Elastic band : 62.0% Polyamide, Elastic band : 27.0% Polyester, Elastic band : 11.0% Elasthane
Main fabric : 87.0% Polyester, Main fabric : 13.0% Elasthane Elastic band : 62.0% Polyamide, Elastic band : 27.0% Polyester, Elastic band : 11.0% Elasthane
Main fabric : 87.0% Polyester, Main fabric : 13.0% Elasthane Elastic band : 62.0% Polyamide, Elastic band : 27.0% Polyester, Elastic band : 11.0% Elasthane
Main fabric : 87.0% Polyester, Main fabric : 13.0% Elasthane Elastic band : 62.0% Polyamide, Elastic band : 27.0% Polyester, Elastic band : 11.0% Elasthane
PRODUCT MAINTENANCE

Machine wash - 30° max - permanent press

Do not bleach

Do not tumble dry

Do not iron

Do not dry-clean