Leony Women's One-Piece Skirt Swimsuit - Blue
Product Code : 118684 8336704
Designed for beginner swimmers who are starting to swim and need ease and comfort
A swimsuit combining comfort and support with pads and a skirt style for a feminine look.
---
Color : Light blue
UK 22 - EU 48 Online stock 0
UK 22 - EU 50 Online stock 105
UK 24 - EU 52 Online stock 0
UK 10 - EU 38 Online stock 0
UK 12 - EU 40 Online stock 0
UK 14 - EU 42 Online stock 0
UK 16 - EU 44 Online stock 0
UK 18 - EU 46 Online stock 29
Home Delivery : Between 3 and 5 days.
Pick up in-store
Service not available
Home Delivery
Select Your Location
FREE for orders above HKD499
Currently not available online. Check the stock in stores on product page. Check stock in stores !
Our Stores
Notify me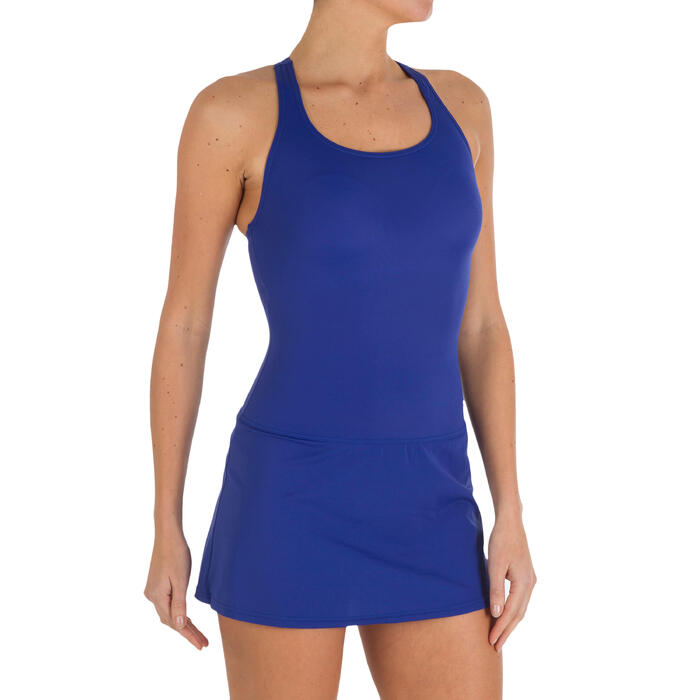 Your request has been registered
You will receive a notification at :
­
Please validate the captcha
Products benefits
Anatomic design
Closed back for better bust support.
Coverage
Skirt style to cover the buttocks in a feminine way.
Stretch
Soft and elastic material for maximum comfort.
Chlorine resistance
Up to 100 hours of use: recommended for occasional use
Your practice
Beginners swim: beginner swimmers who are starting to swim and need ease and comfort. She seeks primarily a water related physical activity, for its benefits on well-being and health. For her, Nabaiji offers a wide range of swimwear that allow her to swim with products suited to swimming, but that also meet anatomical requirements.
STYLE
Y-shaped back: a swimsuit should focus above all on comfort, to allow you to perform your movements in complete comfort, without disturbing or hurting you. That is why it is important to choose the shape of the back of your swimsuit carefully. A Y-shaped closed back swimsuit is ideal if you have a larger bust.
Material
Material: 80% polyamide / 20% elastane. Chlorinated water can be harmful to swimsuits which are used repeatedly in the swimming pool. The elastane fibre that gives the material its stretch property and therefore makes it comfortable, is also very fragile when in contact with chlorine. If you swim occasionally this material will be fine for you. If you swim regularly or intensively, opt for a 100% polyester material.
Restrictions of use
Not recommended for use on slides.
Score to compare the environmental impact of products
The environmental impact of the product is calculated over its entire life cycle and with different indicators. An overall score (ABCDE) is attributed to help you easily identify the products with the best environmental performance by comparing products of the same type with one another (T-shirts, trousers, backpacks, etc.).
Decathlon chose to apply this voluntary environmental labelling scheme.
For more information, visit: http://sustainability.decathlon.com/
Product concept & technology
Maintenance advice
Rinse with clean water and leave out to dry after each use.
Product Composition
Main fabric : 82.0% Polyamide, Main fabric : 18.0% Elasthane Lining : 100.0% Polyester (PES) Foam : 60.0% Polyurethane (PU), Foam : 40.0% Polyester (PES)
Main fabric : 82.0% Polyamide, Main fabric : 18.0% Elasthane Lining : 100.0% Polyester (PES) Foam : 60.0% Polyurethane (PU), Foam : 40.0% Polyester (PES)
Main fabric : 82.0% Polyamide, Main fabric : 18.0% Elasthane Lining : 100.0% Polyester (PES) Foam : 60.0% Polyurethane (PU), Foam : 40.0% Polyester (PES)
Main fabric : 82.0% Polyamide, Main fabric : 18.0% Elasthane Lining : 100.0% Polyester (PES) Foam : 60.0% Polyurethane (PU), Foam : 40.0% Polyester (PES)
Main fabric : 82.0% Polyamide, Main fabric : 18.0% Elasthane Lining : 100.0% Polyester (PES) Foam : 60.0% Polyurethane (PU), Foam : 40.0% Polyester (PES)
Main fabric : 82.0% Polyamide, Main fabric : 18.0% Elasthane Lining : 100.0% Polyester (PES) Foam : 60.0% Polyurethane (PU), Foam : 40.0% Polyester (PES)
Main fabric : 82.0% Polyamide, Main fabric : 18.0% Elasthane Lining : 100.0% Polyester (PES) Foam : 60.0% Polyurethane (PU), Foam : 40.0% Polyester (PES)
Main fabric : 82.0% Polyamide, Main fabric : 18.0% Elasthane Lining : 100.0% Polyester (PES) Foam : 60.0% Polyurethane (PU), Foam : 40.0% Polyester (PES)