Men's Intermediate Reversible Basketball Tank Top - White/Blue
Product Code : 8948 8407310
Designed for intermediate basketball players to wear during training.
This reversible tank top has been designed for basketball. Comfortable and breathable, it'll keep you dry as you train!
---
Color : Snow white/Asphalt blue



S Online stock 0
M Online stock 0
L Online stock 0
XL Online stock 0
2XL Online stock 0
XS Online stock 7
S Online stock 0
M Online stock 0
L Online stock 0
XL Online stock 9
2XL Online stock 64
S Online stock 0
M Online stock 0
L Online stock 0
XL Online stock 0
2XL Online stock 4
Home Delivery :
Pick up in-store
Service not available
Home Delivery
Select Your Location
FREE for orders above HKD499
Currently not available online. Check the stock in stores on product page. Check stock in stores !
Our Stores
Notify me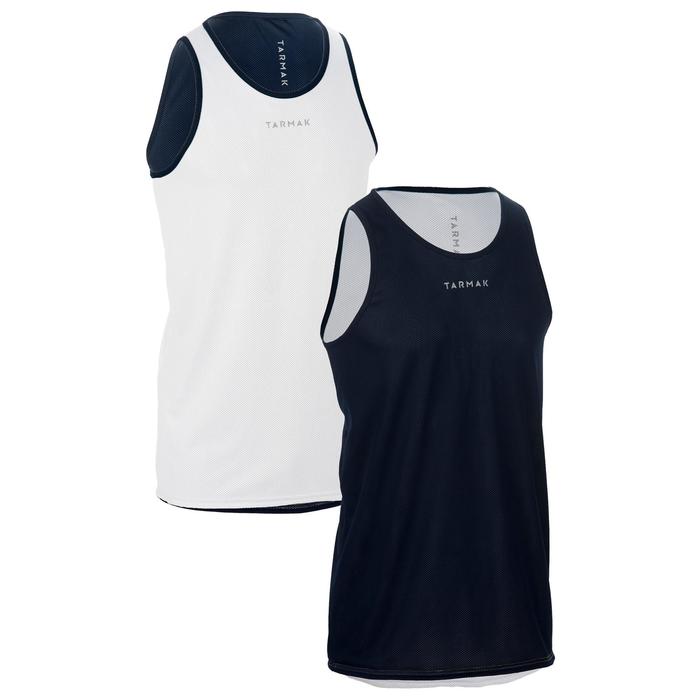 Your request has been registered
You will receive a notification at :
­
Please validate the captcha
Products benefits
Moisture management
The breathable fabric wicks moisture away from the skin.
Versatility
Reversible jersey: pick the colour your need or feel like
Freedom of movement
Sleeveless tank top: reduces discomfort when rotating your shoulders.
Technical information
Why choose this basketball tank top?
The synthetic fabric (100% polyester) quickly wicks away perspiration for optimal comfort. The loose fitting cut and wide armholes make shoulder and basketballer's movements easier when playing.
The "Reversible" feature provides 2 colours/designs to pick your style or choose your team. (161g in size L)
Who designs the Tarmak basketball products?
Tarmak is a team of keen basketball players who develop products especially for playing basketball. Our entire clothing range is designed to meet the needs of the most demanding basketball players, helping you to enjoy your training sessions to the full.
Did you know that all Tarmak products are tested in real-world match conditions?
The design team behind the TARMAK products is based at Kipstadium in Northern France. It is constantly aiming to make basketball a more enjoyable experience. All our products are designed with materials for which we have verified the quality in terms of moisture management, durability, etc. Each and every shoe model is tested in real-world situations by basketball players for several weeks, and undergo changes based on your feedback.
Get all our tips on training and choosing the right basketball gear!
Tarmak meets the needs of all basketball players, from beginner to court regulars. Check out our tips on basketball training, gear, and having a great time playing alone or with friends.
https://conseilsport.decathlon.fr/conseils/basketball-al_33
A score to compare products' environmental impacts
The product's environmental impacts are calculated over its entire life span and with various indicators. An ABCDE score is given to help you easily identify the products with the best environmental performance in comparison with products of the same type (T-shirts, bottoms, backpacks).
Decathlon volunteers to actively play a part in this environmental labelling initiative.
Explanation video: https://youtu.be/8t63KkRwn_8
sustainability.decathlon.com
Product concept & technology
STORAGE ADVICE
We recommend keeping this product in a dry place. After use, take it out of your sport bag to wash and dry it.
TESTS
This product has undergone washing and drying tests to make sure it retains its shape and colour. These tests allow us to ensure our quality expectations are met.
Product Composition
Main fabric : 100.0% Polyester (PES) Main lining : 100.0% Polyester (PES)
Main fabric : 100.0% Polyester (PES) Main lining : 100.0% Polyester (PES)
Main fabric : 100.0% Polyester (PES) Main lining : 100.0% Polyester (PES)
Main fabric : 100.0% Polyester (PES) Main lining : 100.0% Polyester (PES)
Main fabric : 100.0% Polyester (PES) Main lining : 100.0% Polyester (PES)
Main fabric : 100.0% Polyester (PES) Main lining : 100.0% Polyester (PES)
Main fabric : 100.0% Polyester (PES) Main lining : 100.0% Polyester (PES)
Main fabric : 100.0% Polyester (PES) Main lining : 100.0% Polyester (PES)
Main fabric : 100.0% Polyester (PES) Main lining : 100.0% Polyester (PES)
Main fabric : 100.0% Polyester (PES) Main lining : 100.0% Polyester (PES)
Main fabric : 100.0% Polyester (PES) Main lining : 100.0% Polyester (PES)
Main fabric : 100.0% Polyester (PES) Main lining : 100.0% Polyester (PES)
Main fabric : 100.0% Polyester (PES) Main lining : 100.0% Polyester (PES)
Main fabric : 100.0% Polyester (PES) Main lining : 100.0% Polyester (PES)
Main fabric : 100.0% Polyester (PES) Main lining : 100.0% Polyester (PES)
Main fabric : 100.0% Polyester (PES) Main lining : 100.0% Polyester (PES)
Main fabric : 100.0% Polyester (PES) Main lining : 100.0% Polyester (PES)
Main fabric : 100.0% Polyester (PES) Main lining : 100.0% Polyester (PES)