NH500 Men's Hybrid Hiking Pullover - Grey Khaki
Product Code : 14668 8399483
Designed for protects you from the cold when HIKING IN THE COUNTRYSIDE. Tested for optimum comfort between 10°C and 13°C.
Easy care jumper for maximum comfort: thermal comfort thanks to the windproof part on the body, ease of fit and movement thanks to the breathable fleece fabric and very soft inside.
---
Color : DARK GREEN/Carbon grey




S Online stock 2
M Online stock 8
L Online stock 6
XL Online stock 0
XS Online stock 0
S Online stock 25
M Online stock 52
L Online stock 79
XL Online stock 71
2XL Online stock 25
3XL Online stock 18
4XL Online stock 0
XS Online stock 0
S Online stock 22
M Online stock 44
L Online stock 70
XL Online stock 37
2XL Online stock 5
3XL Online stock 0
4XL Online stock 0
S Online stock 9
M Online stock 30
L Online stock 9
XL Online stock 21
2XL Online stock 10
Home Delivery - : Between 3 and 6 days.
Pick up in-store
Service not available
Home Delivery -
Select Your Location
FREE for orders above HKD499
Currently not available online. Check the stock in stores on product page. Check stock in stores !
Our Stores
Notify me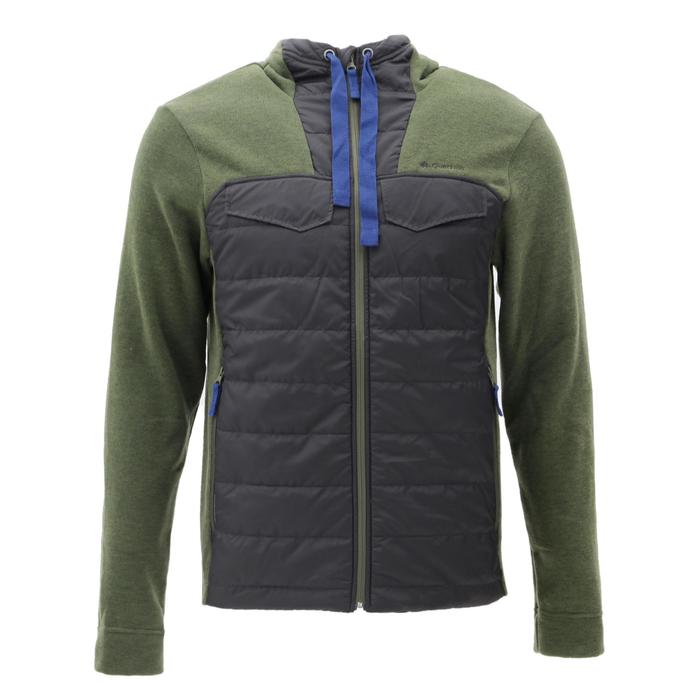 Your request has been registered
You will receive a notification at :
­
Please validate the captcha
Products benefits
Warmth
Quilted body and windproof. Hood. Soft inner. Protects from 10°C to 13°C
Easy transport
2 closing pockets for keeping things safe. Zip pullers: easy opening of pockets
User comfort
Protective tab under the chin. Available in size XS and 4XL on our website
Eco-design
The wadding at the chest is made from recycled polyester fibres
Freedom of movement
Stretch knit across back and arms for excellent freedom of movement
Breathability
Polyester knit: lets through water vapour generated by the body (RET=6.71)
Lightweight
This pullover weighs 488 g in size L. Fleece density: 240 g/sqm
Technical information
An eco-friendly pullover
We take care of our planet to preserve our natural playground and contribute to the pleasure of hiking. Therefore we opted for a lining of recycled polyester fibres. Our way of limiting our carbon footprint.
Fleece component: Insulation thanks to the air
The fleece component is designed to trap air thanks to the space created by its texture; this air acts as a natural insulator, keeping the body warm. The brushing of the knit fabric is what traps the air.
Durability
The anti-pilling treatment ensures that the garment retains its insulating power over time. This pullover has received an anti-pilling treatment.
A score for comparing the products' environmental impact
The product's environmental impact is calculated over its entire life cycle using different indicators. An overall rating from A to E is provided to help you easily identify the more eco-friendly products by comparing products of the same type (T-shirts, trousers and backpacks, etc.)
Decathlon is committed to displaying the environmental information of its products.
For more info: http://sustainability.decathlon.com/
Product concept & technology
Maintenance advice
Wash at 30°C. Do not use fabric softener, do not tumble dry, do not iron
STORAGE ADVICE
Store folded in a clean, dry place
TESTS
We carry out 2 types of thermal tests: - either a test of the material of our pullovers. - or on a thermal manikin in a temperature chamber. We reproduce the temperature, wind (5 km/h) and humidity conditions that you encounter in the mountains when walking at 5 km/h. These tests are used to validate our design choices. And we adapt our thermal insulation where you most need it.
Product Composition
Main fabric : 100.0% Polyester (PES) Outer fabric : 100.0% Polyester (PES) Padding : 100.0% Polyester (PES) Pocket : 100.0% Polyester (PES)
Main fabric : 100.0% Polyester (PES) Outer fabric : 100.0% Polyester (PES) Padding : 100.0% Polyester (PES) Pocket : 100.0% Polyester (PES)
Main fabric : 100.0% Polyester (PES) Outer fabric : 100.0% Polyester (PES) Padding : 100.0% Polyester (PES) Pocket : 100.0% Polyester (PES)
Main fabric : 100.0% Polyester (PES) Outer fabric : 100.0% Polyester (PES) Padding : 100.0% Polyester (PES) Pocket : 100.0% Polyester (PES)
Main fabric : 100.0% Polyester (PES) Outer fabric : 100.0% Polyester (PES) Padding : 100.0% Polyester (PES) Pocket : 100.0% Polyester (PES)
Main fabric : 100.0% Polyester (PES) Outer fabric : 100.0% Polyester (PES) Padding : 100.0% Polyester (PES) Pocket : 100.0% Polyester (PES)
Main fabric : 100.0% Polyester (PES) Outer fabric : 100.0% Polyester (PES) Padding : 100.0% Polyester (PES) Pocket : 100.0% Polyester (PES)
Main fabric : 100.0% Polyester (PES) Outer fabric : 100.0% Polyester (PES) Padding : 100.0% Polyester (PES) Pocket : 100.0% Polyester (PES)
Main fabric : 100.0% Polyester (PES) Outer fabric : 100.0% Polyester (PES) Padding : 100.0% Polyester (PES) Pocket : 100.0% Polyester (PES)
Main fabric : 100.0% Polyester (PES) Outer fabric : 100.0% Polyester (PES) Padding : 100.0% Polyester (PES) Pocket : 100.0% Polyester (PES)
Main fabric : 100.0% Polyester (PES) Outer fabric : 100.0% Polyester (PES) Padding : 100.0% Polyester (PES) Pocket : 100.0% Polyester (PES)
Main fabric : 100.0% Polyester (PES) Outer fabric : 100.0% Polyester (PES) Padding : 100.0% Polyester (PES) Pocket : 100.0% Polyester (PES)
Main fabric : 100.0% Polyester (PES) Outer fabric : 100.0% Polyester (PES) Padding : 100.0% Polyester (PES) Pocket : 100.0% Polyester (PES)
Main fabric : 100.0% Polyester (PES) Outer fabric : 100.0% Polyester (PES) Padding : 100.0% Polyester (PES) Pocket : 100.0% Polyester (PES)
Main fabric : 100.0% Polyester (PES) Outer fabric : 100.0% Polyester (PES) Padding : 100.0% Polyester (PES) Pocket : 100.0% Polyester (PES)
Main fabric : 100.0% Polyester (PES) Outer fabric : 100.0% Polyester (PES) Padding : 100.0% Polyester (PES) Pocket : 100.0% Polyester (PES)
Main fabric : 100.0% Polyester (PES) Outer fabric : 100.0% Polyester (PES) Padding : 100.0% Polyester (PES) Pocket : 100.0% Polyester (PES)
Main fabric : 100.0% Polyester (PES) Outer fabric : 100.0% Polyester (PES) Padding : 100.0% Polyester (PES) Pocket : 100.0% Polyester (PES)
Main fabric : 100.0% Polyester (PES) Outer fabric : 100.0% Polyester (PES) Padding : 100.0% Polyester (PES) Pocket : 100.0% Polyester (PES)
Main fabric : 100.0% Polyester (PES) Outer fabric : 100.0% Polyester (PES) Padding : 100.0% Polyester (PES) Pocket : 100.0% Polyester (PES)
Main fabric : 100.0% Polyester (PES) Outer fabric : 100.0% Polyester (PES) Padding : 100.0% Polyester (PES) Pocket : 100.0% Polyester (PES)
Main fabric : 100.0% Polyester (PES) Outer fabric : 100.0% Polyester (PES) Padding : 100.0% Polyester (PES) Pocket : 100.0% Polyester (PES)
Main fabric : 100.0% Polyester (PES) Outer fabric : 100.0% Polyester (PES) Padding : 100.0% Polyester (PES) Pocket : 100.0% Polyester (PES)
Main fabric : 100.0% Polyester (PES) Outer fabric : 100.0% Polyester (PES) Padding : 100.0% Polyester (PES) Pocket : 100.0% Polyester (PES)
Main fabric : 100.0% Polyester (PES) Outer fabric : 100.0% Polyester (PES) Padding : 100.0% Polyester (PES) Pocket : 100.0% Polyester (PES)
Main fabric : 100.0% Polyester (PES) Outer fabric : 100.0% Polyester (PES) Padding : 100.0% Polyester (PES) Pocket : 100.0% Polyester (PES)