Men's Travel Trekking 3in1 Jacket TRAVEL 100 - Grey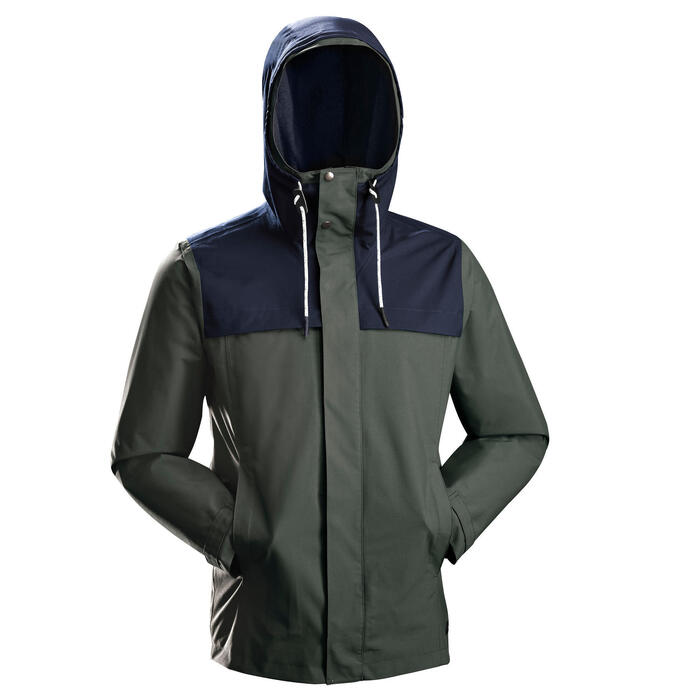 Jacket - Evaluation of the entire life cycle of the product, its impact on the environment, including climate change and the depletion of natural resources.
Know more
Men's Travel Trekking 3-in-1 Jacket Travel 100 - khaki
Product Code : 177091 8492927
Our backpacker designers have designed this jacket to enable you to travel the world with peace of mind, in all environments.
One modular jacket in 3 products, to adapt to all situations.
---
Color : DARK GREEN/Asphalt blue



Size
L Online stock 1
XL Online stock 0
2XL Online stock 0
XS Online stock 2
S Online stock 1
M Online stock 2
L Online stock 1
XL Online stock 1
2XL Online stock 1
3XL Online stock 1
S Online stock 0
M Online stock 0
L Online stock 1
XL Online stock 0
2XL Online stock 1
Size as expected (100%)
100 %
of users say this fits As expected
Our customers evaluate the size
Home Delivery : Available
Pick up in-store
Service not available
Home Delivery
Select Your Location
FREE for orders above HKD499
Currently not available online. Click to check the stock in stores. Check stock in stores !
Our Stores
Notify me
Your request has been registered
You will receive a notification at :
Please validate the captcha
Size Guide
Cover all for your practice
Men's Travel Trekking 3in1 Jacket TRAVEL 100 - Grey
+
SH500 Active Warm Men's Snow Hiking Long-Sleeved T-Shirt - Grey
+
Men's warm trekking travel trousers - TRAVEL 100 - grey
+
Men's snow hiking boots x-warm mid SH500 - blue.
Products benefits
Durability
Polyamide canvas for resistance to abrasion from the rucksack.
Waterproof
2000mm coated fabric and taped seams to protect you from a 2h shower.
Flexibility
3 in 1 jacket that adapts to different climates. Removable inner layer.
Pockets
Large discreet and compartmented travel pocket to secure your belongings.
Warmth
Comfort temperature: -1°C when active.
3in1 to adapt to all situations
With the "3in1" system, the jacket will be ideal in cold conditions (up to - 1°C) and for hot weather trips, you can leave the inner layer at home, taking only the rain coat.
You can also use the inside fleece alone, as a mid-layer, over a t-shirt.
3 options in one jacket!
Keeping your belongings secure: The top priority!
When you are backpacking, what could be worse than losing your passport or having your phone stolen?
In order to prevent this risk and enable you to enjoy your experience with total peace of mind, we have added a large discreet and compartmented pocket on the chest.
You can keep all your belongings in one secure place.
There is even a snap hook to be able to attach your keys and avoid losing them.
Reflective parts
We have added reflective tabs on the cuffs.
WARNING, these parts are not standardised, they are not PPE (PERSONAL PROTECTIVE EQUIPMENT) and do not guarantee safety or protection.
When you want, you can turn the tightening tab around the wrist to uncover the reflective areas.
Resistance to abrasion
We carry out laboratory tests on our fabrics, according to different criteria:
Resistance to abrasion, to mimic the rubbing of rucksack straps.
We carry out a standardised Martindale rub test, during which the jacket's fabric is rubbed against another fabric. The aim is to control the wear limits of the fabric and when pilling begins. The jacket passes the test easily as it reaches 20,000 cycles on the Martindale, above the average for other jackets on the market.
Resistance to tearing
The jacket has also been subjected to single rip tearing tests. The aim is to mimic in a laboratory the effect of your jacket snagging on something outdoors and being ripped. Through this test protocol, we check that once it is ripped, the fabric does not continue to tear and still protects you for years to come.
Did you know that your TRAVEL 100 3in1 jacket is eco-designed?
The lining of this jacket is DOPE DYED: It is the process by which fibres are dyed before the thread is spun. This reduces the effect on the environment, particularly on water consumption. Indeed, the usual dyeing process uses a lot of water, by using this technique, we avoid over-use.
A score for comparing products' environmental impact
The product's environmental impact is calculated over its entire life cycle using various indicators. An overall rating from A to E is given to help you easily identify products with the best environmental performance by comparing and contrasting products of the same type (T-shirts, trousers, backpacks, etc.).
Decathlon actively promotes this environmental rating initiative.
For more information: http://sustainability.decathlon.com/
Product concept & technology
Product Composition
Main fabric : 100.0% Polyamide Main lining : 100.0% Polyester Shoulder fabric : 100.0% Polyamide Lining : 100.0% Polyester Coating : 100.0% Polyurethane Pocket : 100.0% Polyester
Main fabric : 100.0% Polyamide Main lining : 100.0% Polyester Shoulder fabric : 100.0% Polyamide Lining : 100.0% Polyester Coating : 100.0% Polyurethane Pocket : 100.0% Polyester
Main fabric : 100.0% Polyamide Main lining : 100.0% Polyester Shoulder fabric : 100.0% Polyamide Lining : 100.0% Polyester Coating : 100.0% Polyurethane Pocket : 100.0% Polyester
Main fabric : 100.0% Polyamide Main lining : 100.0% Polyester Shoulder fabric : 100.0% Polyamide Lining : 100.0% Polyester Coating : 100.0% Polyurethane Pocket : 100.0% Polyester
Main fabric : 100.0% Polyamide Main lining : 100.0% Polyester Shoulder fabric : 100.0% Polyamide Lining : 100.0% Polyester Coating : 100.0% Polyurethane Pocket : 100.0% Polyester
Main fabric : 100.0% Polyamide Main lining : 100.0% Polyester Shoulder fabric : 100.0% Polyamide Lining : 100.0% Polyester Coating : 100.0% Polyurethane Pocket : 100.0% Polyester
Main fabric : 100.0% Polyamide Main lining : 100.0% Polyester Shoulder fabric : 100.0% Polyamide Lining : 100.0% Polyester Coating : 100.0% Polyurethane Pocket : 100.0% Polyester
Main fabric : 100.0% Polyamide Main lining : 100.0% Polyester Shoulder fabric : 100.0% Polyamide Lining : 100.0% Polyester Coating : 100.0% Polyurethane Pocket : 100.0% Polyester
Main fabric : 100.0% Polyamide Main lining : 100.0% Polyester Shoulder fabric : 100.0% Polyamide Lining : 100.0% Polyester Coating : 100.0% Polyurethane Pocket : 100.0% Polyester
Main fabric : 100.0% Polyamide Main lining : 100.0% Polyester Shoulder fabric : 100.0% Polyamide Lining : 100.0% Polyester Coating : 100.0% Polyurethane Pocket : 100.0% Polyester
Main fabric : 100.0% Polyamide Main lining : 100.0% Polyester Shoulder fabric : 100.0% Polyamide Lining : 100.0% Polyester Coating : 100.0% Polyurethane Pocket : 100.0% Polyester
Main fabric : 100.0% Polyamide Main lining : 100.0% Polyester Shoulder fabric : 100.0% Polyamide Lining : 100.0% Polyester Coating : 100.0% Polyurethane Pocket : 100.0% Polyester
Main fabric : 100.0% Polyamide Main lining : 100.0% Polyester Shoulder fabric : 100.0% Polyamide Lining : 100.0% Polyester Coating : 100.0% Polyurethane Pocket : 100.0% Polyester
Main fabric : 100.0% Polyamide Main lining : 100.0% Polyester Shoulder fabric : 100.0% Polyamide Lining : 100.0% Polyester Coating : 100.0% Polyurethane Pocket : 100.0% Polyester