MF540 Inline Skating Skateboard Scooter Helmet - Peppermint/Grey
Product Code : 172240 8400142
The Oxelo design team has developed this helmet to keep you comfy and safe on your skates, skateboard or scooter.
When falling is all part and parcel of your sport, a helmet is more than just an accessory. A helmet is for protecting your head during intense rides.
---
Color : Mint blue/LIGHT GREY


52-55cm Online stock 31
55-59cm Online stock 41
59-62cm Online stock 25
55-59cm Online stock 36
59-62cm Online stock 9
Home Delivery : Between 3 and 5 days.
Pick up in-store
Service not available
Home Delivery
Select Your Location
FREE for orders above HKD499
Currently not available online. Check the stock in stores on product page. Check stock in stores !
Our Stores
Notify me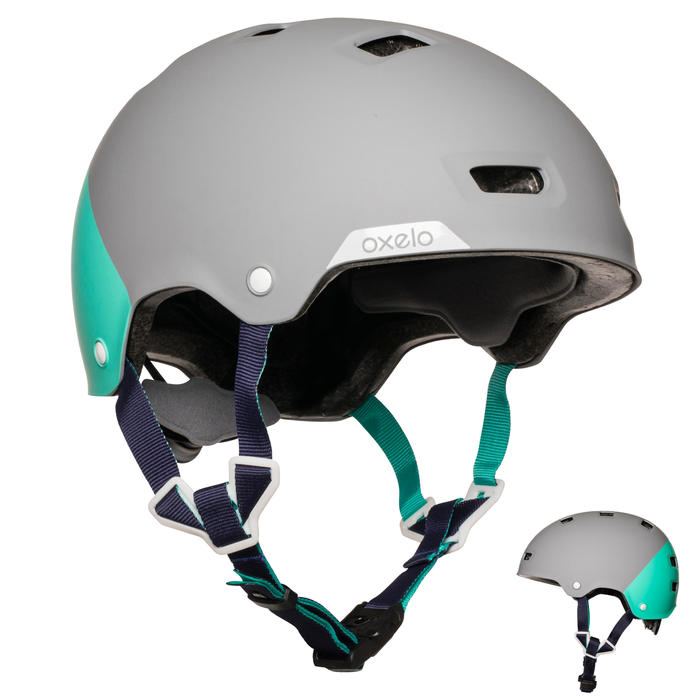 Your request has been registered
You will receive a notification at :
­
Please validate the captcha
endeca.SP_SimilarProduct.label
Bundlespdo_productconversionzone.scala.html
Oxelo

FIT500 Inline Fitness Skates - Techno Red

Available in

Oxelo

MF540 Bad Days Inline Skating Skateboard Scooter Helmet - Black

Available in More Colors

Oxelo

Fit 5 Adult Inline Skating Skateboarding Scootering Protectors x3 - Black/Blue

Available in More Colors
Products benefits
Stability
The helmet's shape and 3D adjustment dial keep it stable.
Adjustable
3D adjustment dial for changing the height and depth.
Lightweight
400 g in size M.
Ventilation
12 vents with air channels for air circulation.
Ease of use
Fixed dividers and magnetic buckle for fastening and adjusting with one hand.
Impact protection
The shape of the helmet (covering the back of the neck and ears) is designed for doing boardsports on asphalt.
Polystyrene structure and external ABS shell.
Adjustment and comfort
Soft foam with a thermobonded finish for comfort. Magnetic buckle that can be fastened and released with one hand. Non-movable dividers to always keep the right fit.Turn ring with height adjustment to fit more snugly.
What sizes are available?
Available in 3 sizes (depending on the colour): S: 52/55 cm (350 g), M: 55/59 cm (400 g, L: 59/62 cm (460 g).
What does the EN 1078 standard cover?
EN1078 is a European standard concerning the test methods and requirements for cycling, skateboarding and skating helmets.
This standard covers the following aspects: construction, including field of vision; shock-absorbing properties; fastening system features, including the chinstrap and tightening systems; markings and information.
When should you replace a helmet?
Helmets are designed to protect your head from an impact. From just one impact. If you fall, even if it doesn't seem like the helmet is damaged, you need to replace it: it could be weakened or cracked in invisible places... and thus no longer provide protection.
You should also consider replacing your helmet if it has gotten old. After 5 years, certain materials start to age, especially if the helmet is stored in a cold and/or damp place.
product.productCharacteristic.Warranty.title
2 years
product.productCharacteristic.Weight.title
0.4kg in size 55-59cm
Product concept & technology
STORAGE ADVICE
Store in a dry place, away from direct sunlight and extreme temperatures.
User Restrictions
Not suitable for motor sports or climbing.
Product Composition
Foam : 100.0% Expanded Polystyrene (EPS) Outer fabric : 100.0% Acrylonitrile butadiene styrene (ABS)
Foam : 100.0% Expanded Polystyrene (EPS) Outer fabric : 100.0% Acrylonitrile butadiene styrene (ABS)
Foam : 100.0% Expanded Polystyrene (EPS) Outer fabric : 100.0% Acrylonitrile butadiene styrene (ABS)
Foam : 100.0% Expanded Polystyrene (EPS) Outer fabric : 100.0% Acrylonitrile butadiene styrene (ABS)
Foam : 100.0% Expanded Polystyrene (EPS) Outer fabric : 100.0% Acrylonitrile butadiene styrene (ABS)
Oxelo
Play Kids' 3-Piece Skating Skateboarding Scooter Protective Gear - Black
(1)
endeca.SP_SimilarProduct.label