MH K 900 Children Hiking Sunglasses Ages 4-6 Category 4 - Pink
Product Code : 181972 8485743
Designed for children aged 4 to 6 going hiking in very sunny weather. Suitable for all outdoor activities.
Protection, fit and flexibility for your child! MH K 900 CAT4 sunglasses give good coverage and come with a headstrap. They provide full UV protection for your child's sensitive eyes
---
Color : Blush pink/Begonia pink



Unique size Online stock 38
Unique size Online stock 83
Unique size Online stock 32
Unique size Online stock 78
Home Delivery : Between 3 and 5 days.
Pick up in-store
Service not available
Home Delivery
Select Your Location
FREE for orders above HKD499
Currently not available online. Check the stock in stores on product page. Check stock in stores !
Our Stores
Notify me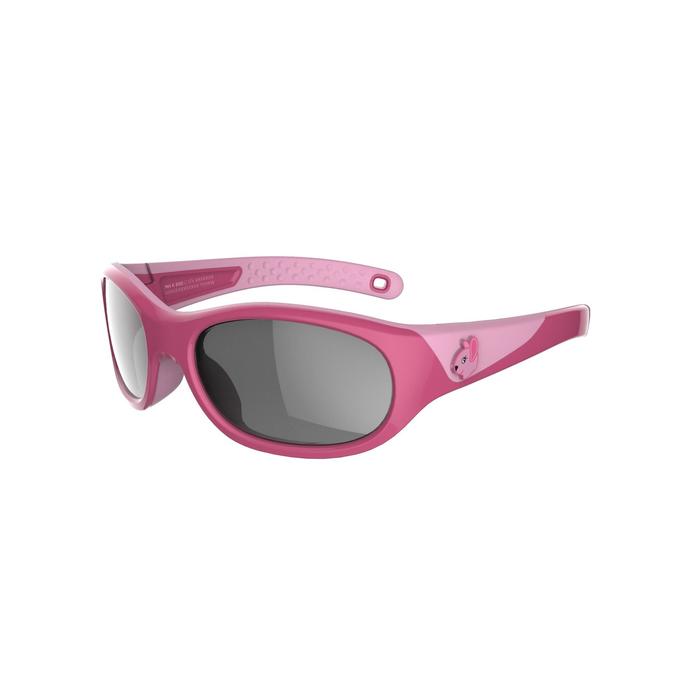 Your request has been registered
You will receive a notification at :
­
Please validate the captcha
Products benefits
Sun protection
Cat 4 lenses - 100% UV protection: ideal at altitude or in very sunny weather
Coverage
Wraps around the face: no light passes through sides and bottom.
Durability
Sunglasses made from flexible material: reduces the risk of breakage.
Stability
The headstrap and rubber arm tips ensure a good hold.
LENS
Category 4: lets through 3% to 8 % of light (protection in sunny weather - Standard: ISO 12312-1)
100% UV protection
Anti blue light: filters over 90% of harmful blue light that can cause eye fatigue and a loss in visual acuity.
Material: impact resistant polycarbonate
FRAME
Frame material: TR90 / rubber
Nose pads material: rubber
Arms material: TR90 / rubber
Arm tips material: TR90 / rubber
Size: suitable for faces of 4- to 6-year-old children, depending on their size.
STRAP
Polyester and plastic
Buckle system for easy adjustment.
product.productCharacteristic.Warranty.title
2 years
Product concept & technology
Maintenance advice
Clean your lenses with a suitable accessory: towelette, microfibre cloth or lens cleaner (ORAO accessory range). Avoid using paper towels, cloths that contain silicone or tissues as they may scratch your lenses. Household products, disinfectants and acetone may also damage your lenses and their surface treatment. In the event of splashes on your lenses, never dry wipe them: rinse with clear water first.
STORAGE ADVICE
Your child's quality of vision depends on the proper care of the sunglasses. The case is not just for show! Stored in their case, the sunglasses are protected from scratches, shocks and crushing.
TESTS
All our sports sunglasses have been tested in our DECATHLON laboratories and in the real-life use conditions for which they were designed. Our development teams, product managers, engineers and designers ensure that our sports sunglasses perfectly fit field use conditions.
User Restrictions
Category 4 lenses are not suitable for driving
Product Composition
Frame : 60.0% Rubber - Thermoplastic Rubber (TPR), Frame : 40.0% Polycarbonate (PC) Lens : 100.0% Polycarbonate (PC) Strap : 60.0% Polyester (PES), Strap : 40.0% Polycarbonate (PC) Screws : 100.0% Polycarbonate (PC)
Frame : 60.0% Rubber - Thermoplastic Rubber (TPR), Frame : 40.0% Polycarbonate (PC) Lens : 100.0% Polycarbonate (PC) Strap : 60.0% Polyester (PES), Strap : 40.0% Polycarbonate (PC) Screws : 100.0% Polycarbonate (PC)
Frame : 60.0% Rubber - Thermoplastic Rubber (TPR), Frame : 40.0% Polycarbonate (PC) Lens : 100.0% Polycarbonate (PC) Strap : 60.0% Polyester (PES), Strap : 40.0% Polycarbonate (PC) Screws : 100.0% Polycarbonate (PC)
Frame : 60.0% Rubber - Thermoplastic Rubber (TPR), Frame : 40.0% Polycarbonate (PC) Lens : 100.0% Polycarbonate (PC) Strap : 60.0% Polyester (PES), Strap : 40.0% Polycarbonate (PC) Screws : 100.0% Polycarbonate (PC)