MH100 Men's Mountain Hiking Shoes - Black
Product Code : 106585 8383908
Designed for day hiking in the mountains in dry weather on technical trails. For beginners.
These hiking shoes have what is needed for comfortable mountain hiking: cushioning the length of the foot, a protective stone-guard and lugged sole.
---
Color : Carbon grey
UK 5.5 - EU 39 Online stock 28
UK 6.5 - EU 40 Online stock 51
UK 7 - EU 41 Online stock 53
UK 8 - EU 42 Online stock 53
UK 8.5 - EU 43 Online stock 1
UK 9.5 - EU 44 Online stock 0
UK 10.5 - EU 45 Online stock 0
Home Delivery : Between 3 and 5 days.
Pick up in-store
Service not available
Home Delivery
Select Your Location
FREE for orders above HKD499
Currently not available online. Check the stock in stores on product page. Check stock in stores !
Our Stores
Notify me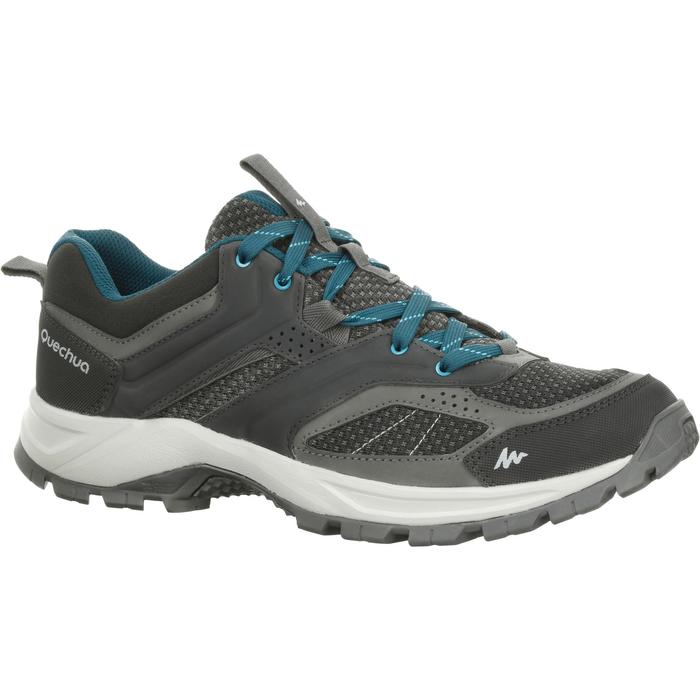 Your request has been registered
You will receive a notification at :
­
Please validate the captcha
Products benefits
Traction
Crosscontact sole providing excellent compromise for dry and slippery terrain.
Cushioning
Full-length cushioning thanks to its EVA midsole.
Lightweight
356 g the shoe in size 8
Impact protection
Toe bumper for good toe protection.
Technical information
Crosscontact sole
The design of the sole has been the subject of extended research in our laboratories along with a special rubber formulation to optimise grip and traction. As requirements are not the same, we automatically look for the best compromise to develop on both soft and dry terrain.
Purchasing tips
Try on both shoes, standing up, with the socks worn for hiking. Try on several styles or sizes if necessary. Check two comfort points: the base of the heel and the front part of the foot going down. Avoid all pressure points when trying them on. Don't hesitate to walk around the store. Break your shoes in gradually on your first big hike to mould them to your feet.
What shoe size do I choose?
For hiking, do try a size about your usual one to ensure optimum comfort when going downhill and to prevent your toes from touching the top of the shoe. Recommendation: keep your toenails short and before any descent, check that your lacing will prevent your foot from sliding forwards towards the front of the shoe.
Field Test
All our shoes undergo use and comfort tests carried out by users who represent the target market in conditions identical to those found in typical use. Our Field Test Missions team up the product manager with people who aren't affiliated with QUECHUA, to test, improve, and validate our products.
LaboratoryTesting
Other laboratory tests are also conducted to approve the quality of the following components: tearing eyelets and straps, gluing, toxicology, UV resistance, abrasion resistance of outsole and upper components, accelerated ageing.
Product concept & technology
STORAGE ADVICE
Store in a well ventilated place away from light and moisture.
TESTS
All our shoes are tested for initial comfort and comfort in use by typical users and under the same conditions you find in use. Our Missions Tests link the product manager up with people who are not affiliated to Quechua to test, develop and approve the products.
Product Composition
Outer sole of : 50.0% Ethylene Vinyl Acetate (EVA), Outer sole of : 50.0% Rubber - Butadiene Rubber (BR) Upper of : 50.0% Polyester (PES), Upper of : 50.0% Polyurethane (PU) Lining and sock of : 100.0% Polyester (PES)
Outer sole of : 50.0% Ethylene Vinyl Acetate (EVA), Outer sole of : 50.0% Rubber - Butadiene Rubber (BR) Upper of : 50.0% Polyester (PES), Upper of : 50.0% Polyurethane (PU) Lining and sock of : 100.0% Polyester (PES)
Outer sole of : 50.0% Ethylene Vinyl Acetate (EVA), Outer sole of : 50.0% Rubber - Butadiene Rubber (BR) Upper of : 50.0% Polyester (PES), Upper of : 50.0% Polyurethane (PU) Lining and sock of : 100.0% Polyester (PES)
Outer sole of : 50.0% Ethylene Vinyl Acetate (EVA), Outer sole of : 50.0% Rubber - Butadiene Rubber (BR) Upper of : 50.0% Polyester (PES), Upper of : 50.0% Polyurethane (PU) Lining and sock of : 100.0% Polyester (PES)
Outer sole of : 50.0% Ethylene Vinyl Acetate (EVA), Outer sole of : 50.0% Rubber - Butadiene Rubber (BR) Upper of : 50.0% Polyester (PES), Upper of : 50.0% Polyurethane (PU) Lining and sock of : 100.0% Polyester (PES)
Outer sole of : 50.0% Ethylene Vinyl Acetate (EVA), Outer sole of : 50.0% Rubber - Butadiene Rubber (BR) Upper of : 50.0% Polyester (PES), Upper of : 50.0% Polyurethane (PU) Lining and sock of : 100.0% Polyester (PES)
Outer sole of : 50.0% Ethylene Vinyl Acetate (EVA), Outer sole of : 50.0% Rubber - Butadiene Rubber (BR) Upper of : 50.0% Polyester (PES), Upper of : 50.0% Polyurethane (PU) Lining and sock of : 100.0% Polyester (PES)