MH500 Men's Waterproof Mountain Hiking Rain Jacket - Blue Yellow
Product Code : 9770 8355719
Designed for experienced mountain hikers seeking protection from heavy rain and wind without hindering their movements.
This waterproof hiking jacket is robust, breathable and ventilated, as well as having a competitive price. Another advantage? The stretch fabric provides freedom of movement!
---
Color : Deep blue/YELLOW


XS Online stock 0
S Online stock 0
M Online stock 8
L Online stock 0
XL Online stock 1
2XL Online stock 0
XS Online stock 14
S Online stock 21
M Online stock 50
L Online stock 68
XL Online stock 15
2XL Online stock 10
XS Online stock 0
S Online stock 9
M Online stock 28
L Online stock 24
XL Online stock 7
2XL Online stock 7
Home Delivery : Between 3 and 5 days
Pick up in-store
Service not available
Home Delivery
Select Your Location
FREE for orders above HKD499
Currently not available online. Click to check the stock in stores. Check stock in stores !
Our Stores
Notify me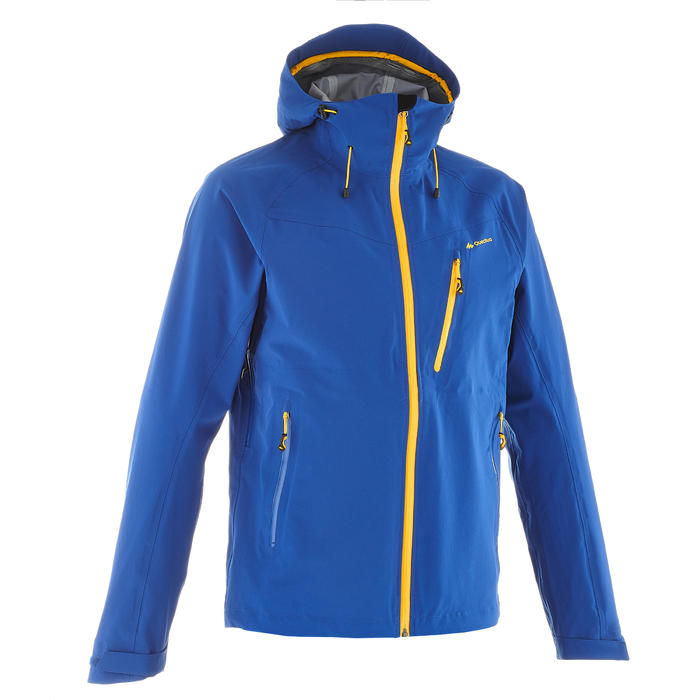 Your request has been registered
You will receive a notification at :
­
Please validate the captcha
Products benefits
Waterproof
3-layer fabric (10,000 mm). W/P seams & zips. Tested under 100L/hr/m² for 3hrs.
Breathability
Fabrics that reduce condensation in the garment. Hydrophilic coating (RET=6).
Ventilation
30 cm underarm ventilation zips that help to eliminate perspiration (Size: L)
Freedom of movement
Stretch fabric (13% elastane) for optimum comfort in use.
Lightweight
Weight: 590 g in size L.
Anatomic design
Jacket hem drawcord. 2-way (height and depth) adjustable 3D hood.
Pockets
Three closing waterproof pockets. One mesh inner pocket.
Sizing and fit information
Fitted cut to fully benefit from the stretch component. The jacket fits over a fine lightweight second layer such as a pullover or light down jacket.
Hood
Attached hood with two-way (height and depth) adjustment using elastic drawcords and toggles. Rigid visor for maximum face protection.
Pocket system
2 hand pockets with waterproof zips + 1 outer breast pocket with a waterproof zip + 1 easy-access inner mesh pocket.
Adjustable hem
Elastic drawcords and toggles.
Adjustable cuffs
Velcro tab fasteners.
Main component
3-layer stretch membrane fabric.
Additional recommended products
Forclaz Rain overtrousers for protecting the lower body to complete an effective rain protection outfit designed for mountain walks. Care products: waterproof spray or wash-in waterproof liquid, to restore the fabric's water repellent properties and optimise your garment's performance throughout its lifetime.
Component waterproofing
We measure a fabric's resistance to water pressure, expressed in terms of the height of a water column in mm (based on the ISO 811 standard). The higher the pressure, the higher the fabric's waterproof rating. Components with a 2000 mm rating can withstand the pressure of a 2000 mm column of water (which is equivalent to a rain shower lasting two hour).
Waterproofing of the garment
This garment has been validated during the shower test under 100 l of water / sqm / hour for 3 hours. This test reproduces the conditions of a violent storm in the mountains.
Component breathability
In addition to breathability of the fabrics used, Quechua develops technical solutions (zips, ventilation, mesh, etc.) to improve the overall ventilation of its trekking jackets and overtrousers designed for great hiking use (Forclaz, Bionnassay and Helium lines). These ventilation systems allow both temperature regulation inside the garment and help wick away perspiration generated by the body during exercise.
Component with coating or a membrane
The coating is like a layer of paint applied on the underside of the fabric to make it waterproof while remaining breathable. It is often less costly than a membrane, and requires a lining for protection. The membrane is like a very fine plastic film (polyurethane) making the component waterproof while remaining breathable. It has the advantage of being more flexible, lightweight, durable and often more breathable than the coating.
Component 3 layers, 2 layers or 2.5 layers
3 layers: the membrane is stuck between the outer and inner layer of the component. This construction helps the membrane last longer and boosts the component's performance. 2 layers: the membrane is only stuck to the outer fabric, while the inner protective lining is free. This construction costs less but is generally more cumbersome. 2.5 layers: the membrane is protected on the inside by a kind of varnish coating rather than an actual layer to make it as lightweight as possible
Water repellent property of the component
A fabric is water repellent when it makes water run off its surface without absorbing in. This prevents the fabric from soaking up water and keeps it lightweight, warm and breathable. The water-repellent effect is achieved by treating the outer surface of the fabric. This treatment must be renewed throughout the garment's lifetime (recommended after every three washes). All the Quechua waterproof jackets have received a water repellent treatment.
A score for comparing products' environmental impact
The product's environmental impact is calculated over its entire life cycle using different indicators. A general score from A to E is provided to help you easily identify the most eco-friendly products by comparing products of the same type (T-shirts, trousers, backpacks, etc.) Decathlon is committed to displaying this environmental information. For more info: http://sustainability.decathlon.com/
product.productCharacteristic.Warranty.title
2 years
Product concept & technology
Maintenance advice
Wash at 30°C. Use liquid detergent; do not add fabric conditioner. Fasten zips and rip-tabs before washing. With each wash, restore the fabric's water repellent properties using a suitable treatment. A complete range of care products specially designed for waterproof and breathable fabrics is available in all Decathlon stores. These products will help you optimise your garment's performance throughout its lifetime.
STORAGE ADVICE
Dry this waterproof protective garment thoroughly before storing.
TESTS
Our team of designers is based at the foot of the Mont Blanc, in Haute-Savoie (France). All year round, we create and develop products that are attractive, simple and technologically advanced. These are then ruthlessly tested in the field because we believe that the only way to continually improve is to test the products under the real-life conditions that you will experience.
Product Composition
Main fabric : 72.0% Polyamide, Main fabric : 16.0% Polyester (PES), Main fabric : 12.0% Elasthane Coating : 100.0% Polyurethane (PU) Pocket : 74.0% Polyester (PES), Pocket : 26.0% Elasthane
Main fabric : 72.0% Polyamide, Main fabric : 16.0% Polyester (PES), Main fabric : 12.0% Elasthane Coating : 100.0% Polyurethane (PU) Pocket : 74.0% Polyester (PES), Pocket : 26.0% Elasthane
Main fabric : 72.0% Polyamide, Main fabric : 16.0% Polyester (PES), Main fabric : 12.0% Elasthane Coating : 100.0% Polyurethane (PU) Pocket : 74.0% Polyester (PES), Pocket : 26.0% Elasthane
Main fabric : 72.0% Polyamide, Main fabric : 16.0% Polyester (PES), Main fabric : 12.0% Elasthane Coating : 100.0% Polyurethane (PU) Pocket : 74.0% Polyester (PES), Pocket : 26.0% Elasthane
Main fabric : 72.0% Polyamide, Main fabric : 16.0% Polyester (PES), Main fabric : 12.0% Elasthane Coating : 100.0% Polyurethane (PU) Pocket : 74.0% Polyester (PES), Pocket : 26.0% Elasthane
Main fabric : 72.0% Polyamide, Main fabric : 16.0% Polyester (PES), Main fabric : 12.0% Elasthane Coating : 100.0% Polyurethane (PU) Pocket : 74.0% Polyester (PES), Pocket : 26.0% Elasthane
Main fabric : 72.0% Polyamide, Main fabric : 16.0% Polyester (PES), Main fabric : 12.0% Elasthane Coating : 100.0% Polyurethane (PU) Pocket : 74.0% Polyester (PES), Pocket : 26.0% Elasthane
Main fabric : 72.0% Polyamide, Main fabric : 16.0% Polyester (PES), Main fabric : 12.0% Elasthane Coating : 100.0% Polyurethane (PU) Pocket : 74.0% Polyester (PES), Pocket : 26.0% Elasthane
Main fabric : 72.0% Polyamide, Main fabric : 16.0% Polyester (PES), Main fabric : 12.0% Elasthane Coating : 100.0% Polyurethane (PU) Pocket : 74.0% Polyester (PES), Pocket : 26.0% Elasthane
Main fabric : 72.0% Polyamide, Main fabric : 16.0% Polyester (PES), Main fabric : 12.0% Elasthane Coating : 100.0% Polyurethane (PU) Pocket : 74.0% Polyester (PES), Pocket : 26.0% Elasthane
Main fabric : 72.0% Polyamide, Main fabric : 16.0% Polyester (PES), Main fabric : 12.0% Elasthane Coating : 100.0% Polyurethane (PU) Pocket : 74.0% Polyester (PES), Pocket : 26.0% Elasthane
Main fabric : 72.0% Polyamide, Main fabric : 16.0% Polyester (PES), Main fabric : 12.0% Elasthane Coating : 100.0% Polyurethane (PU) Pocket : 74.0% Polyester (PES), Pocket : 26.0% Elasthane
Main fabric : 72.0% Polyamide, Main fabric : 16.0% Polyester (PES), Main fabric : 12.0% Elasthane Coating : 100.0% Polyurethane (PU) Pocket : 74.0% Polyester (PES), Pocket : 26.0% Elasthane
Main fabric : 72.0% Polyamide, Main fabric : 16.0% Polyester (PES), Main fabric : 12.0% Elasthane Coating : 100.0% Polyurethane (PU) Pocket : 74.0% Polyester (PES), Pocket : 26.0% Elasthane
Main fabric : 72.0% Polyamide, Main fabric : 16.0% Polyester (PES), Main fabric : 12.0% Elasthane Coating : 100.0% Polyurethane (PU) Pocket : 74.0% Polyester (PES), Pocket : 26.0% Elasthane
Main fabric : 72.0% Polyamide, Main fabric : 16.0% Polyester (PES), Main fabric : 12.0% Elasthane Coating : 100.0% Polyurethane (PU) Pocket : 74.0% Polyester (PES), Pocket : 26.0% Elasthane
Main fabric : 72.0% Polyamide, Main fabric : 16.0% Polyester (PES), Main fabric : 12.0% Elasthane Coating : 100.0% Polyurethane (PU) Pocket : 74.0% Polyester (PES), Pocket : 26.0% Elasthane
Main fabric : 72.0% Polyamide, Main fabric : 16.0% Polyester (PES), Main fabric : 12.0% Elasthane Coating : 100.0% Polyurethane (PU) Pocket : 74.0% Polyester (PES), Pocket : 26.0% Elasthane
Main fabric : 72.0% Polyamide, Main fabric : 16.0% Polyester (PES), Main fabric : 12.0% Elasthane Coating : 100.0% Polyurethane (PU) Pocket : 74.0% Polyester (PES), Pocket : 26.0% Elasthane
product.InfoConceptTechnology.maintenancePicture.label

Machine wash - 30° max - normal

Do not bleach

Do not tumble dry

Do not iron

Do not dry-clean