MH500 Men's Waterproof Mountain Hiking Rain Over-Trousers - Black
Product Code : 109325 8332514
Designed for beginner mountain hikers who want to protect themselves from the rain, snow and wind and keep their bodies dry.
Waterproof, breathable, and easy to pull on even with shoes, these overtrousers will complement your waterproof hiking jacket to keep you dry even during heavy storms!
---
UK 30 - EU 38 Online stock 11
UK 32 - EU 40 Online stock 7
UK 34 - EU 42 Online stock 12
UK 36 - EU 44 Online stock 14
UK 38 - EU 46 Online stock 21
UK 40 - EU 48 Online stock 8
Home Delivery - :
Pick up in-store
Service not available
Home Delivery -
Select Your Location
FREE for orders above HKD499
This product is not available online. Check stock in stores !
Our Stores
pdm.privacy_policy_modal.title
Notify me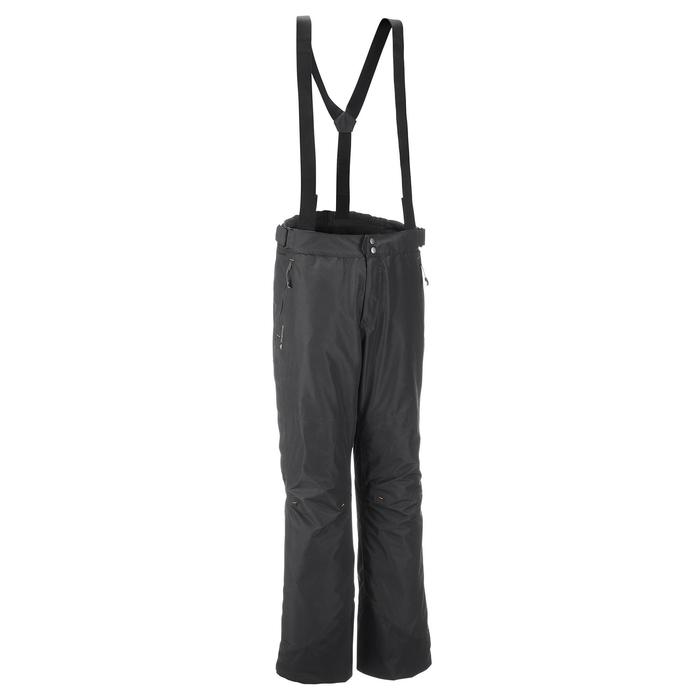 Your request has been registered
You will receive a notification at :
PRODUCT BENEFITS
Waterproof
8000 mm rated w/p membrane. Fully taped seams. Tested in 100L/hr/m² for 3hrs
Breathability
Hydrophilic membrane (RET=12): limits condensation inside the garment.
Ventilation
Side ventilation zips: perspiration wicking.
Easy dressing
3/4 length leg zip: can be pulled on over your shoes.
Lightweight
Weight: 690 g in size L.
TECHNICAL INFORMATION
Sizing and fit information
Standard cut. Can be worn over trousers, tights or hiking shorts. Please note: Warning, no seams possible because of the side zips on the legs.
Support
Straps are removable, and length is adjustable by rip-tabs.
Waist size adjustment
With rip-tab + plastic buckle systems on each side of the waist.
Pockets
2 hand pockets with zip fastening.
Easy to put on
Zip along 3/4 of leg length so they are easy to slip on/take off without having to sit down or remove footwear.
Reinforcements
Trouser cuffs reinforced with highly durable patches, which are tear- and cut-resistant.
Technical linings
Micro-fleece inside the waist and on the seat for comfort/nylon around the knees for ease of movement and durability/mesh on the thighs for breathability.
Recommended additional product
Care products: waterproofing spray or liquid in the machine To renew the fabric's water repellent properties and optimise performance throughout the lifespan of your garment.
Component waterproofing
We test a fabric's resistance to water pressure by measuring the height of a column of water supported by the fabric in mm (test based on the ISO 811 standard). The better the fabric resists pressure, the more waterproof it is. Components with a 2000 mm rating can withstand the pressure of a 2000 mm column of water (which is equivalent to a rain shower lasting two hour).
Waterproofing of the garment
This garment was approved in a shower test in 100 L of water/m²/hour for 3 hours. This test reproduces the conditions of a violent storm in the mountains.
Component with membrane or coating
The coating is like a layer of "paint" applied on the underside of the fabric to make it waterproof while remaining breathable. It is often less costly than a membrane, and requires a lining for protection. The membrane is like a very fine plastic film (polyurethane) making the component waterproof while remaining breathable. It has the advantage of being more supple, lightweight, durable and often more breathable than the coating.
Component breathability
To find out whether a fabric is breathable, we measure its evaporative resistance or RET (based on the ISO 11092 standard). The lower the fabric's resistance, the more water vapour generated by physical activity is evaporated, and the higher the fabric's breathability. For example: RET < 9 = extremely breathable fabric / 9 < RET < 12 = very breathable fabric / 12 < RET < 20 = breathable fabric / RET > 20 = fabric is not breathable or has low breathability.
Breathability of the garment
In addition to breathable fabrics, Quechua develops high-tech solutions (zips, ventilation, mesh, etc.) to improve the overall ventilation of its hiking jackets and overtrousers. These ventilation systems allow you to regulate the temperature inside the garment and also to facilitate the transfer of perspiration generated by the body during physical effort.
Water-repellent component
A fabric is water repellent when it allows water to slide over its surface without seeping in. This prevents the fabric from soaking up water and keeps it lightweight and breathable. A fabric becomes water repellent by applying a treatment to its outer surface. This treatment must be renewed throughout the garment's lifetime (recommended after every three washes). All Quechua overtrousers benefit from a waterproofing treatment.
PRODUCT CONCEPT & TECHNOLOGY
Maintenance advice
Wash at 30°C. Use liquid detergent; do not add fabric conditioner. Fasten zips and rip-tabs before washing. Restore fabric water-repellent properties using a suitable treatment with each wash. All our Decathlon stores offer a complete range of products specially designed to keep fabrics water-resistant and breathable. These products improve the performance of your garment throughout its lifespan.
STORAGE ADVICE
Always make sure that this waterproof protective garment is completely dry before storing it.
TESTS
Our design team is based at the foot of Mont Blanc, in Haute-Savoie (France). All year round, we create and develop products that are beautiful, simple and technologically advanced. These are then ruthlessly tested in the field, as we remain convinced that only through rigorous testing under real world conditions, like the ones you will be using them in, can we continue to provide you with better products than ever.
Product Composition
"Main fabric : 100.0% Polyester (PES) Yoke : 100.0% Polyester (PES)"
"Main fabric : 100.0% Polyester (PES) Yoke : 100.0% Polyester (PES)"
"Main fabric : 100.0% Polyester (PES) Yoke : 100.0% Polyester (PES)"
"Main fabric : 100.0% Polyester (PES) Yoke : 100.0% Polyester (PES)"
"Main fabric : 100.0% Polyester (PES) Yoke : 100.0% Polyester (PES)"
"Main fabric : 100.0% Polyester (PES) Yoke : 100.0% Polyester (PES)"