NH500 Women's Hiking Pullover - Beige
Product Code : 172117 8492217
Our hiker designers have designed this practical and cosy jumper for nature hikers. It has been tested for optimum comfort between 10°C and 13°C
You will feel cosy in this very feminine sweater. It will protect you from the cold thanks to its large collar and long back. Very practical: 2 clever pockets inside the kangaroo pocket
---
Color : BEIGE/Iced coffee


XS Online stock 0
S Online stock 0
M Online stock 26
L Online stock 22
XL Online stock 15
2XL Online stock 3
XS Online stock 0
S Online stock 41
M Online stock 46
L Online stock 0
XL Online stock 0
2XL Online stock 0
Home Delivery : Between 3 and 5 days.
Pick up in-store
Service not available
Home Delivery
Select Your Location
FREE for orders above HKD499
Currently not available online. Check the stock in stores on product page. Check stock in stores !
Our Stores
Notify me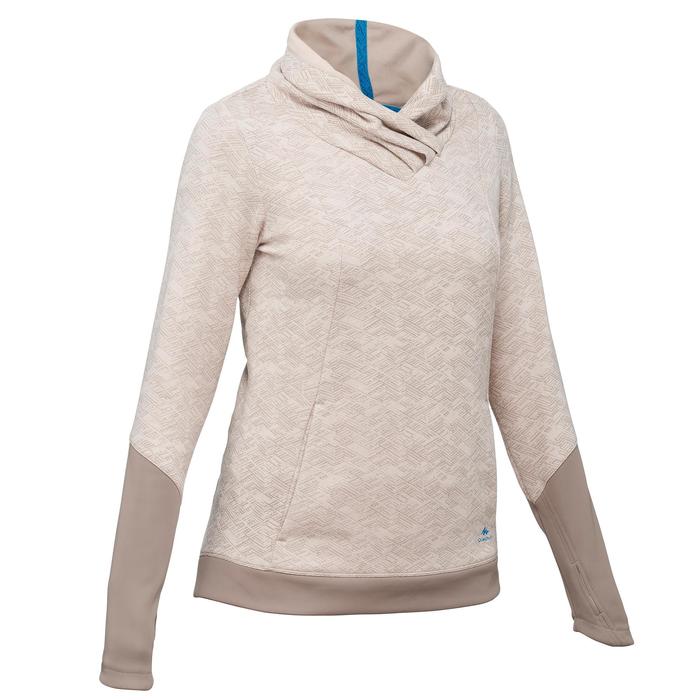 Your request has been registered
You will receive a notification at :
­
Please validate the captcha
Products benefits
Warmth
Protects from 10° to 13°C. Large buttoned collar. Long back. Tightened cuffs
Easy transport
2 pockets in the kangaroo pocket to keep keys, spare change, papers and a phone
Odour control
Thanks to its 42% cotton composition, the fabric reduces perspiration odours
Freedom of movement
Knitted with insert on the back for more freedom of movement
User comfort
Very soft inside: sweater in brushed fleece, soft inside pocket
Lightweight
390 g in size M
Easy maintenance
Crease-resistant. Machine washable. Quick-drying (58% polyester composition)
3 clever pockets
This sweater has a large kangaroo pocket on the front so you can keep your hands warm in a very pleasant way, thanks to the soft inside pocket.
And inside the kangaroo pocket, you will find 2 more pockets:
- a small zip-up pocket to keep keys and spare change safe,
- a large pocket with a flap to keep your papers and mobile phone: your telephone will be very accessible if you need it.
Durability
The anti-pilling treatment ensures that the garment retains its insulating power and finish over time. This sweater is treated against piling, on the outside, where it is often subject to the rubbing of a backpack or simply moving arms.
Odour control
Product manager's advice! This sweater reduces odours (level 3 on a scale from 1 to 5). However, the T-shirt you wear underneath is important: I recommend you wear a T-shirt with plenty of natural fibres, which will also reduce odours (for example, the NH500 Quechua). Avoid wearing a 100% synthetic T-shirt that does not control odours.
product.productCharacteristic.Warranty.title
2 years
Product concept & technology
STORAGE ADVICE
Store folded in a clean and dry place
TESTS
We carry out 2 types of thermal tests: - either a test on the material of our pullovers. - or on a thermal mannequin in a thermal chamber. We reproduce the same temperature, wind (5 km/h) and humidity conditions found in the mountains on a 5 km/h walk. These tests are used to validate our design choices. And we adapt the thermal insulation to where you need it most.
Product Composition
Main fabric : 58.0% Polyester (PES), Main fabric : 42.0% Cotton Yoke (General) : 100.0% Polyester (PES) Lining : 100.0% Polyester (PES)
Main fabric : 58.0% Polyester (PES), Main fabric : 42.0% Cotton Yoke (General) : 100.0% Polyester (PES) Lining : 100.0% Polyester (PES)
Main fabric : 58.0% Polyester (PES), Main fabric : 42.0% Cotton Yoke (General) : 100.0% Polyester (PES) Lining : 100.0% Polyester (PES)
Main fabric : 58.0% Polyester (PES), Main fabric : 42.0% Cotton Yoke (General) : 100.0% Polyester (PES) Lining : 100.0% Polyester (PES)
Main fabric : 58.0% Polyester (PES), Main fabric : 42.0% Cotton Yoke (General) : 100.0% Polyester (PES) Lining : 100.0% Polyester (PES)
Main fabric : 58.0% Polyester (PES), Main fabric : 42.0% Cotton Yoke (General) : 100.0% Polyester (PES) Lining : 100.0% Polyester (PES)
Main fabric : 58.0% Polyester (PES), Main fabric : 42.0% Cotton Yoke (General) : 100.0% Polyester (PES) Lining : 100.0% Polyester (PES)
Main fabric : 58.0% Polyester (PES), Main fabric : 42.0% Cotton Yoke (General) : 100.0% Polyester (PES) Lining : 100.0% Polyester (PES)
Main fabric : 58.0% Polyester (PES), Main fabric : 42.0% Cotton Yoke (General) : 100.0% Polyester (PES) Lining : 100.0% Polyester (PES)
Main fabric : 58.0% Polyester (PES), Main fabric : 42.0% Cotton Yoke (General) : 100.0% Polyester (PES) Lining : 100.0% Polyester (PES)
Main fabric : 58.0% Polyester (PES), Main fabric : 42.0% Cotton Yoke (General) : 100.0% Polyester (PES) Lining : 100.0% Polyester (PES)
Main fabric : 58.0% Polyester (PES), Main fabric : 42.0% Cotton Yoke (General) : 100.0% Polyester (PES) Lining : 100.0% Polyester (PES)
Main fabric : 58.0% Polyester (PES), Main fabric : 42.0% Cotton Yoke (General) : 100.0% Polyester (PES) Lining : 100.0% Polyester (PES)
Main fabric : 58.0% Polyester (PES), Main fabric : 42.0% Cotton Yoke (General) : 100.0% Polyester (PES) Lining : 100.0% Polyester (PES)
Main fabric : 58.0% Polyester (PES), Main fabric : 42.0% Cotton Yoke (General) : 100.0% Polyester (PES) Lining : 100.0% Polyester (PES)
Main fabric : 58.0% Polyester (PES), Main fabric : 42.0% Cotton Yoke (General) : 100.0% Polyester (PES) Lining : 100.0% Polyester (PES)
Main fabric : 58.0% Polyester (PES), Main fabric : 42.0% Cotton Yoke (General) : 100.0% Polyester (PES) Lining : 100.0% Polyester (PES)
Main fabric : 58.0% Polyester (PES), Main fabric : 42.0% Cotton Yoke (General) : 100.0% Polyester (PES) Lining : 100.0% Polyester (PES)
Main fabric : 58.0% Polyester (PES), Main fabric : 42.0% Cotton Yoke (General) : 100.0% Polyester (PES) Lining : 100.0% Polyester (PES)
product.InfoConceptTechnology.maintenancePicture.label

Machine wash - 30° max - normal

Do not bleach

Do not tumble dry

Do not iron

Do not dry-clean