Onnight 700 - 250 Lumens Trekking Head Torch
Product Code : 166831 8384995
Designed for Regular trekking and mountaineering, on and off marked paths (scree, snow)
The DECATHLON ONNIGHT 700 head torch is versatile, very powerful and robust for users with the highest of requirements. The boost mode allows you to see far in the distance whilst saving battery life
---
Unique size Online stock 0
Pick up in-store
Service not available
Home Delivery -
Select Your Location
FREE for orders above HKD499
This product is not available online. Check stock in stores !
Our Stores
Notify me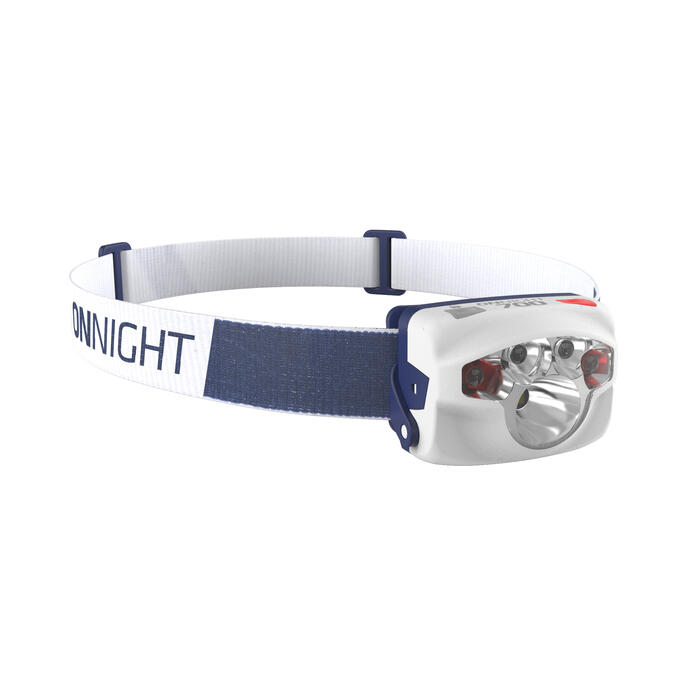 Your request has been registered
You will receive a notification at :
PRODUCT BENEFITS
Visual efficiency
Wide or Focused beam (130 lm) with max range of 75 m (Boost mode 250 lm)
Autonomy
35h Ambient mode 17h eco mode 7h power mode 3 LR03-AAA batteries provided
Durability
Resistant to sprayed water (IPX4)
Versatility
6 modes: ambient eco-60lm strong-130lm Boost-250lm + 2 red modes + Bolt
Compact design
One-piece construction and easy to store in a pocket or bag
Ease of use
Separate management of red and white modes Adjustable and washable headband
TECHNICAL INFORMATION
LIGHTING MODES
The ONNIGHT 700 head torch has 6 modes suited to every situation: - Red fixed mode to stay discreet when hiding or to maintain night vision - Flashing red mode to indicate a presence- Ambient mode for reading maps or using in the bivouac - Eco mode for walking on tracks or forest pathways - Strong mode for walking on paths- Boost mode (Maximum power for 10 seconds) in order to search for the way out of a difficult route or pathway
BATTERY TYPE
Operates with 3 batteries LR03-AAA (included) The bolt mode (long press) avoids unexpected lighting of the head torch in your backpack!
OPTICAL BEAM
The ONNIGHT 700 lamp has a mixed beam. The 2 periphery LEDs creates a wide beam whilst the powerful LED focus the light so you can see in the distance and look for your path.
LIGHTING TECHNOLOGY
Conventional LED lighting: the lighting becomes gradually less bright as the battery charge diminishes in order to prolong battery life.
CONSTRUCTION
One-piece construction for excellent compactness. ABS box with adjustable angle
HEADBAND
Detachable and washable headband. Composition: 70% polyester and 30% natural rubber for maximum comfort. The two symmetric buckles make it fastening easier. The ONNIGHT 700 head torch adapts to fit all head sizes, from those of children to adults, as well as mountain helmets.
WARRANTY AND AFTER-SALES SERVICE
DECATHLON products come with a 2-year guarantee. For any questions, head to our support site
support.geonaute.com
. You will find all the recommendations to be able to use your product correctly: user guides, the most frequently used questions by users and video tutorials. Offering you complete support, the Geonaute support team is available 24 hours a day to provide you with a personalised response.
SPARE PARTS
DECATHLON spare parts are available for 2 years from purchase of the product from the Workshop of your closest stores.
PRODUCT CONCEPT & TECHNOLOGY
STORAGE ADVICE
When storing for a long period, remove the batteries from the product.
TESTS
At DECATHLON, our products are tested by a panel of users under the conditions for which they have been designed. These tests are carried out and managed by a team of engineers dedicated to this task. The product managers, engineers and all the teams use the results of these tests to develop and create high-tech products to satisfy our users.
Product Composition
"Inside room : 100.0% PCBA Main part : 100.0% Acrylonitrile butadiene styrene (ABS) Lens : 100.0% Polypropylene (PP) Strap : 100.0% Elastane"
USER REVIEWS
4 Users recommend this product
the intensity is pretty much alright but the material is pretty bad. the plastic through which the strap goes through is very flimsy and would crack in the city, let alone in hiking trails or colder environments.
More
Response from the Brand
Hello Madhav,

Thank you for writing to us regarding the Onnight 700 Headlamp. Regarding your query, the material we have used is of the same as the Lego toys. ABS plastic has a strong resistance to corrosive chemicals and physical impacts. It is recommended to use it up to - 20-degree temperature. These products are made for Trekking and we have tested it to guarantee the usage before offering it to our users. If you are still not convinced about the quality, kindly visit any of our stores to have it exchanged with a different product of your choice.

I remain available for any further queries :)

Varun Nair
Passionate Trekker
More
2 year guarantee not long
after 30 months use one of the switches disconnected from the torch. Can now use red light but not white light.
More
Your goods are nice in quality so I use this.