Play 3 Inline Skating Skateboarding Scootering and Cycling Helmet - Yellow
Product Code : 15374 8398262
Designed for inline skating, skateboarding, scootering or cycling
An attractive helmet with multiple adjustments (dial, strap, double buckle) to ensure excellent comfort and good fit at all times.
---
Color : YELLOW



S Online stock 88
M Online stock 63
S Online stock 262
M Online stock 270
S Online stock 299
M Online stock 419
Home Delivery : Between 3 and 5 days.
Pick up in-store
Service not available
Home Delivery
Select Your Location
FREE for orders above HKD499
Currently not available online. Check the stock in stores on product page. Check stock in stores !
Our Stores
Notify me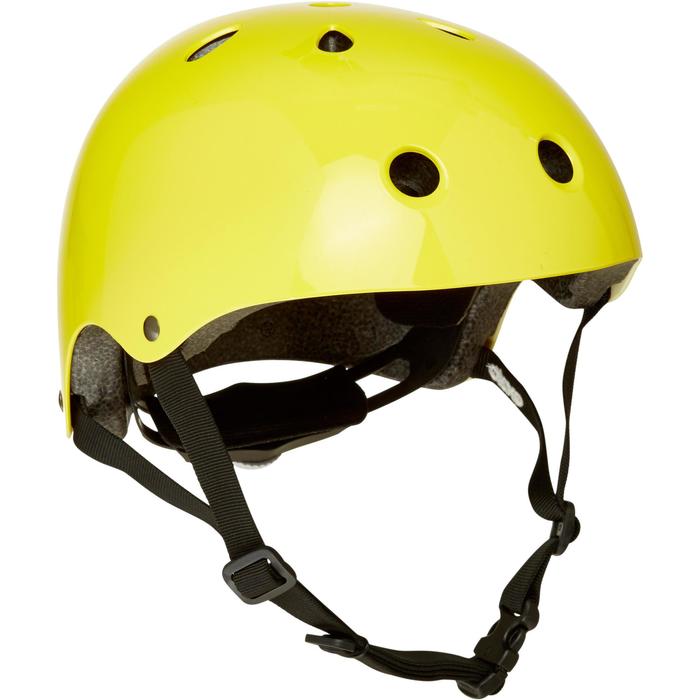 Your request has been registered
You will receive a notification at :
­
Please validate the captcha
Products benefits
Stability
Shape that covers your head well, wheel to adjust the size.
Adjustable
Easy, precise adjustment using 3 adjustment systems.
User comfort
Thermoformed comfort foam.
Lightweight
365 g in size S.
Technical information
Impact protection
Full-coverage style suited to skating on asphalt (neck and ear protection), polystyrene structure and ABS outer shell. Complies with EN 1078 standard.
User comfort
Silky foam for optimal comfort, with a thermobonded finish to ensure good resistance to wear and washing (machine wash at low temperature or hand wash).
Strap adjustments
Simple and precise adjustments to keep the helmet perfectly in place by means of a double buckle on the chinstrap and openable, repositionable dividers.
Personalisation
You can decorate and customize your helmet using special stickers.
Certified compliant with standard EN 1078.
European standard defining the test requirements and methods for helmets destined for use by inline skating, skateboarding, scootering and cycling users. The corresponding test requirements and methods cover the following aspects: construction, including field of vision; shock absorption properties; specifications of the restraint system, including the chin strap and tightening devices; marking and information.
2 sizes
S (50-54);M (21.6"-22.8"), depending on the model.S = 365 g
M = 390 g
Product concept & technology
Maintenance advice
Clean with a damp cloth or sponge.
STORAGE ADVICE
Store in a dry place, away from direct sunlight. (Do not leave your helmet exposed to high temperatures, such as on a car parcel shelf in full sunlight.)
User Restrictions
Not suitable for motor sports or climbing.
Product Composition
Structure : 50.0% Acrylonitrile butadiene styrene (ABS), Structure : 50.0% Expanded Polystyrene (EPS)
Structure : 50.0% Acrylonitrile butadiene styrene (ABS), Structure : 50.0% Expanded Polystyrene (EPS)
Structure : 50.0% Acrylonitrile butadiene styrene (ABS), Structure : 50.0% Expanded Polystyrene (EPS)
Structure : 50.0% Acrylonitrile butadiene styrene (ABS), Structure : 50.0% Expanded Polystyrene (EPS)
Structure : 50.0% Acrylonitrile butadiene styrene (ABS), Structure : 50.0% Expanded Polystyrene (EPS)
Structure : 50.0% Acrylonitrile butadiene styrene (ABS), Structure : 50.0% Expanded Polystyrene (EPS)