Roadr 500 Cycling Gloves - Black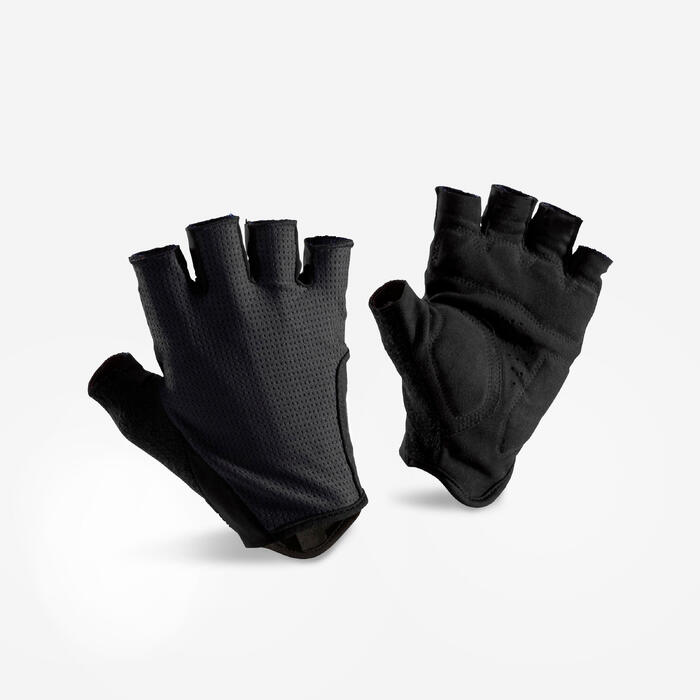 Mittens - Evaluation of the entire life cycle of the product, its impact on the environment, including climate change and the depletion of natural resources.
Know more
Road Cycling Gloves 500 - Black
Product Code : 168957 8528191
Cyclists cycling regularly in summer when it's warm and looking for light, thin gloves.
Very light, short cycling gloves. Fitted cut to avoid creases and a sponge to wipe the sweat.Palm equipped with minimalist foam reinforcement to maintain good grip when cycling.
---
Color : BLACK
Size
S Online stock 0
M Online stock 0
L Online stock 0
XL Online stock 0
Size large (67%)
67 %
of users say this fits Large
Our customers evaluate the size
Home Delivery :
---
FREE Standard Home Delivery for orders above $499
Add $80 for Same Day Delivery
Pick up in-store
Service not available
Home Delivery
Select Your Location
FREE for orders above HKD499
Currently not available online. Click to check the stock in stores. Check stock in stores !
Our Stores
Notify me
Your request has been registered
You will receive a notification at :
Please validate the captcha
Size Guide
Products benefits
Cushioning
Very thin, discreet foam inserts on the palms of the gloves.
User comfort
Lightweight gloves with elasticated outer fabric for superior comfort.
Breathability
Mesh fabric with openings to allow air to circulate more easily.
Stretch
Stretch fabric on the back of the hand adapts to different morphologies.
Product concept & technology
Product Composition
Back of the hand : 90.0% Polyester, Back of the hand : 10.0% Elasthane Palm : 92.0% Polyester, Palm : 8.0% Elasthane Yoke : 76.0% Polyamide, Yoke : 24.0% Elasthane Gusset : 80.0% Polyamide, Gusset : 20.0% Elasthane
Back of the hand : 90.0% Polyester, Back of the hand : 10.0% Elasthane Palm : 92.0% Polyester, Palm : 8.0% Elasthane Yoke : 76.0% Polyamide, Yoke : 24.0% Elasthane Gusset : 80.0% Polyamide, Gusset : 20.0% Elasthane
Back of the hand : 90.0% Polyester, Back of the hand : 10.0% Elasthane Palm : 92.0% Polyester, Palm : 8.0% Elasthane Yoke : 76.0% Polyamide, Yoke : 24.0% Elasthane Gusset : 80.0% Polyamide, Gusset : 20.0% Elasthane
Back of the hand : 90.0% Polyester, Back of the hand : 10.0% Elasthane Palm : 92.0% Polyester, Palm : 8.0% Elasthane Yoke : 76.0% Polyamide, Yoke : 24.0% Elasthane Gusset : 80.0% Polyamide, Gusset : 20.0% Elasthane
Back of the hand : 90.0% Polyester, Back of the hand : 10.0% Elasthane Palm : 92.0% Polyester, Palm : 8.0% Elasthane Yoke : 76.0% Polyamide, Yoke : 24.0% Elasthane Gusset : 80.0% Polyamide, Gusset : 20.0% Elasthane
Back of the hand : 90.0% Polyester, Back of the hand : 10.0% Elasthane Palm : 92.0% Polyester, Palm : 8.0% Elasthane Yoke : 76.0% Polyamide, Yoke : 24.0% Elasthane Gusset : 80.0% Polyamide, Gusset : 20.0% Elasthane
Back of the hand : 90.0% Polyester, Back of the hand : 10.0% Elasthane Palm : 92.0% Polyester, Palm : 8.0% Elasthane Yoke : 76.0% Polyamide, Yoke : 24.0% Elasthane Gusset : 80.0% Polyamide, Gusset : 20.0% Elasthane
Back of the hand : 90.0% Polyester, Back of the hand : 10.0% Elasthane Palm : 92.0% Polyester, Palm : 8.0% Elasthane Yoke : 76.0% Polyamide, Yoke : 24.0% Elasthane Gusset : 80.0% Polyamide, Gusset : 20.0% Elasthane
Back of the hand : 90.0% Polyester, Back of the hand : 10.0% Elasthane Palm : 92.0% Polyester, Palm : 8.0% Elasthane Yoke : 76.0% Polyamide, Yoke : 24.0% Elasthane Gusset : 80.0% Polyamide, Gusset : 20.0% Elasthane
Back of the hand : 90.0% Polyester, Back of the hand : 10.0% Elasthane Palm : 92.0% Polyester, Palm : 8.0% Elasthane Yoke : 76.0% Polyamide, Yoke : 24.0% Elasthane Gusset : 80.0% Polyamide, Gusset : 20.0% Elasthane
Back of the hand : 90.0% Polyester, Back of the hand : 10.0% Elasthane Palm : 92.0% Polyester, Palm : 8.0% Elasthane Yoke : 76.0% Polyamide, Yoke : 24.0% Elasthane Gusset : 80.0% Polyamide, Gusset : 20.0% Elasthane
Back of the hand : 90.0% Polyester, Back of the hand : 10.0% Elasthane Palm : 92.0% Polyester, Palm : 8.0% Elasthane Yoke : 76.0% Polyamide, Yoke : 24.0% Elasthane Gusset : 80.0% Polyamide, Gusset : 20.0% Elasthane
Back of the hand : 90.0% Polyester, Back of the hand : 10.0% Elasthane Palm : 92.0% Polyester, Palm : 8.0% Elasthane Yoke : 76.0% Polyamide, Yoke : 24.0% Elasthane Gusset : 80.0% Polyamide, Gusset : 20.0% Elasthane
Back of the hand : 90.0% Polyester, Back of the hand : 10.0% Elasthane Palm : 92.0% Polyester, Palm : 8.0% Elasthane Yoke : 76.0% Polyamide, Yoke : 24.0% Elasthane Gusset : 80.0% Polyamide, Gusset : 20.0% Elasthane
Back of the hand : 90.0% Polyester, Back of the hand : 10.0% Elasthane Palm : 92.0% Polyester, Palm : 8.0% Elasthane Yoke : 76.0% Polyamide, Yoke : 24.0% Elasthane Gusset : 80.0% Polyamide, Gusset : 20.0% Elasthane
Back of the hand : 90.0% Polyester, Back of the hand : 10.0% Elasthane Palm : 92.0% Polyester, Palm : 8.0% Elasthane Yoke : 76.0% Polyamide, Yoke : 24.0% Elasthane Gusset : 80.0% Polyamide, Gusset : 20.0% Elasthane
Back of the hand : 90.0% Polyester, Back of the hand : 10.0% Elasthane Palm : 92.0% Polyester, Palm : 8.0% Elasthane Yoke : 76.0% Polyamide, Yoke : 24.0% Elasthane Gusset : 80.0% Polyamide, Gusset : 20.0% Elasthane
PRODUCT MAINTENANCE

Machine wash - 30° max - normal

Do not bleach

Do not tumble dry

Do not iron

Do not dry-clean