RUN DRY+ MEN'S RUNNING SHORTS - NAVY BLUE
Product Code : 145838 8488681
Designed for for men running in hot weather
Smartphone pocket keeps you connected when running! These light, breathable shorts will quickly become essential for your running sessions.
---
Color : Navy blue





XS Online stock 37
L Online stock 0
XS Online stock 28
S Online stock 222
M Online stock 370
L Online stock 395
XL Online stock 279
2XL Online stock 149
XS Online stock 0
S Online stock 269
M Online stock 181
L Online stock 173
XL Online stock 411
2XL Online stock 232
XS Online stock 75
S Online stock 218
M Online stock 680
L Online stock 631
XL Online stock 425
2XL Online stock 271
M Online stock 0
L Online stock 19
XL Online stock 0
Home Delivery - : Between 3 and 5 days.
Pick up in-store
Service not available
Home Delivery -
Select Your Location
FREE for orders above HKD499
Currently not available online. Check the stock in stores on product page. Check stock in stores !
Our Stores
Notify me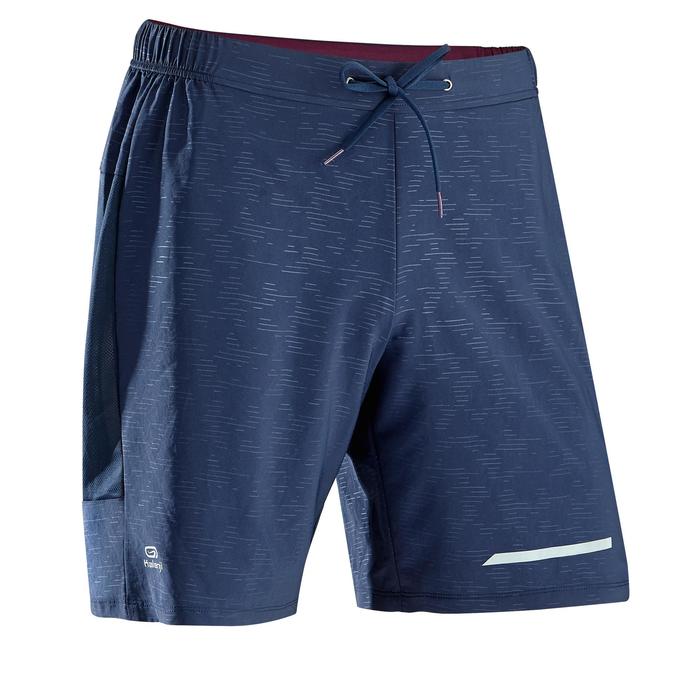 Your request has been registered
You will receive a notification at :
­
Please validate the captcha
Products benefits
Moisture management
The material absorbs and wicks away perspiration.
Pockets
Your smartphone is protected from body moisture in a pocket.
Technical information
Perspiration wicking
You stay dry throughout your run with these shorts. Your perspiration is absorbed and dries quickly. There are also wide ventilation sections on the sides.
Pockets
These shorts have a zipped pocket for carrying a smartphone (maximum dimensions 78 mm * 160 mm). They are designed with a waterproof component to protect the smartphone from the body's perspiration. Earphone cables can be fed through by closing the zip.
These shorts also have an inside waist pocket for carrying your house or car key safely.
A score to compare the environmental impact of products
The environmental impact of the product is calculated across its entire life cycle using a range of indicators.
An overall ABCDE score is calculated to help you more readily identify products with the best environmental performance by comparing the same type of product (T-shirts, trousers, backpacks, etc.)
Decathlon is committed to visually displaying environmental information.
For more information visit: http://sustainability.decathlon.com/
Product concept & technology
TESTS
This product has been put through washing and drying tests to ensure lasting colour and shape. These tests confirm our quality requirements.
Product Composition
Main fabric : 100.0% Polyester (PES) Yoke (General) : 90.0% Polyester (PES), Yoke (General) : 10.0% Elasthane
Main fabric : 100.0% Polyester (PES) Yoke (General) : 90.0% Polyester (PES), Yoke (General) : 10.0% Elasthane
Main fabric : 100.0% Polyester (PES) Yoke (General) : 90.0% Polyester (PES), Yoke (General) : 10.0% Elasthane
Main fabric : 100.0% Polyester (PES) Yoke (General) : 90.0% Polyester (PES), Yoke (General) : 10.0% Elasthane
Main fabric : 100.0% Polyester (PES) Yoke (General) : 90.0% Polyester (PES), Yoke (General) : 10.0% Elasthane
Main fabric : 100.0% Polyester (PES) Yoke (General) : 90.0% Polyester (PES), Yoke (General) : 10.0% Elasthane
Main fabric : 100.0% Polyester (PES) Yoke (General) : 90.0% Polyester (PES), Yoke (General) : 10.0% Elasthane
Main fabric : 100.0% Polyester (PES) Yoke (General) : 90.0% Polyester (PES), Yoke (General) : 10.0% Elasthane
Main fabric : 100.0% Polyester (PES) Yoke (General) : 90.0% Polyester (PES), Yoke (General) : 10.0% Elasthane
Main fabric : 100.0% Polyester (PES) Yoke (General) : 90.0% Polyester (PES), Yoke (General) : 10.0% Elasthane
Main fabric : 100.0% Polyester (PES) Yoke (General) : 90.0% Polyester (PES), Yoke (General) : 10.0% Elasthane
Main fabric : 100.0% Polyester (PES) Yoke (General) : 90.0% Polyester (PES), Yoke (General) : 10.0% Elasthane
Main fabric : 100.0% Polyester (PES) Yoke (General) : 90.0% Polyester (PES), Yoke (General) : 10.0% Elasthane
Main fabric : 100.0% Polyester (PES) Yoke (General) : 90.0% Polyester (PES), Yoke (General) : 10.0% Elasthane
Main fabric : 100.0% Polyester (PES) Yoke (General) : 90.0% Polyester (PES), Yoke (General) : 10.0% Elasthane
Main fabric : 100.0% Polyester (PES) Yoke (General) : 90.0% Polyester (PES), Yoke (General) : 10.0% Elasthane
Main fabric : 100.0% Polyester (PES) Yoke (General) : 90.0% Polyester (PES), Yoke (General) : 10.0% Elasthane
Main fabric : 100.0% Polyester (PES) Yoke (General) : 90.0% Polyester (PES), Yoke (General) : 10.0% Elasthane
Main fabric : 100.0% Polyester (PES) Yoke (General) : 90.0% Polyester (PES), Yoke (General) : 10.0% Elasthane
Main fabric : 100.0% Polyester (PES) Yoke (General) : 90.0% Polyester (PES), Yoke (General) : 10.0% Elasthane
Main fabric : 100.0% Polyester (PES) Yoke (General) : 90.0% Polyester (PES), Yoke (General) : 10.0% Elasthane
Main fabric : 100.0% Polyester (PES) Yoke (General) : 90.0% Polyester (PES), Yoke (General) : 10.0% Elasthane
Main fabric : 100.0% Polyester (PES) Yoke (General) : 90.0% Polyester (PES), Yoke (General) : 10.0% Elasthane
Main fabric : 100.0% Polyester (PES) Yoke (General) : 90.0% Polyester (PES), Yoke (General) : 10.0% Elasthane