RUN DRY+ MEN'S RUNNING T-SHIRT GREY PRINT
Product Code : 145865 8381934
We have designed this T-shirt for men running in hot weather.
This T-shirt is so soft and breathable, you'll forget you're wearing it while you run. It's so comfortable, it will quickly become essential to your running sessions.
---
Color : Pale grey


XS Online stock 21
S Online stock 135
M Online stock 269
L Online stock 314
XL Online stock 142
2XL Online stock 25
3XL Online stock 81
XS Online stock 0
S Online stock 62
M Online stock 116
L Online stock 259
XL Online stock 338
2XL Online stock 118
3XL Online stock 51
XS Online stock 34
S Online stock 9
M Online stock 216
L Online stock 257
XL Online stock 229
2XL Online stock 114
Home Delivery : Between 3 and 5 days.
Pick up in-store
Service not available
Home Delivery
Select Your Location
FREE for orders above HKD499
Currently not available online. Check the stock in stores on product page. Check stock in stores !
Our Stores
Notify me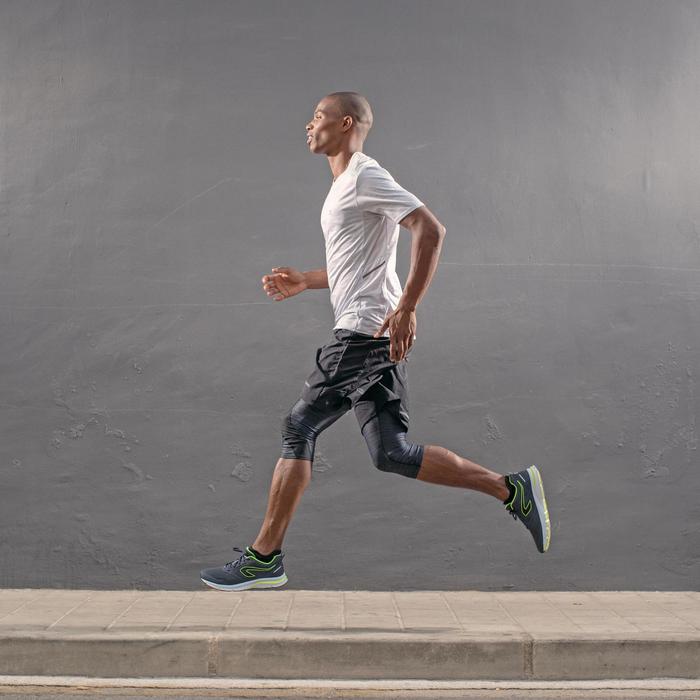 Your request has been registered
You will receive a notification at :
­
Please validate the captcha
Products benefits
Moisture management
The fabric wicks perspiration away to keep you dry.
Breathability
Mesh inserts in specific areas let air circulate and moisture escape.
Softness
The main fabric provides a cotton-like softness.
Quick drying
Synthetic fabric, dries quickly.
Perspiration wicking
Stay dry throughout your run with this T-shirt. Your perspiration is absorbed and dries quickly.
product.productCharacteristic.Warranty.title
2 years
Product concept & technology
TESTS
This T-shirt was laboratory and field tested by runners of all levels. It was approved by all our testers for its ability to absorb and wick away perspiration.
Product Composition
Main fabric : 100.0% Polyester (PES) Yoke (General) : 90.0% Polyester (PES), Yoke (General) : 10.0% Elasthane
Main fabric : 100.0% Polyester (PES) Yoke (General) : 90.0% Polyester (PES), Yoke (General) : 10.0% Elasthane
Main fabric : 100.0% Polyester (PES) Yoke (General) : 90.0% Polyester (PES), Yoke (General) : 10.0% Elasthane
Main fabric : 100.0% Polyester (PES) Yoke (General) : 90.0% Polyester (PES), Yoke (General) : 10.0% Elasthane
Main fabric : 100.0% Polyester (PES) Yoke (General) : 90.0% Polyester (PES), Yoke (General) : 10.0% Elasthane
Main fabric : 100.0% Polyester (PES) Yoke (General) : 90.0% Polyester (PES), Yoke (General) : 10.0% Elasthane
Main fabric : 100.0% Polyester (PES) Yoke (General) : 90.0% Polyester (PES), Yoke (General) : 10.0% Elasthane
Main fabric : 100.0% Polyester (PES) Yoke (General) : 90.0% Polyester (PES), Yoke (General) : 10.0% Elasthane
Main fabric : 100.0% Polyester (PES) Yoke (General) : 90.0% Polyester (PES), Yoke (General) : 10.0% Elasthane
Main fabric : 100.0% Polyester (PES) Yoke (General) : 90.0% Polyester (PES), Yoke (General) : 10.0% Elasthane
Main fabric : 100.0% Polyester (PES) Yoke (General) : 90.0% Polyester (PES), Yoke (General) : 10.0% Elasthane
Main fabric : 100.0% Polyester (PES) Yoke (General) : 90.0% Polyester (PES), Yoke (General) : 10.0% Elasthane
Main fabric : 100.0% Polyester (PES) Yoke (General) : 90.0% Polyester (PES), Yoke (General) : 10.0% Elasthane
Main fabric : 100.0% Polyester (PES) Yoke (General) : 90.0% Polyester (PES), Yoke (General) : 10.0% Elasthane
Main fabric : 100.0% Polyester (PES) Yoke (General) : 90.0% Polyester (PES), Yoke (General) : 10.0% Elasthane
Main fabric : 100.0% Polyester (PES) Yoke (General) : 90.0% Polyester (PES), Yoke (General) : 10.0% Elasthane
Main fabric : 100.0% Polyester (PES) Yoke (General) : 90.0% Polyester (PES), Yoke (General) : 10.0% Elasthane
Main fabric : 100.0% Polyester (PES) Yoke (General) : 90.0% Polyester (PES), Yoke (General) : 10.0% Elasthane
Main fabric : 100.0% Polyester (PES) Yoke (General) : 90.0% Polyester (PES), Yoke (General) : 10.0% Elasthane
Main fabric : 100.0% Polyester (PES) Yoke (General) : 90.0% Polyester (PES), Yoke (General) : 10.0% Elasthane
Main fabric : 100.0% Polyester (PES) Yoke (General) : 90.0% Polyester (PES), Yoke (General) : 10.0% Elasthane
product.InfoConceptTechnology.maintenancePicture.label

Machine wash - 30° max - normal

Do not bleach

Do not tumble dry

Do not iron

Do not dry-clean