RUN RAIN WOMEN'S JOGGING RAIN JACKET BLACK NIGHT
Product Code : 169538 8488392
Designed for women wanting to keep on running in rainy weather
Keep running, even in the rain. Feminine, water repellent and lightweight - the rain won't stop you running any more!
---
Color : WHITE/BLACK
UK 6 - EU 34 Online stock 8
UK 8 - EU 36 Online stock 8
UK 10 - EU 38 Online stock 30
UK 12 - EU 40 Online stock 10
UK 14 - EU 42 Online stock 7
UK 16 - EU 44 Online stock 18
Home Delivery : Between 3 and 5 days.
Pick up in-store
Service not available
Home Delivery
Select Your Location
FREE for orders above HKD499
Currently not available online. Check the stock in stores on product page. Check stock in stores !
Our Stores
Notify me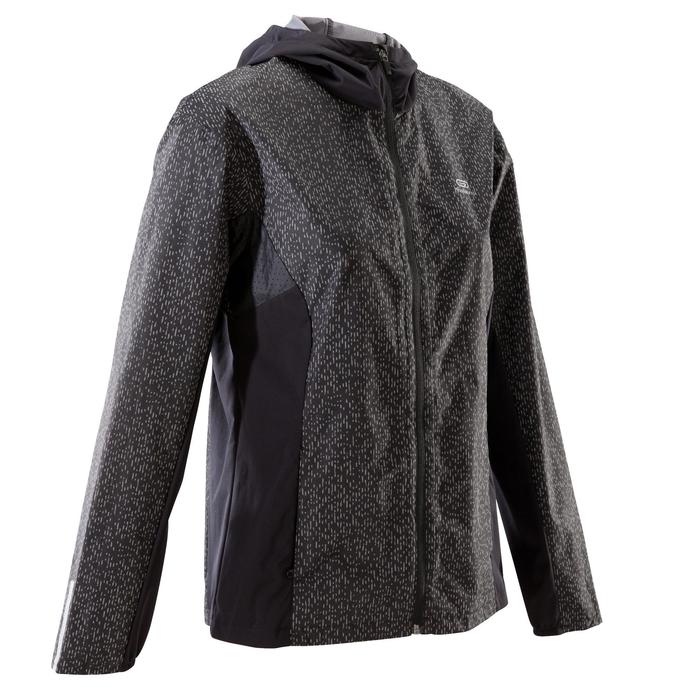 Your request has been registered
You will receive a notification at :
­
Please validate the captcha
Products benefits
Water repellent
The main fabric repels water, not letting it soak in
Pockets
2 zipped pockets:
Ventilation
Vents under the arms and in the back for improved air circulation
Freedom of movement
Stretch fabric on the sides for greater freedom of movement.
Technical information
WHY IS THE RUN RAIN JACKET WATER REPELLENT?
The Run Rain jacket is water repellent and doesn't let water soak through. Reinforced water repellence for exposed zones on the shoulders.Your jacket is not saturated so you can keep running in light rain.
WHY ARE POCKETS USEFUL?
We took our women customers' feedback into account and added two zip pockets on each side for safely carrying your personal belongings (key, tissues etc.) when running.
HOW IS THE RUN RAIN JACKET VENTILATED?
We added an openwork insert under the arms and a ventilation system with openings in the back for better air circulation when you're running.
WHY IS THE RUN RAIN JACKET COMFORTABLE?
We used a slightly stretch fabric on the sides and arms to give you greater freedom of movement when running. These soft fabric inserts are placed in strategic areas for arm movement with no noise when running.
DOES THE HOOD STAY IN PLACE WHEN I'M RUNNING?
The RUN RAIN jacket hood is specially designed to protect and hold your hair in place when running.
CARE INSTRUCTIONS FOR MY RUN RAIN JACKET
Before washing:
Close the zips and turn the jacket inside-out. Washing instructions:
Wash your jacket with the 30° synthetic programme and your regular detergent. Do not use fabric softener and wash separately.
Drying instructions:
Leave your jacket to dry completely in fresh air, flat on a clothes rack. If your jacket is no longer water repellent, apply a waterproofing treatment.
A score to compare the environmental impact of products
The environmental impact of the product is calculated across its entire life cycle using a range of indicators. An overall ABCDE score is calculated to help you more readily identify products with the best environmental performance by comparing the same type of product (T-shirts, trousers, backpacks, etc.)
Decathlon is committed to visually displaying environmental information.
For more information visit: http://sustainability.decathlon.com/
Product concept & technology
TESTS
This product has been put through washing and drying tests to ensure lasting colour and shape. These tests allow us to confirm that the product meets our quality requirements.
User Restrictions
Not recommended for heavy rain.
Product Composition
Main fabric : 100.0% Polyester (PES) Yoke (General) : 100.0% Polyester (PES) Coating : 100.0% Polyurethane (PU)
Main fabric : 100.0% Polyester (PES) Yoke (General) : 100.0% Polyester (PES) Coating : 100.0% Polyurethane (PU)
Main fabric : 100.0% Polyester (PES) Yoke (General) : 100.0% Polyester (PES) Coating : 100.0% Polyurethane (PU)
Main fabric : 100.0% Polyester (PES) Yoke (General) : 100.0% Polyester (PES) Coating : 100.0% Polyurethane (PU)
Main fabric : 100.0% Polyester (PES) Yoke (General) : 100.0% Polyester (PES) Coating : 100.0% Polyurethane (PU)
Main fabric : 100.0% Polyester (PES) Yoke (General) : 100.0% Polyester (PES) Coating : 100.0% Polyurethane (PU)