Run Warm+ Men's Running Long-Sleeved T-Shirt - Navy
Product Code : 165411 8397643
Designed for running in cold weather.
Long-sleeved jersey for jogging made of warm, comfortable fabric. The ventilated fabric under the arm provides good perspiration evacuation combined with zipped collar.
---
XS Online stock 63
S Online stock 33
M Online stock 0
L Online stock 32
XL Online stock 19
2XL Online stock 39
Home Delivery : Between 3 and 5 days
Pick up in-store
Service not available
Home Delivery
Select Your Location
FREE for orders above HKD499
Currently not available online. Click to check the stock in stores. Check stock in stores !
Our Stores
Notify me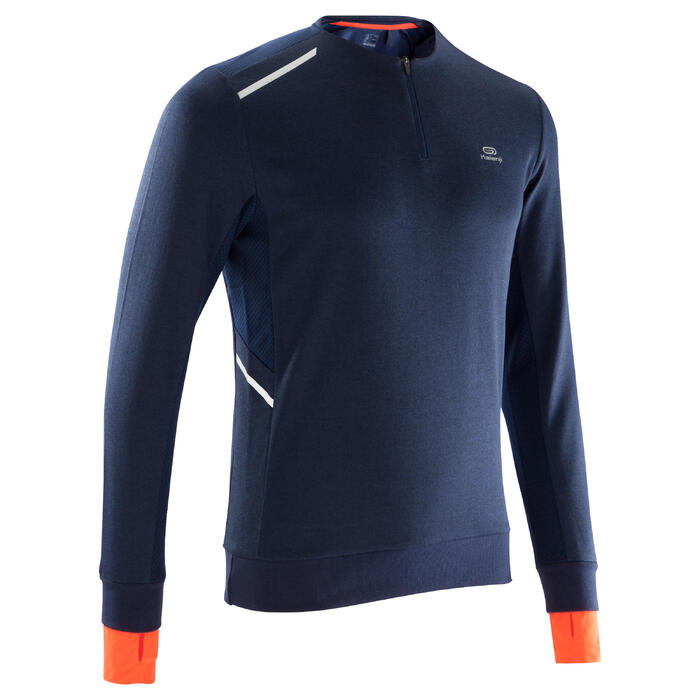 Your request has been registered
You will receive a notification at :
­
Please validate the captcha
Products benefits
Thermal insulation
Your body stays at a temperature that stops you getting cold while running.
Breathability
Vents for good circulation and evacuation of perspiration.
Softness
Soft, comfortable material.
A score to compare the environmental impact of products
The environmental impact of the product is calculated across its entire life cycle using a range of indicators.
An overall ABCDE score is calculated to help you more readily identify products with the best environmental performance by comparing the same type of product (T-shirts, trousers, backpacks, etc.)
Decathlon is committed to visually displaying environmental information.
For more information visit: http://sustainability.decathlon.com/
product.productCharacteristic.Warranty.title
2 years
Product concept & technology
TESTS
This long-sleeved jersey has been tested in the lab and in use in the field by athletes of all levels. It was passed by all our testers for its capacity to provide comfort while running in cold weather.
Product Composition
Main fabric : 100.0% Polyester (PES) Yoke (General) : 97.0% Polyester (PES), Yoke (General) : 3.0% Elasthane
Main fabric : 100.0% Polyester (PES) Yoke (General) : 97.0% Polyester (PES), Yoke (General) : 3.0% Elasthane
Main fabric : 100.0% Polyester (PES) Yoke (General) : 97.0% Polyester (PES), Yoke (General) : 3.0% Elasthane
Main fabric : 100.0% Polyester (PES) Yoke (General) : 97.0% Polyester (PES), Yoke (General) : 3.0% Elasthane
Main fabric : 100.0% Polyester (PES) Yoke (General) : 97.0% Polyester (PES), Yoke (General) : 3.0% Elasthane
Main fabric : 100.0% Polyester (PES) Yoke (General) : 97.0% Polyester (PES), Yoke (General) : 3.0% Elasthane
Main fabric : 100.0% Polyester (PES) Yoke (General) : 97.0% Polyester (PES), Yoke (General) : 3.0% Elasthane
Main fabric : 100.0% Polyester (PES) Yoke (General) : 97.0% Polyester (PES), Yoke (General) : 3.0% Elasthane
Main fabric : 100.0% Polyester (PES) Yoke (General) : 97.0% Polyester (PES), Yoke (General) : 3.0% Elasthane
Main fabric : 100.0% Polyester (PES) Yoke (General) : 97.0% Polyester (PES), Yoke (General) : 3.0% Elasthane
Main fabric : 100.0% Polyester (PES) Yoke (General) : 97.0% Polyester (PES), Yoke (General) : 3.0% Elasthane
Main fabric : 100.0% Polyester (PES) Yoke (General) : 97.0% Polyester (PES), Yoke (General) : 3.0% Elasthane
Main fabric : 100.0% Polyester (PES) Yoke (General) : 97.0% Polyester (PES), Yoke (General) : 3.0% Elasthane
product.InfoConceptTechnology.maintenancePicture.label

Machine wash - 30° max - normal

Do not bleach

Do not tumble dry

Do not iron

Do not dry-clean