S900 Boys' Short-Sleeved Gym T-Shirt - Orange/Grey
Product Code : 179693 8490016
Designed for educational and sports gym.
Breathable and light, your child will stay dry during and after sport. Fabric composed of very stretchy elastane, which is well-suited to sports activities.
---
Color : Fluo orange/Abyss grey
5 Years Online stock 49
6 Years Online stock 0
8 Years Online stock 0
10 Years Online stock 47
12 Years Online stock 0
14 Years Online stock 0
Home Delivery : Between 3 and 5 days.
Pick up in-store
Service not available
Home Delivery
Select Your Location
FREE for orders above HKD499
Currently not available online. Check the stock in stores on product page. Check stock in stores !
Our Stores
Notify me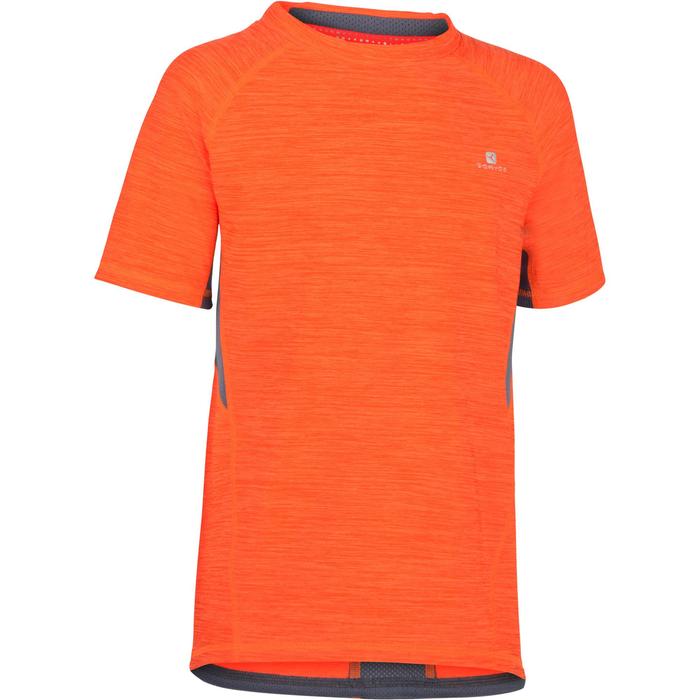 Your request has been registered
You will receive a notification at :
­
Please validate the captcha
Products benefits
Moisture management
Main fabric wicks away perspiration, plus ventilated zones.
Stretch
Elastane blend fabric for optimal comfort whatever the sport.
Softness
Soft-feel, supple synthetic fabric.
Technical information
Our Educational Gym and Sports clothing collections for children aged 5 to 14:
Our range of girls' and boys' clothing was designed for practising Educational and Fitness Gym activities in school or at the gym.
Our collection is designed for practising low to high intensity activities (trampolining, step, abdominal exercises, skipping roping, stretching...).
These activities are ideal for keeping your child fit and healthy and will help them develop their ability to jump, roll, crawl, stand, balance, etc.
The Domyos design process:
Our teams work with a single aim in mind: to achieve the ideal balance between softness and breathability as required by our young sports users.
You child can choose their entire Fitness outfit (T-shirt, tank top, leggings, bottoms, shorts, sweatshirt, or jacket).
Did you know?
Our products are regularly tested and we make changes based on customer feedback.
A synthetic T-shirt that is extremely soft!
A product based on the designs for adults: extremely technical.
Assemblies and fabrics are stretchy and soft, making them perfectly suited to Educational and Fitness activities.
Ventilation zones underneath the arms and along the upper back.
Product concept & technology
TESTS
This product has undergone washing and drying tests to verify that it retains its shape and colour. These tests are regularly performed by an independent laboratory and allow us to ensure that our quality standards are always upheld.
Product Composition
Main fabric : 89.0% Polyester (PES), Main fabric : 11.0% Elasthane Yoke (General) : 100.0% Polyester (PES)
Main fabric : 89.0% Polyester (PES), Main fabric : 11.0% Elasthane Yoke (General) : 100.0% Polyester (PES)
Main fabric : 89.0% Polyester (PES), Main fabric : 11.0% Elasthane Yoke (General) : 100.0% Polyester (PES)
Main fabric : 89.0% Polyester (PES), Main fabric : 11.0% Elasthane Yoke (General) : 100.0% Polyester (PES)
Main fabric : 89.0% Polyester (PES), Main fabric : 11.0% Elasthane Yoke (General) : 100.0% Polyester (PES)
Main fabric : 89.0% Polyester (PES), Main fabric : 11.0% Elasthane Yoke (General) : 100.0% Polyester (PES)
Main fabric : 89.0% Polyester (PES), Main fabric : 11.0% Elasthane Yoke (General) : 100.0% Polyester (PES)
Main fabric : 89.0% Polyester (PES), Main fabric : 11.0% Elasthane Yoke (General) : 100.0% Polyester (PES)
Main fabric : 89.0% Polyester (PES), Main fabric : 11.0% Elasthane Yoke (General) : 100.0% Polyester (PES)
Main fabric : 89.0% Polyester (PES), Main fabric : 11.0% Elasthane Yoke (General) : 100.0% Polyester (PES)
Main fabric : 89.0% Polyester (PES), Main fabric : 11.0% Elasthane Yoke (General) : 100.0% Polyester (PES)
Main fabric : 89.0% Polyester (PES), Main fabric : 11.0% Elasthane Yoke (General) : 100.0% Polyester (PES)