SH500 Boys' 3-in-1 CN Hiking Waterproof Jacket - Blue
Product Code : 168111 8377916
Our engineers designed this jacket for children who hike regularly in all weather conditions.
No compromising between waterproofing and warmth! The 3-in-1 system allows you to use the jacket and fleece gilet separately. To take with you when hiking, whatever the season!
---
Color : Teal blue/DARK BLUE

2 Years Online stock 42
3 Years Online stock 40
4 Years Online stock 62
5 Years Online stock 96
6 Years Online stock 40
2 Years Online stock 12
3 Years Online stock 0
4 Years Online stock 0
5 Years Online stock 0
6 Years Online stock 0
Home Delivery : Between 3 and 5 days
Pick up in-store
Service not available
Home Delivery
Select Your Location
FREE for orders above HKD499
Currently not available online. Click to check the stock in stores. Check stock in stores !
Our Stores
Notify me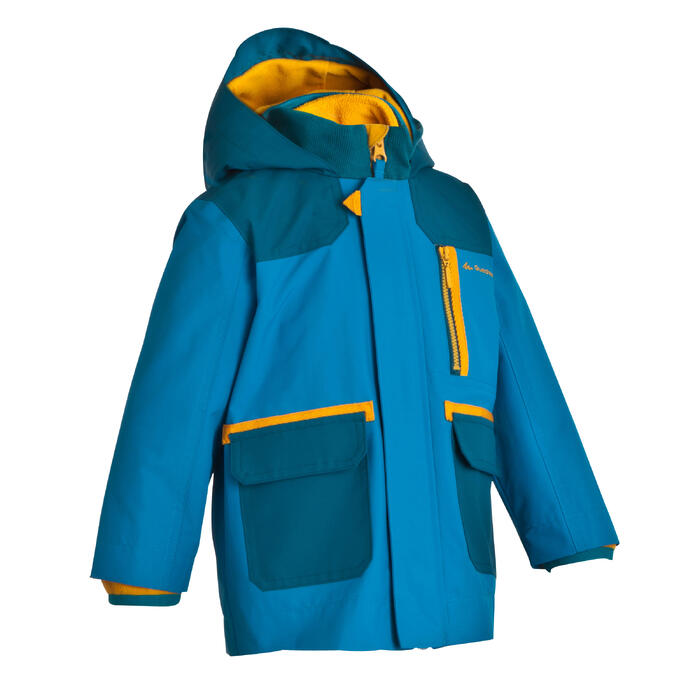 Your request has been registered
You will receive a notification at :
­
Please validate the captcha
Products benefits
Waterproof
Waterproof component (2000 Schmerbers) and taped seams for staying dry
Warmth
Removable inner gilet made of 200 g/m² density fleece (brushed on both sides).
Flexibility
Gilet and jacket can be worn separately thanks to 3in1 zip system.
Durability
2-year guarantee.
What makes a jacket waterproof?
The resistance of a fabric to water seepage. This is measured using an approved water pressure test. Bearing in mind that the average pressure of rain water varies between 1000 mm and 2000 mm, a fabric is considered to be waterproof from 2000 mm. Our products can withstand pressure of between 2000 and 10 000 mm which means they are very waterproof and suitable for all types of weather including extreme conditions.
What do you mean by sealed seams or waterproof strips?
Its seams are sealed (or taped) using heat-sealed, waterproof strips. They are placed behind the seams and are essential for waterproofing clothing so that water cannot enter through capillary action (water being absorbed by the threads and holes of the fabric).
Fleece component: Insulation provided by air
The fleece component is designed to trap air thanks to the volume created by its texture; this air acts as a natural insulator, keeping the body warm. The brushed knit fabric is what traps the air.
Windproof:
Coating applied to the inner fabric makes it waterproof and windproof. A waterproof fabric has the technical characteristics needed to be certified windproof. It is very important to protect yourself from the wind, when active and when resting, as it drastically cools down the body.
Washing:
1/ Machine wash (30°C): close rip tabs, gentle wash. Wash jackets and trousers inside out. Loosen the straps and elasticated parts. 2/ Do not fold the garment too much in the machine: may wear out more quickly. 3/ Do not mix clothing types and colours. 4/ Do not use bleach. 5/ Choose a full rinse and gentle spin cycle.
A score for comparing products' environmental impact
The product's environmental impact is calculated over its entire life cycle using different indicators.
An overall ABCDE rating is given to help you easily identify the products with the best environmental performance by comparing the same types of product (T-shirts, trousers, backpacks, etc.).
Decathlon is committed to visually displaying environmental impact.
product.productCharacteristic.Warranty.title
2 years
Product concept & technology
STORAGE ADVICE
Ensure that this protective, waterproof garment is perfectly dry before storing it in a dry place, preferably on a hanger to prevent creases from damaging the fabric.
TESTS
Our design team is based at the foot of Mont-Blanc, in Haute-Savoie (France). All year round, we create and develop products that are attractive, simple and technologically advanced. These are then ruthlessly tested in the field, as we remain convinced that only through rigorous testing under real world conditions, like the ones you will be using them in, can we continue to provide you with better products than ever.
Product Composition
Main fabric : 100.0% Polyester (PES) Main lining : 100.0% Polyamide Lining : 100.0% Polyamide Coating : 100.0% Polyurethane (PU)
Main fabric : 100.0% Polyester (PES) Main lining : 100.0% Polyamide Lining : 100.0% Polyamide Coating : 100.0% Polyurethane (PU)
Main fabric : 100.0% Polyester (PES) Main lining : 100.0% Polyamide Lining : 100.0% Polyamide Coating : 100.0% Polyurethane (PU)
Main fabric : 100.0% Polyester (PES) Main lining : 100.0% Polyamide Lining : 100.0% Polyamide Coating : 100.0% Polyurethane (PU)
Main fabric : 100.0% Polyester (PES) Main lining : 100.0% Polyamide Lining : 100.0% Polyamide Coating : 100.0% Polyurethane (PU)
Main fabric : 100.0% Polyester (PES) Main lining : 100.0% Polyamide Lining : 100.0% Polyamide Coating : 100.0% Polyurethane (PU)
Main fabric : 100.0% Polyester (PES) Main lining : 100.0% Polyamide Lining : 100.0% Polyamide Coating : 100.0% Polyurethane (PU)
Main fabric : 100.0% Polyester (PES) Main lining : 100.0% Polyamide Lining : 100.0% Polyamide Coating : 100.0% Polyurethane (PU)
Main fabric : 100.0% Polyester (PES) Main lining : 100.0% Polyamide Lining : 100.0% Polyamide Coating : 100.0% Polyurethane (PU)
Main fabric : 100.0% Polyester (PES) Main lining : 100.0% Polyamide Lining : 100.0% Polyamide Coating : 100.0% Polyurethane (PU)
product.InfoConceptTechnology.maintenancePicture.label

Machine wash - 40° max - normal

Do not bleach

Do not tumble dry

Do not iron

Do not dry-clean