Ski-P 500 MEN'S WARM SKI DOWN JKT – BLACK
Product Code : 173012 8502946
To avoid getting cold in winter sports, our ski designers have developed this men's down jacket, which promises to keep you warm even in the coldest weather
Feather and down lining offer the best insulation against cold winter days. The snow skirt also helps maintain an excellent hermeticity (seal proof) against snow.
---
Color : Charcoal grey/BLACK



XS Online stock 119
S Online stock 235
M Online stock 139
L Online stock 128
XL Online stock 93
2XL Online stock 90
XS Online stock 0
S Online stock 0
M Online stock 0
L Online stock 5
XL Online stock 8
2XL Online stock 15
S Online stock 0
M Online stock 0
L Online stock 3
XL Online stock 0
2XL Online stock 0
Home Delivery : Between 3 and 5 days
Pick up in-store
Service not available
Home Delivery
Select Your Location
FREE for orders above HKD499
Currently not available online. Click to check the stock in stores. Check stock in stores !
Our Stores
Notify me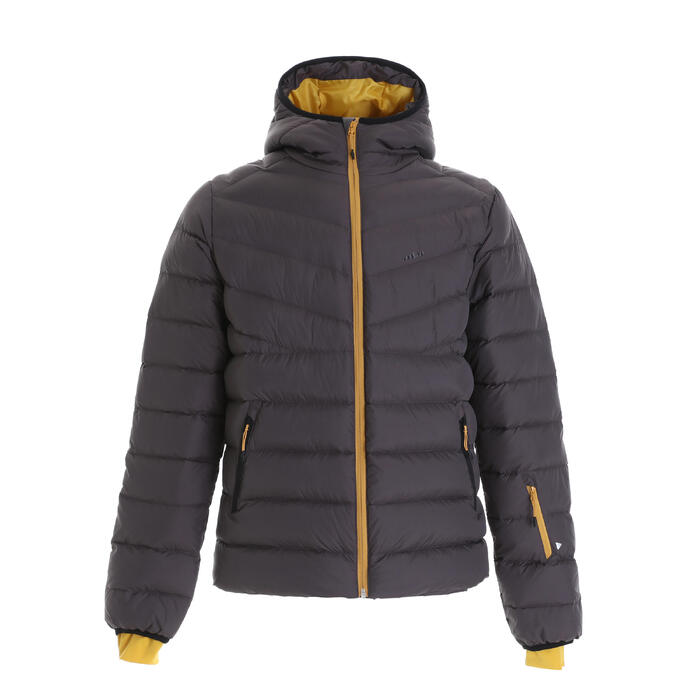 Your request has been registered
You will receive a notification at :
­
Please validate the captcha
Products benefits
Optimum temperature
Ideal temperature of use: -16°.
Warmth
315 G of filling or lining in size L (50% duck down - 50% duck feather)+ Sleeves
Waterproof
Durable water-repellent jacket for light snowfall and low intensity.
Ease of use
Thanks to the snow skirt and the sleeves, snow will no longer seep or get in!
Adjustable
Jacket hem tightening system. Hood and sleeves with elasticated bands.
Pockets
2 secure hand pockets, 1 ski pass pocket, 1 inside pocket.
What is the advantage of a feather jacket?
Recognised as essential components in terms of their insulation properties, down and feathers offer an unparalleled warmth-to-weight ratio. A feather and down filling is highly compressible, light and warm, for a lightweight yet very insulating product.
Why do feather or down jackets preserve high heat?
Feather jackets have the feature of inflating (swelling up) which creates a layer of air to serve as insulation.
How can I prevent snow from getting in when I fall?
The snow skirt is a protection system at waist level that closes with press studs at the bottom of the ski jacket. It prevents snow and air from entering when on the slopes, especially in the event of a fall.
Where can I put my ski pass when taking ski lifts?
You no longer need to get your ski pass out! Your sleeve has a ski pass pocket, allowing you to access ski lifts quickly.
How to wash a feather jacket at home
* Machine wash at 30°, select synthetic programme and use a small amount of laundry detergent; do not use softener. 
* Add 2 clean and preferably white tennis balls into the drum of the washing machine. 
* Do a second or third rinse to remove residues of the laundry detergent from the previous wash. 
* An extra spin is recommended to facilitate the drying stage
How to wash a feather down jacket at home
Tumble dry (highly recommended)
* Mild or delicate programme. 
* Perform several cycles to dry thoroughly. 
* Between 2 cycles, tap the down to separate the balls of feathers that formed while washing.
If you do not have a tumble dryer, the process is longer. (drying can take 1 to 2 weeks on a dry and flat place). You must shake the down to avoid the formation of feather clumps (at least 4-5 times).
Product concept & technology
STORAGE ADVICE
Preferably store on a hanger and do not fold, as this can damage the fabric coating. Dry thoroughly before storing in a dry and well-ventilated place.
TESTS
All Wed'ze products are created, designed and developed in the Mont Blanc Valley. They are then tested under the same conditions as you would experience in real-life use (snow, cold, powder snow, etc.) The design teams make sure that the programme for which the product is designed and developed corresponds perfectly to its use in the field.
Product Composition
Main fabric : 100.0% Polyamide Main lining : 100.0% Polyester (PES) Secondary lining : 100.0% Polyamide Padding : 50.0% Grey duck feather, Padding : 50.0% Grey duck down
Main fabric : 100.0% Polyamide Main lining : 100.0% Polyester (PES) Secondary lining : 100.0% Polyamide Padding : 50.0% Grey duck feather, Padding : 50.0% Grey duck down
Main fabric : 100.0% Polyamide Main lining : 100.0% Polyester (PES) Secondary lining : 100.0% Polyamide Padding : 50.0% Grey duck feather, Padding : 50.0% Grey duck down
Main fabric : 100.0% Polyamide Main lining : 100.0% Polyester (PES) Secondary lining : 100.0% Polyamide Padding : 50.0% Grey duck feather, Padding : 50.0% Grey duck down
Main fabric : 100.0% Polyamide Main lining : 100.0% Polyester (PES) Secondary lining : 100.0% Polyamide Padding : 50.0% Grey duck feather, Padding : 50.0% Grey duck down
Main fabric : 100.0% Polyamide Main lining : 100.0% Polyester (PES) Secondary lining : 100.0% Polyamide Padding : 50.0% Grey duck feather, Padding : 50.0% Grey duck down
Main fabric : 100.0% Polyamide Main lining : 100.0% Polyester (PES) Secondary lining : 100.0% Polyamide Padding : 50.0% Grey duck feather, Padding : 50.0% Grey duck down
Main fabric : 100.0% Polyamide Main lining : 100.0% Polyester (PES) Secondary lining : 100.0% Polyamide Padding : 50.0% Grey duck feather, Padding : 50.0% Grey duck down
Main fabric : 100.0% Polyamide Main lining : 100.0% Polyester (PES) Secondary lining : 100.0% Polyamide Padding : 50.0% Grey duck feather, Padding : 50.0% Grey duck down
Main fabric : 100.0% Polyamide Main lining : 100.0% Polyester (PES) Secondary lining : 100.0% Polyamide Padding : 50.0% Grey duck feather, Padding : 50.0% Grey duck down
Main fabric : 100.0% Polyamide Main lining : 100.0% Polyester (PES) Secondary lining : 100.0% Polyamide Padding : 50.0% Grey duck feather, Padding : 50.0% Grey duck down
Main fabric : 100.0% Polyamide Main lining : 100.0% Polyester (PES) Secondary lining : 100.0% Polyamide Padding : 50.0% Grey duck feather, Padding : 50.0% Grey duck down
Main fabric : 100.0% Polyamide Main lining : 100.0% Polyester (PES) Secondary lining : 100.0% Polyamide Padding : 50.0% Grey duck feather, Padding : 50.0% Grey duck down
Main fabric : 100.0% Polyamide Main lining : 100.0% Polyester (PES) Secondary lining : 100.0% Polyamide Padding : 50.0% Grey duck feather, Padding : 50.0% Grey duck down
Main fabric : 100.0% Polyamide Main lining : 100.0% Polyester (PES) Secondary lining : 100.0% Polyamide Padding : 50.0% Grey duck feather, Padding : 50.0% Grey duck down
Main fabric : 100.0% Polyamide Main lining : 100.0% Polyester (PES) Secondary lining : 100.0% Polyamide Padding : 50.0% Grey duck feather, Padding : 50.0% Grey duck down
Main fabric : 100.0% Polyamide Main lining : 100.0% Polyester (PES) Secondary lining : 100.0% Polyamide Padding : 50.0% Grey duck feather, Padding : 50.0% Grey duck down
Main fabric : 100.0% Polyamide Main lining : 100.0% Polyester (PES) Secondary lining : 100.0% Polyamide Padding : 50.0% Grey duck feather, Padding : 50.0% Grey duck down
Main fabric : 100.0% Polyamide Main lining : 100.0% Polyester (PES) Secondary lining : 100.0% Polyamide Padding : 50.0% Grey duck feather, Padding : 50.0% Grey duck down
Main fabric : 100.0% Polyamide Main lining : 100.0% Polyester (PES) Secondary lining : 100.0% Polyamide Padding : 50.0% Grey duck feather, Padding : 50.0% Grey duck down
product.InfoConceptTechnology.maintenancePicture.label

Machine wash - 30° max - normal

Do not bleach

Tumble dry - low heat

Do not iron

Do not dry-clean