Slide 500 WARM Women's Ski Jacket - White
Product Code : 147701 8372168
Designed for the intermediate female skier on track practice for 1 to 2 weeks/year.
This feather/down jacket offers maximum warmth and insulation. It is ideal for female skiers who are sensitive to the cold or for skiing during the coldest days of winter.
---
Color : Snow white

2XS Online stock 0
XS Online stock 10
S Online stock 0
M Online stock 0
L Online stock 0
XL Online stock 0
XS Online stock 11
S Online stock 6
M Online stock 0
L Online stock 0
XL Online stock 0
Home Delivery : Between 3 and 5 days
Pick up in-store
Service not available
Home Delivery
Select Your Location
FREE for orders above HKD499
Currently not available online. Click to check the stock in stores. Check stock in stores !
Our Stores
Notify me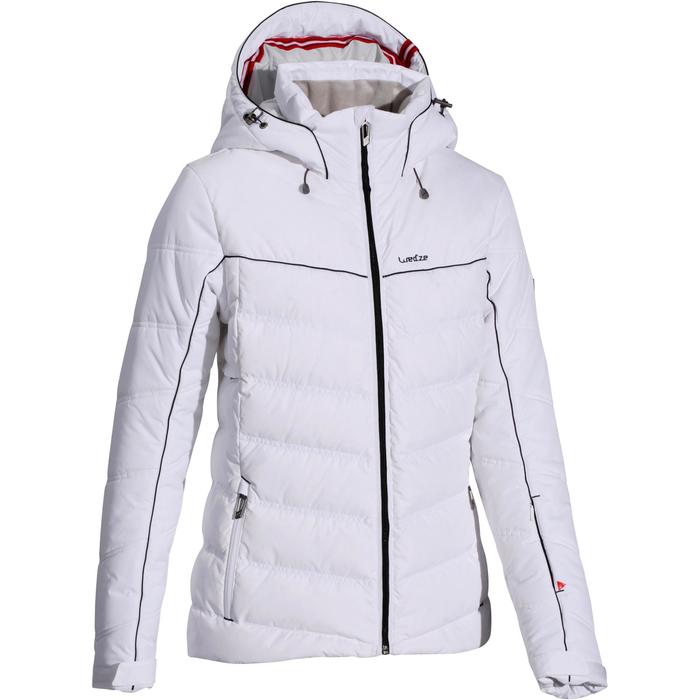 Your request has been registered
You will receive a notification at :
­
Please validate the captcha
Products benefits
Optimum temperature
Ideal temperature of use: -3 °C. Extreme usage temperature: -15 °C.
Warmth
50% down (bust), 50% wadding with a density of 60 g/m² (arms).
Waterproof
Coated jacket 5000 mm. Watertight main seams. Adjustable hood.
Pockets
5 pkts: 2 hand pkts, 1 ski pass pocket, 1 inside secure pocket, 1 goggles pocket
Breathability
Underarm ventilation zips.
Ease of use
Snow skirt. Adjustable hood tailored to the helmet. Velcro sleeve tightening.
Recommended temperature: -3 °C
The "recommended" temperature refers to the ideal temperature for 75% of participants. 25% of participants state being a little cold, without being unacceptable and consider the product suitable for the intended use.
Limit temperature: -15 °C
The limit temperature is the temperature at which the clothing should be used with caution. At this stage, it is unsuitable for two-thirds of all skiers who then feel cold. However, at this same temperature, it is still suitable for 1/3 of participants who do not feel cold or warm (neutral). This may be due to being less sensitive to the cold, better cold management or more intense activity.
What is the advantage of a feather jacket?
Recognised as a must for insulation, the down / feather combination offers an incomparable balance between warmth and weight. The down and feather lining makes it possible to obtain a very good insulation while remaining light and very compressible.
How can I prevent snow from getting in when I fall?
The snow skirt is a protection system at waist level that closes with press snaps at the bottom of the ski or snowboard jacket. It prevents snow and air from entering during practice and especially in the case of a fall.
Where can I put my ski pass when taking ski lifts?
You no longer need to get your ski pass out because your sleeve has a ski pass pocket to allow you to access the cable cars quickly
How to wash a feather jacket at home
* Machine wash at 30°, select synthetic programme and use a small amount of laundry detergent; do not use softener. 
* Add 2 clean and preferably white tennis balls into the drum of the washing machine. 
* Do a second or third rinse to remove residues of the laundry detergent from the previous wash. 
* An extra spin is recommended to facilitate the drying stage
How to wash a feather down jacket at home
Tumble dry (highly recommended)
* Mild or delicate programme. 
* Perform several cycles to dry thoroughly. 
* Between 2 cycles, tap the down to separate the balls of feathers that formed while washing.
If you do not have a tumble dryer, the process is longer. (drying can take 1 to 2 weeks on a dry and flat place). You must shake the down to avoid the formation of feather clumps (at least 4-5 times).
product.productCharacteristic.Warranty.title
2 years
Product concept & technology
STORAGE ADVICE
Preferably store on a hanger and do not fold, as this can damage the fabric coating. Dry thoroughly before storing in a dry and well-ventilated place.
TESTS
We conduct laboratory tests to approve the components: fabrics, zips, drawstrings, tightening systems... Then a test on the finished product with a team of external testers to approve our products at 100% in real-life conditions.
Product Composition
Main fabric : 100.0% Polyester (PES) Padding : 50.0% Grey duck feather, Padding : 50.0% Grey duck down Inner fabric : 100.0% Polyamide Main lining : 100.0% Polyester (PES) Secondary lining : 100.0% Polyamide
Main fabric : 100.0% Polyester (PES) Padding : 50.0% Grey duck feather, Padding : 50.0% Grey duck down Inner fabric : 100.0% Polyamide Main lining : 100.0% Polyester (PES) Secondary lining : 100.0% Polyamide
Main fabric : 100.0% Polyamide Padding : 100.0% Polyester (PES) Inner fabric : 100.0% Polyamide Main lining : 100.0% Polyamide Secondary lining : 100.0% Polyester (PES)
Main fabric : 100.0% Polyester (PES) Padding : 50.0% Grey duck feather, Padding : 50.0% Grey duck down Inner fabric : 100.0% Polyamide Main lining : 100.0% Polyester (PES) Secondary lining : 100.0% Polyamide
Main fabric : 100.0% Polyamide Padding : 100.0% Polyester (PES) Inner fabric : 100.0% Polyamide Main lining : 100.0% Polyamide Secondary lining : 100.0% Polyester (PES)
Main fabric : 100.0% Polyester (PES) Padding : 50.0% Grey duck feather, Padding : 50.0% Grey duck down Inner fabric : 100.0% Polyamide Main lining : 100.0% Polyester (PES) Secondary lining : 100.0% Polyamide
Main fabric : 100.0% Polyester (PES) Padding : 50.0% Grey duck feather, Padding : 50.0% Grey duck down Inner fabric : 100.0% Polyamide Main lining : 100.0% Polyester (PES) Secondary lining : 100.0% Polyamide
Main fabric : 100.0% Polyamide Padding : 100.0% Polyester (PES) Inner fabric : 100.0% Polyamide Main lining : 100.0% Polyamide Secondary lining : 100.0% Polyester (PES)
Main fabric : 100.0% Polyester (PES) Padding : 50.0% Grey duck feather, Padding : 50.0% Grey duck down Inner fabric : 100.0% Polyamide Main lining : 100.0% Polyester (PES) Secondary lining : 100.0% Polyamide
Main fabric : 100.0% Polyamide Padding : 100.0% Polyester (PES) Inner fabric : 100.0% Polyamide Main lining : 100.0% Polyamide Secondary lining : 100.0% Polyester (PES)
Main fabric : 100.0% Polyamide Padding : 100.0% Polyester (PES) Inner fabric : 100.0% Polyamide Main lining : 100.0% Polyamide Secondary lining : 100.0% Polyester (PES)
product.InfoConceptTechnology.maintenancePicture.label

Machine wash - 30° max - normal

Do not bleach

Tumble dry - low heat

Do not iron

Do not dry-clean