Sport Mask Light+ - Blue
Product Code : 165731 8398131
Designed for Sport mask designed to protect you from pollution during workouts of medium intensity/duration (cycling, running).
Sport mask specially designed for sport in polluted urban environments and protects from fine particles (PM 2.5). Unique, highly breathable material.
---



Unique size Online stock 55
Unique size Online stock 146
Unique size Online stock 132
Home Delivery : Between 3 and 5 days.
Pick up in-store
Service not available
Home Delivery
Select Your Location
FREE for orders above HKD499
Currently not available online. Check the stock in stores on product page. Check stock in stores !
Our Stores
Notify me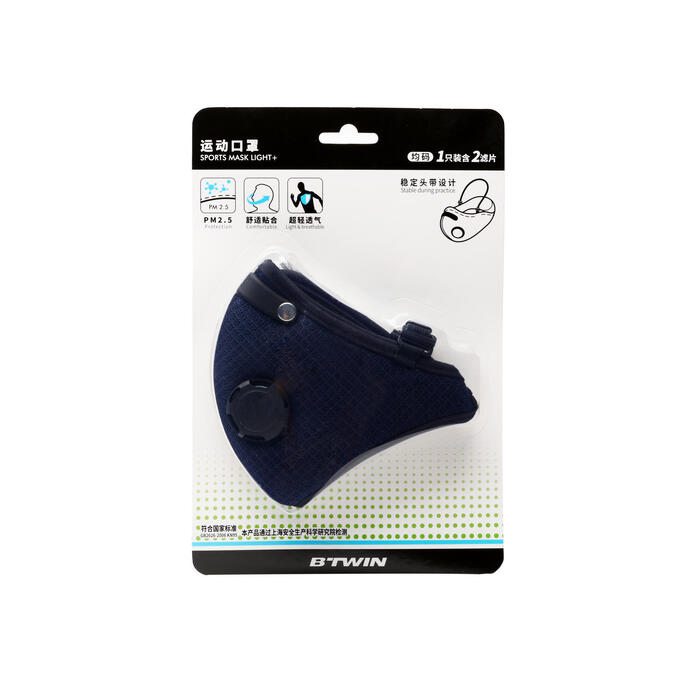 Your request has been registered
You will receive a notification at :
­
Please validate the captcha
Products benefits
Filtration
Filters and protects from fine particles (PM 2.5)
Stability
Stable and comfortable during sport.
Easy breathing
The mask has good ventilation for easier breathing.
Operating instructions:
1. Hold both sides of the mask (nose clip pointing up) and face the mask.
2. Position the bottom of the filter against the chin and the rest of the filter so that it covers the face.
3. Bring the two straps behind the neck and position them. Adjust the stretch for comfort.
4. Adjust the nose clip so that it hugs your nose.
5. For greater stability during exercise, fit the head strap over the head.
Check before use:
Once the mask is properly fitted, test by inhaling and exhaling to ensure that the mask fully covers the face and does not let air in. If necessary, adjust the nose clip, rear strap, or head strap again.
Filter replacement instructions:
1. Replace the filter if you feel resistance to breathing or if it is dirty
2. Grasp the inner and outer parts of the valve, turn them in opposite directions, and remove them. Remove the used filter.
4. Place the new filter inside the mask with the nose clip pointing upwards and align the holes
5. First insert the inner part of the valve, then attach the outer part and close.
6. Complete the same procedure for the other valve.
product.productCharacteristic.Warranty.title
2 years
Product concept & technology
User Restrictions
Read instructions before first use.
Product Composition
Main fabric : 100.0% Polyester (PES) Buckles : 100.0% Polyoxymethylene (POM) Lower Part - Main Fabric : 100.0% Polypropylene (PP) Winding : 60.0% Polyvinyl chloride (PVC), Winding : 40.0% Aluminium Valve : 100.0% Polypropylene (PP) Hook and loop tab : 100.0% Polyamide 6 (PA6) Hem : 77.0% Polyamide 6 (PA6), Hem : 23.0% Polyurethane (PU) Elastic Band : 80.0% Polyester (PES), Elastic Band : 20.0% Rubber - Natural Rubber (NR) - Latex Net : 64.0% Polyamide 6 (PA6), Net : 36.0% Polyurethane (PU)
Main fabric : 100.0% Polyester (PES) Buckles : 100.0% Polyoxymethylene (POM) Lower Part - Main Fabric : 100.0% Polypropylene (PP) Winding : 60.0% Polyvinyl chloride (PVC), Winding : 40.0% Aluminium Valve : 100.0% Polypropylene (PP) Hook and loop tab : 100.0% Polyamide 6 (PA6) Hem : 77.0% Polyamide 6 (PA6), Hem : 23.0% Polyurethane (PU) Elastic Band : 80.0% Polyester (PES), Elastic Band : 20.0% Rubber - Natural Rubber (NR) - Latex Net : 64.0% Polyamide 6 (PA6), Net : 36.0% Polyurethane (PU)
Main fabric : 100.0% Polyester (PES) Buckles : 100.0% Polyoxymethylene (POM) Lower Part - Main Fabric : 100.0% Polypropylene (PP) Winding : 60.0% Polyvinyl chloride (PVC), Winding : 40.0% Aluminium Valve : 100.0% Polypropylene (PP) Hook and loop tab : 100.0% Polyamide 6 (PA6) Hem : 77.0% Polyamide 6 (PA6), Hem : 23.0% Polyurethane (PU) Elastic Band : 80.0% Polyester (PES), Elastic Band : 20.0% Rubber - Natural Rubber (NR) - Latex Net : 64.0% Polyamide 6 (PA6), Net : 36.0% Polyurethane (PU)