Surfing Standard Boardshorts 900 - Light Green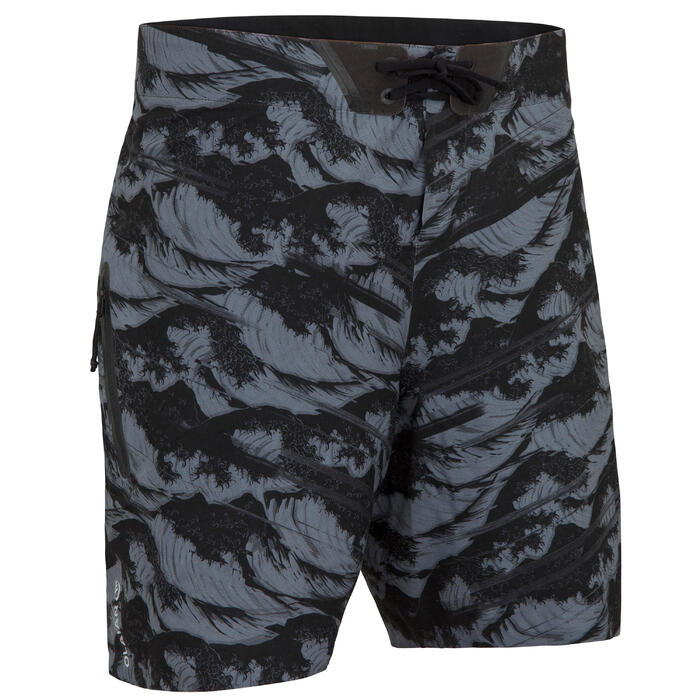 Boardshorts - Evaluation of the entire life cycle of the product, its impact on the environment, including climate change and the depletion of natural resources.
Know more
Surfing Standard Boardshorts 900 - Hokusai Black
Product Code : 310627 8569475
Our team of designers have developed top-of-the-range boardshorts that are perfectly suited to surfing in warm water, for sessions lasting more than two hours.
With its seamless, thermo-bonded assembly, four-way stretch fabric, zip pocket, flat waistband with drawstring that won't come undone, the BS 900 will see you through your most committed sessions.
---
Color : BLACK

Size
UK 29" / FR 38 Online stock 2
UK 31" / FR 40 Online stock 2
UK 32" / FR 42 Online stock 3
UK 34" / FR 44 Online stock 4
UK 36" / FR 46 Online stock 0
UK 39" / FR 48 Online stock 1
UK 29" / FR 38 Online stock 0
UK 31" / FR 40 Online stock 0
UK 32" / FR 42 Online stock 0
UK 34" / FR 44 Online stock 0
UK 36" / FR 46 Online stock 0
UK 39" / FR 48 Online stock 0
Home Delivery : Available
---
FREE Standard Home Delivery for orders above $499
Add $80 for Same Day Delivery
Pick up in-store
Service not available
Home Delivery
Select Your Location
FREE for orders above HKD499
Currently not available online. Click to check the stock in stores. Check stock in stores !
Our Stores
Notify me
Your request has been registered
You will receive a notification at :
Please validate the captcha
Size Guide
Products benefits
Stability
Flat waistband with drawstring to stay in place in the wave.
Reduced chafing
Seamless cut between legs to limit irritation due to chafing
Freedom of movement
The four-way stretch component provides great freedom of movement
Quick drying
Water repellent treatment lets water drain away and speeds up drying.
What is the OLAIAN brand?
OLAIAN, DECATHLON'S SURFING BRAND
Based in Hendaye, in South West France, OLAIAN is Decathlon's surfing brand. In our offices at the water's edge, we can design a pair of boardshorts and then on the same day go surfing and test them to check that they stay in place in the waves, are comfortable and durable.
Colour range
1 plain version and 2 print versions 6 colour variants/colour schemes predominantly black, blue, turquoise
Eco-design
These boardshorts are made of 89% polyester.
How to choose the size of your boardshorts?
Available in EU sizes 38, 40, 42, 44, 46, 48
Length
18 inches (45.5 cm) on the mid-range size 44
What are boardshorts? :
Boardshorts are swimming shorts and more generally a style of swimsuit for men and, more recently, for women. They were created in the 1950s for surfing.
Over past years they have become a popular style of swimming suit.
The name "boardshorts" comes from their use in water sports using a board, such as surfing.
Product concept & technology
Product Composition
Main fabric : 89.0% Polyester, Main fabric : 11.0% Elasthane Pocket : 100.0% Polyester
Main fabric : 89.0% Polyester, Main fabric : 11.0% Elasthane Pocket : 100.0% Polyester
Main fabric : 89.0% Polyester, Main fabric : 11.0% Elasthane Pocket : 100.0% Polyester
Main fabric : 89.0% Polyester, Main fabric : 11.0% Elasthane Pocket : 100.0% Polyester
Main fabric : 89.0% Polyester, Main fabric : 11.0% Elasthane Pocket : 100.0% Polyester
Main fabric : 89.0% Polyester, Main fabric : 11.0% Elasthane Pocket : 100.0% Polyester
Main fabric : 89.0% Polyester, Main fabric : 11.0% Elasthane Pocket : 100.0% Polyester
Main fabric : 89.0% Polyester, Main fabric : 11.0% Elasthane Pocket : 100.0% Polyester
Main fabric : 89.0% Polyester, Main fabric : 11.0% Elasthane Pocket : 100.0% Polyester
Main fabric : 89.0% Polyester, Main fabric : 11.0% Elasthane Pocket : 100.0% Polyester
Main fabric : 89.0% Polyester, Main fabric : 11.0% Elasthane Pocket : 100.0% Polyester
Main fabric : 89.0% Polyester, Main fabric : 11.0% Elasthane Pocket : 100.0% Polyester
Main fabric : 89.0% Polyester, Main fabric : 11.0% Elasthane Pocket : 100.0% Polyester
Main fabric : 89.0% Polyester, Main fabric : 11.0% Elasthane Pocket : 100.0% Polyester
Main fabric : 89.0% Polyester, Main fabric : 11.0% Elasthane Pocket : 100.0% Polyester
Main fabric : 89.0% Polyester, Main fabric : 11.0% Elasthane Pocket : 100.0% Polyester
Main fabric : 89.0% Polyester, Main fabric : 11.0% Elasthane Pocket : 100.0% Polyester
Main fabric : 89.0% Polyester, Main fabric : 11.0% Elasthane Pocket : 100.0% Polyester
User Restrictions
Keep away from heat sources
PRODUCT MAINTENANCE

Machine wash - 40° max - permanent press

Do not bleach

Do not tumble dry

Do not iron

Do not dry-clean