TR130 21 Kids' Tennis Racket - Red
Product Code : 142807 8354720
Designed for young beginner tennis players measuring from 1.08 m to 1.15 m.
The "Learning Grip" helps children as they learn to serve and do forehands and backhands!
---


Unique size Online stock 43
Unique size Online stock 37
Home Delivery : Between 3 and 5 days.
Pick up in-store
Service not available
Home Delivery
Select Your Location
FREE for orders above HKD499
Currently not available online. Check the stock in stores on product page. Check stock in stores !
Our Stores
Notify me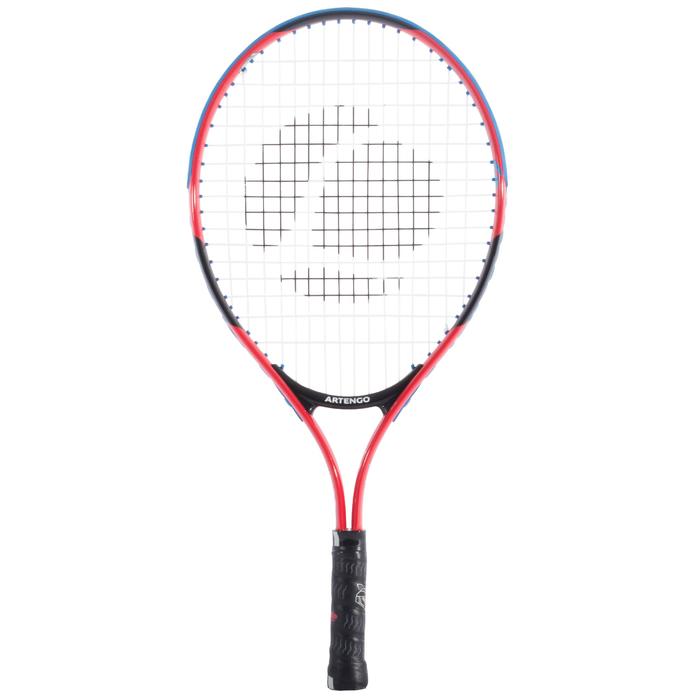 Your request has been registered
You will receive a notification at :
­
Please validate the captcha
endeca.SP_SimilarProduct.label
Products benefits
Handling
A lightweight (177 g) racket for your child's first volleys.
Forgiveness
The head size mitigates centring errors.
Power
The head-heavy balance gives added power to beginners when hitting.
Ergonomic grip
The "Learning Grip" design makes it easier to grip and learn to play tennis
Learning grip technology
Research carried out by Artengo and Decathlon's R&D research centre have shown that kids' rackets should be chosen to suit height and hand size. The Learning Grip technology makes the racket easy to hold and offers a very comfortable grip.
Approved by the ITF (International Tennis Federation)
Learning Grip Markings
The three markings on the grip help children to position their hand to more easily learn the three main tennis strokes: "Forehand", "backhand" and "serve"
Weight
The light weight (177 g) will make their first rallies at the tennis club much easier.
Learning Grip handle
The oval grip shape is suited to children's hands, with a very grippy material for an excellent grip on the racket.
Child's height
1.08-1.15 m
product.productCharacteristic.Warranty.title
2 years
Product concept & technology
STORAGE ADVICE
Keep strings at a stable temperature
TESTS
Our product has been tested for more than 50 hours by young, occasional tennis players. The Junior TR130 has been tested against various products on the market. The tests highlighted the quality of its grip and its ease of handling
Product Composition
Racket Frame : 100.0% Aluminium 6061 Racket Yoke : 100.0% Polyéthylène (PE) Racket handle : 100.0% Polyurethane (PU), Racket handle : 0.0% Polypropylene (PP) Racket String : 100.0% Polyamide Racket end cap : 100.0% Polypropylene (PP) Bumper Grommet : 100.0% Polyamide 6 (PA6) Racket Top Cap : 100.0% Polypropylene (PP)
Racket Frame : 100.0% Aluminium 6061 Racket Yoke : 100.0% Polyéthylène (PE) Racket handle : 100.0% Polyurethane (PU), Racket handle : 0.0% Polypropylene (PP) Racket String : 100.0% Polyamide Racket end cap : 100.0% Polypropylene (PP) Bumper Grommet : 100.0% Polyamide 6 (PA6) Racket Top Cap : 100.0% Polypropylene (PP)
endeca.SP_SimilarProduct.label