Travel 500 Women's 70L Lockable Backpack - Grey
Product Code : 168025 8383139
Designed for women trekking for several days in "backpacker" mode
Backpack designed to fight the risk of pickpocketing with the wide lockable zip, placed against the back. The hood can be transformed into a detachable shoulder bag to take your documents anywhere.
---
Color : Steel grey
Home Delivery - :
Pick up in-store
Service not available
Home Delivery -
Select Your Location
FREE for orders above HKD499
This product is not available online. Check stock in stores !
Our Stores
Notify me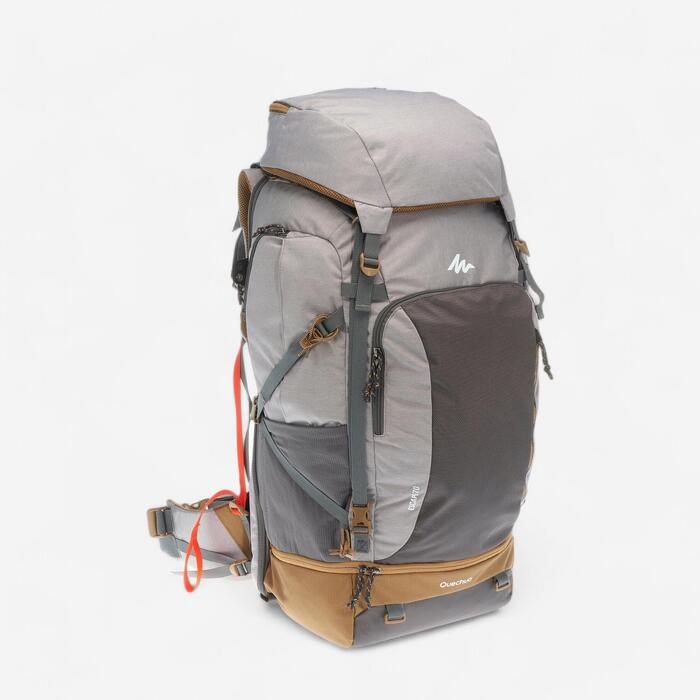 Your request has been registered
You will receive a notification at :
­
Please validate the captcha
Products benefits
Theft resistant
Wide lockable zip flush against the back to keep belongings safer.
Easy opening / closing
1 wide case style opening providing maximum storage
Capacity
Capacity:70 Litres Size: 65 X 40 X 32cm weight: 2.5 kg
Abrasion resistance
Guaranteed 10 years. Very strong thanks to the reinforced fabrics and stitching.
Carrying comfort
Easy fit system for optimal and automatic adjustment adjustable for women 2.5 kg
Technical information
How to fill my bag for optimal comfort?
Put your bedding at the bottom. Carry heavy gear (tent, stove, food) closest to your back. Pack your clothes around these items. The groundsheet can be placed under the flap; the tent goes under the bag if it doesn't fit inside. Keep your waterproof jacket and fleece to hand. In the pockets, spread out the small equipment you use during the day (sun cream, map, sunglasses, etc). If carrying a hydration pack (water bladder), this should be placed in its special pocket along the back.
The Easyfit system
This patented system enables your bag to be adjusted on your back, in one movement, intuitively, to better adapt to your body: for maximum comfort.
How to adjust your backpack?
FIRST, LOOSEN all the straps (shoulder straps, belt, load adjuster straps). PUT THE BAG ON. PLACE THE BELT ON THE HIPS (it should cover your pelvic bones) and TIGHTEN IT. Then PULL THE EasyFit TOGGLES; the strap block will go round your shoulders. Finally, ADJUST THE LOAD ADJUSTER STRAPS as needed.
Tests carried out by our Research and Development department on the effectiveness of EasyFit system
User-friendly concept: actual adjustment time 2-3 times shorter with the EasyFit backpack; and number of times you have to go back = 0 for the EasyFit bag. The EasyFit system does not affect the quality of the adjustments when compared with a standard adjustment system: EasyFit was rated significantly more comfortable in the 4% Friedman statistical test; users also observed 6 times more good adjustments.
A score for comparing products' environmental impact
The product's environmental impact is calculated over its entire life cycle using different indicators.
An overall score from A to E is given to help you easily identify the most environmentally-friendly products by comparing products of the same type (T-shirts, trousers, backpacks, etc).
Decathlon is committed to displaying the environmental data of its products.
For more information: http://sustainability.decathlon.com/
10-year warranty
The warranty covers any backpack faults, except those caused by normal wear and tear and improper use. This special 10-year warranty is only valid with the product and sales receipt. If the product is under warranty, it will be repaired or exchanged for free. This commercial warranty does not affect any statutory rights that are applicable in the country of purchase.
Dimensions and weight
Backpack measurements: 63 cm high x 40 cm wide x 32 cm deep
.
Its weight when empty is 2.41 kg.
Product concept & technology
STORAGE ADVICE
Store your bag in a dry place.
TESTS
We test the bag's resistance to abrasion, wear, its colour fastness under UV rays, after washing and its waterproofing in the laboratory and in the field. Then, the weighted backpack is placed on a mannequin that simulates ageing by replicating thousands of fast walking movements, to check the durability of assemblies. The components (fabrics, buckles, straps, foam, zips, etc.) are also tested separately so that we can guarantee these bags for 10 years.
User Restrictions
Not waterproof; protect your belongings in case of rain.
Product Composition
"Main fabric : 100.0% Polyester (PES) Lining : 100.0% Polyester (PES) Yoke : 100.0% Polyamide (PA)"