Trek 500 15° Trekking Sleeping Bag - Green
Product Code : 157712 8504925
Designed for sleeping comfortably at temperatures above or equal to 15° C, while trekking or bivouacking.
Sleeping bag can be twinned with the "ultralight" 2017 and "light" 2018 range. Wide temperature range: 15 to 25° C for more comfort thanks to 2 zips 3/4 with double slider for heat management.
---
Color : Alpine green/Malachite green/Steel grey


M Online stock 0
L Online stock 16
XL Online stock 52
M Online stock 17
L Online stock 39
XL Online stock 18
Home Delivery : Between 3 and 5 days
Pick up in-store
Service not available
Home Delivery
Select Your Location
FREE for orders above HKD499
Currently not available online. Click to check the stock in stores. Check stock in stores !
Our Stores
Notify me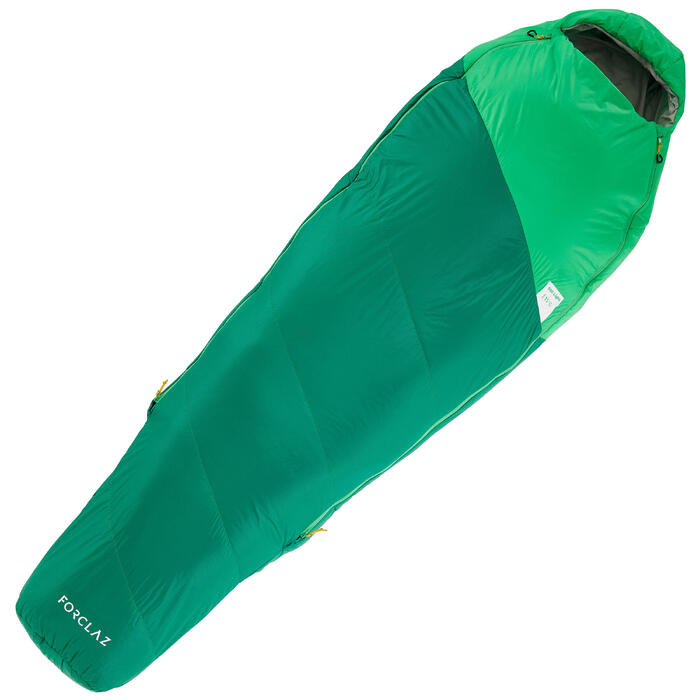 Your request has been registered
You will receive a notification at :
­
Please validate the captcha
Products benefits
Warmth
Comfort temperature rating 15°C / Limit temperature rating 10°C
Easy transport
Size L: weight 680 g. Volume 3 Litres. Stuff bag.
Sleeping comfort
Very comfortable mummy shape. 2 x 3/4 zips with a double slider for ventilation.
Compatibility
can be twinned with other models in 2017 "Ultralight" and 2018 "Light" ranges.
Easy maintenance
Easy machine washing, follow the care instructions.
Temperature rating:
We display the comfort temperature ratings on all our sleeping bags. These are tested by an independent laboratory (AITEX) in compliance with European standard EN 13537 of 11/04/2002. The comfort temperature rating is the lowest temperature at which a user in a relaxed position is in thermal equilibrium and feels neither hot nor cold (determined for an average woman in normal conditions of use). Choose your sleeping bag accordingly.
What are the temperature ratings?
Limit temperature rating: temperature limit at which the user of the sleeping bag in huddled-up position is generally in thermal equilibrium and feels neither cold nor hot (determined for a standard man under normal conditions of use).
However, this is what you need to know about the temperature ratings:
A sleeping bag does not produce heat but retains the heat produced by the body. If you are tired and cold and you slip inside a cold, damp sleeping bag, it is very likely that you will feel cold no matter how good your sleeping bag is! These temperatures therefore depend on the person's resistance to cold (bulk, fatigue, etc.), equipment (mattress with insulation, etc.), clothing (naked, underwear, etc.) and weather conditions (humidity, wind, etc.).
For greater comfort, before getting into your sleeping bag:
Do not overdress (1 layer of clothing is enough). Warm up your hands and feet: use hats, gloves, socks, bed warmers, rubbing, etc. A flask filled with hot water can be used as a hot water bottle (so long as there's no chance of it opening by accident!) Contract your muscles (70% of the energy consumed is converted into heat) without moving as this could cause a draught of cool air. Use a sleeping bag liner. Ideally, this should be made of silk to maximise the warmth inside your sleeping bag.
Weight and dimensions
Size L 680 g, height between 1.70m and 1.85m. Folded size: H 27 cm Ø 13.5 cm. Volume 4 L.
Size XL 740 g, height between 1.85 and 2m. Folded size: H 27 cm Ø 14.5 cm. Volume 5 L.
To ensure you choose the right size, and for greater comfort, try out your sleeping bag before purchasing.
Warranty:
This sleeping bag is guaranteed for 5 years from the date shown on the sales receipt. The product covered by the warranty will be repaired or exchanged free of charge. The warranty covers product defects excluding those resulting from normal wear and tear and improper use. This special 5-year warranty is only valid with the product and receipt.
A score for comparing the environmental impact of products
The calculation of the environmental impact of the product is based on its entire life cycle using different indicators. A general score from A to E is provided to help you easily identify the most eco-friendly products by comparing products of the same type (T-shirts, trousers, backpacks, etc.) Decathlon is committed to displaying this environmental information. For more info: http://sustainability.decathlon.com/
product.productCharacteristic.Warranty.title
5 years
Product concept & technology
STORAGE ADVICE
You can easily store your bag by stuffing it into its bag, feet section first. To maintain its loft, which is what gives it its insulation, remove it from its bag and store it laid out in a dry place.
User Restrictions
Size & height of the user: M < 1.70 m < L < 1.85 m < XL < 2 m
Product Composition
Padding : 100.0% Polyester (PES) Lining : 100.0% Polyester (PES) Outer fabric : 100.0% Polyester (PES) Carry bag : 100.0% Polyester (PES)
Padding : 100.0% Polyester (PES) Lining : 100.0% Polyester (PES) Outer fabric : 100.0% Polyester (PES) Carry bag : 100.0% Polyester (PES)
Padding : 100.0% Polyester (PES) Lining : 100.0% Polyester (PES) Outer fabric : 100.0% Polyester (PES) Carry bag : 100.0% Polyester (PES)
Padding : 100.0% Polyester (PES) Lining : 100.0% Polyester (PES) Outer fabric : 100.0% Polyester (PES) Carry bag : 100.0% Polyester (PES)
Padding : 100.0% Polyester (PES) Lining : 100.0% Polyester (PES) Outer fabric : 100.0% Polyester (PES) Carry bag : 100.0% Polyester (PES)
Padding : 100.0% Polyester (PES) Lining : 100.0% Polyester (PES) Outer fabric : 100.0% Polyester (PES) Carry bag : 100.0% Polyester (PES)
Padding : 100.0% Polyester (PES) Lining : 100.0% Polyester (PES) Outer fabric : 100.0% Polyester (PES) Carry bag : 100.0% Polyester (PES)
product.InfoConceptTechnology.maintenancePicture.label

Machine wash - 30° max - normal

Do not bleach

Tumble dry - low heat

Do not iron

Do not dry-clean