Trekking Sleeping Bag - TREK 500 0° - Brown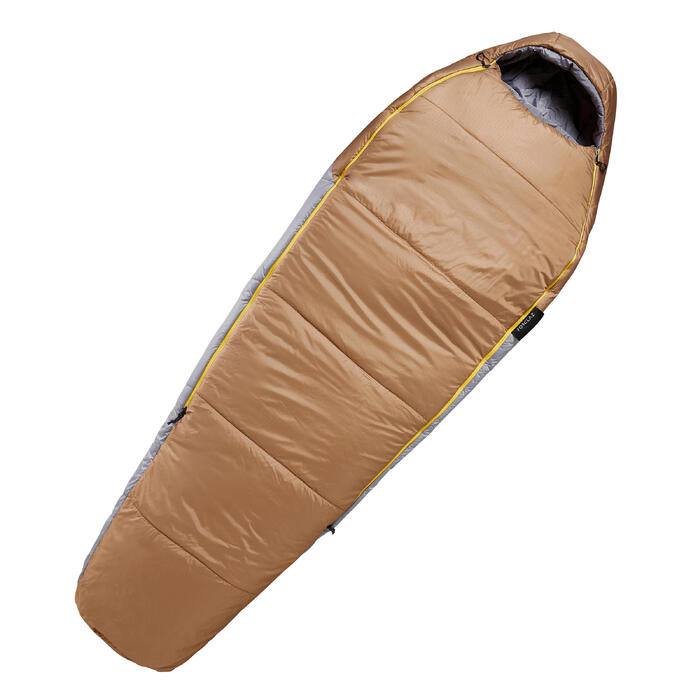 Sleeping bag - Evaluation of the entire life cycle of the product, its impact on the environment, including climate change and the depletion of natural resources.
Know more
Trekking Sleeping Bag - TREK 500 0° - Brown
Our designers, who are all trekking enthusiasts, designed this sleeping bag to sleep comfortably at temperatures of 0°C or above.
This very compact, lightweight bag has a wide temperature range of use. Sleep comfortably from 0° to 10°C thanks to these 2 3/4 zips with double slider to manage the temperature: tailored ventilation.
---
Color : BROWN/Granite
Size
M Online stock 3
L Online stock 3
XL Online stock 7
Delivery : Available
Pick up in-store
Service not available
Stores located in Hong Kong Island

Select your location
Causeway Bay
Central
Kowloon Bay
Ma On Shan C&C
Mong Kok
Sha Tin
Tseung Kwan O
Delivery
Select Your Location
FREE for orders above HKD499
Currently not available online. Click to check the stock in stores. Check stock in stores !
Our Stores
Notify me
Your request has been registered
You will receive a notification at :
Please validate the captcha
Size Guide
Products benefits
Optimum temperature
Comfort temperature: 0°C; limit temperature: -5°C. Synthetic wadding.
Easy transport
Size L: weight 1.67kg. Volume 15.2 litres. Compression bag.
Sleeping quality
Very comfortable mummy shape. 2 x 3/4 zips with a double slider for ventilation.
Compatibility
can be twinned with other models in 2017 "Ultralight" and 2018 "Light" ranges.
Water repellent
Water-repellent fabric to optimise the thermal performance of your sleeping bag.
Usage temperature:
All our sleeping bags display the temperature ratings, tested by an independent laboratory (AITEX), in accordance with the European NF ISO 23537 standard (2017).
The "comfort temperature" is the lower comfort limit at which a user in relaxed position is in overall thermal balance and is neither hot nor cold (determined for an average woman in normal conditions of use). Choose your sleeping bag according to this criteria.
What are the limit temperatures for usage?
Limit temperature: temperature limit at which the user of the sleeping bag in huddled-up position is generally in thermal equilibrium and is neither cold nor hot (determined for a standard man under normal conditions of use).
We recommend using an insulation mattress to optimise your thermal comfort.
This sleeping bag is lined with synthetic wadding to ensure its performance even in wet conditions.
However, this is what you need to know about temperatures:
A sleeping bag does not produce heat but retains the heat produced by the body. If you are tired and cold and you slip inside a cold, damp sleeping bag, it is very likely that you will feel cold no matter how good your sleeping bag is! These temperatures therefore depend on the person's resistance to cold (size, fatigue, etc.), equipment (mattress with insulation, etc.), clothing (naked, underwear, etc.) and weather conditions (humidity, wind, etc.).
For greater comfort, before getting into your sleeping bag:
Dress simply (1 layer of clothing is enough).
Warm-up your extremities: use hats, gloves, socks, bed warmers, rubbing, etc.
A flask filled with hot water can be used as a foot or bed warmer (so long as there's no chance of it opening by accident!)
Contract your muscles (70% of the energy consumed is converted into heat) but without making any movement generating a cold airstream.
Use a sleeping bag liner to maximise the heat and hygiene inside your sleeping bag.
Shape:
"Generous" mummy shape: wide at the shoulders and tighter at the feet to optimise thermal insulation (no heat loss) and compactness, while maintaining relative freedom of movement.
Width at the shoulders 72 cm, height at the feet 34 cm in size L.
Ergonomic hood with drawcord.
Two double-slider side zips, lined with a flap (tube) in anti-cold wadding (thermal bridges), side openings. Easy mechanical ventilation.
Weight and dimensions:
Size S 1450 g, user height up to 1.60m. Folded size: L 42 cm Ø 19.5 cm. Volume 12.5 litres.
Size M 1550 g, user between 1.60 and 1.70m. Folded size: L 42 cm Ø 20.5 cm. Volume 13.9 litres.
Size L 1670 g, user height 1m70 to 1m85. Folded size: L 42 cm Ø 21.5 cm. Volume 15.2 litres.
Size XL: 1785g, user height: between 1.85m and 2m. Folded size: L 42 cm Ø 22.5 cm. Volume 16.7 L.
Volume & dimensions can vary according to the pressure applied to the product.
Weight and dimensions (2)
Volume & dimensions can vary according to the pressure applied to the product.
Try your sleeping bag before buying it to choose the right size for your comfort. The advantage of a sarcophagus-shaped sleeping bag is to optimise the weight/volume and thermal ratio. Indeed, with a bag that fits close to the body, you will have less volume to heat (saving your energy). Conversely, this type of bag can limit your freedom of movement, especially when the zips are closed.
Warranty:
This sleeping bag is guaranteed for a period of 5 years from the date of sale indicated on the receipt. The product covered by the guarantee will be repaired or exchanged free of charge. The warranty covers product defects excluding any resulting from normal wear and tear and those resulting from abnormal use. The product and sales receipt are required for this special 5-year warranty to be valid.
Weight
M : 1.55 kg
L : 1.67 kg
XL : 1.785 kg
Product concept & technology
Product Composition
Padding 100% Polyester Main fabric 100% Polyester Carry bag 100% Polyester Lining 100% Polyester
Padding 100% Polyester Main fabric 100% Polyester Carry bag 100% Polyester Lining 100% Polyester
Padding 100% Polyester Main fabric 100% Polyester Carry bag 100% Polyester Lining 100% Polyester
STORAGE ADVICE
You can easily store your bag by stuffing it loosely into its cover, feet section first To keep it fluffed up & ensure good thermal performance, remove from its cover, extend , store it in a dry place
TESTS
All our sleeping bags undergo mechanical tests that test the performance and resistance of the sleeping bag to guarantee better sleep and recuperation (thermal resistance, resistance to abrasion, comfort, etc). We also carry out many tests in the field, in real conditions.
User Restrictions
S <1.60m
PRODUCT MAINTENANCE

Machine wash - 30° max - normal

Do not bleach

Tumble dry - low heat

Do not iron

Do not dry-clean