W500 M running stopwatch - Blue and Orange
Product Code : 125865 8548004
Our team of running enthusiasts designed this watch for measuring your performances and programming your interval training.
Make progress simply
---
Color : DARK BLUE/ORANGE



Unique size Online stock 133
Unique size Online stock 1290
Unique size Online stock 357
Home Delivery : Between 3 and 5 days
Pick up in-store
Service not available
Home Delivery
Select Your Location
FREE for orders above HKD499
Currently not available online. Click to check the stock in stores. Check stock in stores !
Our Stores
Notify me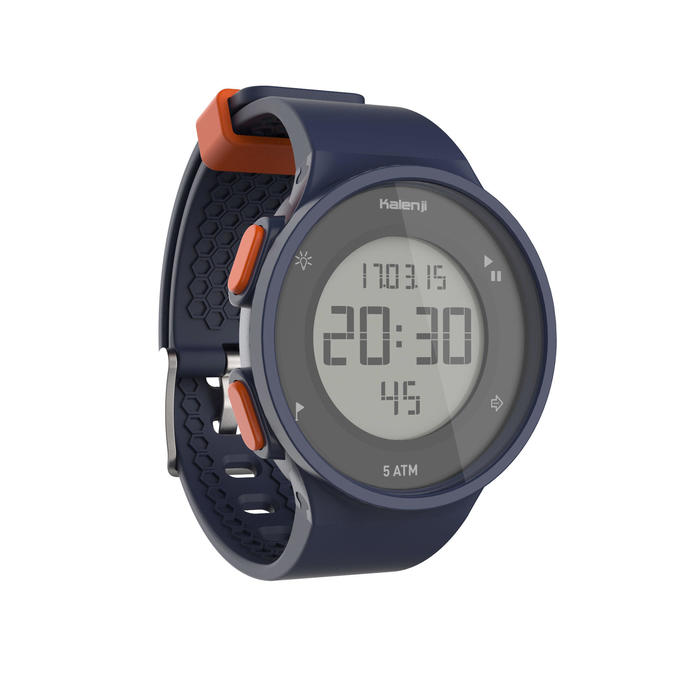 Your request has been registered
You will receive a notification at :
­
Please validate the captcha
Products benefits
Parameter measurement
Stopwatch 1/100s, backlighting, alarm, date.
Coaching
Countdown function with 4 separate times for programming training sessions.
Waterproof
Suitable for swimming (5 ATM or 50 m). Buttons can be used underwater.
Customisation
Choose the strap colour to customise your watch (option).
Visibility
Large digits for perfect legibility when practising sports.
Water resistance
Resistant to swimming pool water (chlorine), sea water (salt) and sweat.
Easy assembly / dismantling
Change your strap easily with the exclusive slide system. No tools required.
Ease of use
Easy to set using the icons on the screen.
Stopwatch
Stopwatch that is accurate to 1/100th second
IMPROVE YOUR PERFORMANCE WITH INTERVAL TRAINING
Using this function, you will be able to programme a simple interval training session with 4 separate times, e.g.:
Time 1: 15-minute warm-up
Time 2: 30 seconds exertion
Temps 3 : 30 seconds rest
Repeat: 10
Time 4: 10-minute warm-down
Waterproof 5 ATM
Waterproof 5 atm (50m) and the button functions when swimming in deep water.
The SWIP system
SWIP SYSTEM is an exclusive attachment system for changing your wristband easily, with no need for any tools. Just slide the strap on or off.
An attachment system ensures your watch remains fixed in place and its wave-shaped design means extra durability.
The optional STRAP M straps (or SWIP strap) are compatible with the following models: W500M SWIP, W500+M SWIP, W700XC M SWIP, A300M SWIP, A300+ M SWIP, SWIP DIGITAL M, SWIP ANALOG M and X-Cross 400M.
Warranty
Availability of the parts (battery and wristband) needed to use the product: 2 years
Product concept & technology
Maintenance advice
Regularly clean the inner part of your watch with fresh water to remove any built-up residue (cream, soap, etc.) Like all our watches, this model has an After-Sales Service: battery replacement. Battery reference no. CR2025 Contact one of our stores.
TESTS
Decathlon teams have been designing watches specifically for sports use for 20 years. During development, our team of testers conducts over 30 field and laboratory tests on each model.
Product Composition
Wrist : 90.0% Rubber - Thermoplastic Rubber (TPR), Wrist : 10.0% Stainless steel Carcass : 90.0% Polycarbonate-Acrylonitrile Butadiene Styre(PC-ABS, Carcass : 10.0% Polymethyl Methacrylate (PMMA) Board : 70.0% Epoxy, Board : 30.0% Copper (CU)
Wrist : 90.0% Rubber - Thermoplastic Rubber (TPR), Wrist : 10.0% Stainless steel Carcass : 90.0% Polycarbonate-Acrylonitrile Butadiene Styre(PC-ABS, Carcass : 10.0% Polymethyl Methacrylate (PMMA) Board : 70.0% Epoxy, Board : 30.0% Copper (CU)
Wrist : 90.0% Rubber - Thermoplastic Rubber (TPR), Wrist : 10.0% Stainless steel Carcass : 90.0% Polycarbonate-Acrylonitrile Butadiene Styre(PC-ABS, Carcass : 10.0% Polymethyl Methacrylate (PMMA) Board : 70.0% Epoxy, Board : 30.0% Copper (CU)
Wrist : 90.0% Rubber - Thermoplastic Rubber (TPR), Wrist : 10.0% Stainless steel Carcass : 90.0% Polycarbonate-Acrylonitrile Butadiene Styre(PC-ABS, Carcass : 10.0% Polymethyl Methacrylate (PMMA) Board : 70.0% Epoxy, Board : 30.0% Copper (CU)
Wrist : 90.0% Rubber - Thermoplastic Rubber (TPR), Wrist : 10.0% Stainless steel Carcass : 90.0% Polycarbonate-Acrylonitrile Butadiene Styre(PC-ABS, Carcass : 10.0% Polymethyl Methacrylate (PMMA) Board : 70.0% Epoxy, Board : 30.0% Copper (CU)