Women's Aquafitness one-piece swimsuit Lena - blue Vib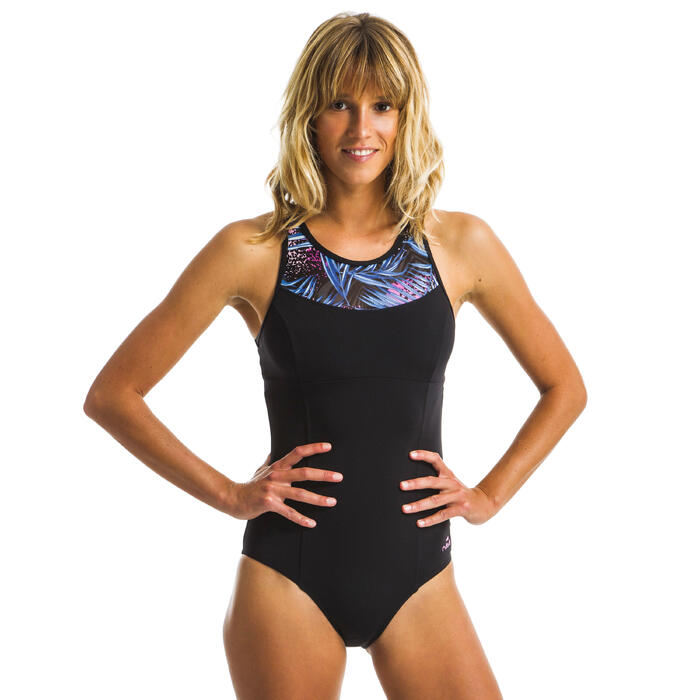 1-piece swimsuit - Evaluation of the entire life cycle of the product, its impact on the environment, including climate change and the depletion of natural resources.
Know more
Women's one-piece Aquafitness swimsuit Lena - black mem
Product Code : 312098 8579505
Our Aquafitness team has designed the Lena one-piece swimsuit for your high-intensity Aquafitness sessions: Aquatonic, Aquabiking, Aquaboxing, etc.
The Lena one-piece swimsuit is the firm favourite for your Aquafitness sessions! It will provide you with good bust support thanks to its built-in bra and its mesh neckline.
---
Color : BLACK/BLACK


Size
UK 8 / FR 38 Online stock 0
UK 10 / FR 40 Online stock 2
UK 12 / FR 42 Online stock 1
UK 14 / FR 44 Online stock 1
UK 16 / FR 46 Online stock 1
UK 8 / FR 38 Online stock 0
UK 10 / FR 40 Online stock 0
UK 12 / FR 42 Online stock 0
UK 14 / FR 44 Online stock 0
UK 16 / FR 46 Online stock 0
Home Delivery : Available
Pick up in-store
Service not available
Home Delivery
Select Your Location
FREE for orders above HKD499
Currently not available online. Click to check the stock in stores. Check stock in stores !
Our Stores
Notify me
Your request has been registered
You will receive a notification at :
Please validate the captcha
Size Guide
Products benefits
Chlorine resistance
Up to 100 hours of use: recommended for occasional use.
Breast support
Built-in bra and stretchy mesh straps.
Coverage
Medium leg height, without being too revealing around the hips.
Freedom of movement
Back with crossed elasticated mesh straps to free the shoulder blades.
YOUR ACTIVITIES: DYNAMIC AQUAFITNESS SESSIONS
Activities: Aquatonic - Aquazumba - Aquajogging - Aquatabata - Aquastep - Aquabike - Aquatrampoline - Aquamat - Aquaboxing - Aquapole dance - Aquadrums, etc.
These activities consist of movements at a sustained rhythm that usually require accessories or equipment.
The aim is to combine building muscle strength and a cardio workout to tone up your figure.
THE BUILT-IN BRA WITH REMOVABLE PADS: AN IMPORTANT ALLY FOR YOUR BUST
During your Aquafitness sessions, you move and jump in a way that causes your bust to move. Wearing a swimsuit that is suited to Aquafitness activities provides you with the support and comfort that your bust needs.
The built-in bra of the Lena one-piece swimsuit will support your bust thanks to a stretchy mesh lining and a silicone-coated elastic strap. The removable pads enhance the bust.
CROSSED BACK
The crossed back and the band running all the way around the back help to provide good support. The crossed straps adapt the swimsuit to suit the shape of your body, while leaving the shoulder blades free.
This cut frees your shoulders to allow supple movements, without the distraction of moving straps.
Product concept & technology
Product Composition
Main fabric : 100.0% Polyester Yoke : 76.0% Polyamide, Yoke : 24.0% Elasthane Inner fabric : 100.0% Polyester Lining : 100.0% Polyamide Padding - Outer fabric : 100.0% Polyester
Main fabric : 100.0% Polyester Yoke : 76.0% Polyamide, Yoke : 24.0% Elasthane Inner fabric : 100.0% Polyester Lining : 100.0% Polyamide Padding - Outer fabric : 100.0% Polyester
Main fabric : 100.0% Polyester Yoke : 76.0% Polyamide, Yoke : 24.0% Elasthane Inner fabric : 100.0% Polyester Lining : 100.0% Polyamide Padding - Outer fabric : 100.0% Polyester
Main fabric : 100.0% Polyester Yoke : 76.0% Polyamide, Yoke : 24.0% Elasthane Inner fabric : 100.0% Polyester Lining : 100.0% Polyamide Padding - Outer fabric : 100.0% Polyester
Main fabric : 100.0% Polyester Yoke : 76.0% Polyamide, Yoke : 24.0% Elasthane Inner fabric : 100.0% Polyester Lining : 100.0% Polyamide Padding - Outer fabric : 100.0% Polyester
Main fabric : 100.0% Polyester Yoke : 76.0% Polyamide, Yoke : 24.0% Elasthane Inner fabric : 100.0% Polyester Lining : 100.0% Polyamide Padding - Outer fabric : 100.0% Polyester
Main fabric : 100.0% Polyester Yoke : 76.0% Polyamide, Yoke : 24.0% Elasthane Inner fabric : 100.0% Polyester Lining : 100.0% Polyamide Padding - Outer fabric : 100.0% Polyester
Main fabric : 100.0% Polyester Yoke : 76.0% Polyamide, Yoke : 24.0% Elasthane Inner fabric : 100.0% Polyester Lining : 100.0% Polyamide Padding - Outer fabric : 100.0% Polyester
Main fabric : 100.0% Polyester Yoke : 76.0% Polyamide, Yoke : 24.0% Elasthane Inner fabric : 100.0% Polyester Lining : 100.0% Polyamide Padding - Outer fabric : 100.0% Polyester
Main fabric : 100.0% Polyester Yoke : 76.0% Polyamide, Yoke : 24.0% Elasthane Inner fabric : 100.0% Polyester Lining : 100.0% Polyamide Padding - Outer fabric : 100.0% Polyester
PRODUCT MAINTENANCE

Machine wash - 30° max - normal

Do not bleach

Do not tumble dry

Do not iron

Do not dry-clean