At what age can your baby start skiing?
Leaving on holiday in the snow with your kid but wondering if they're old enough to put on skis?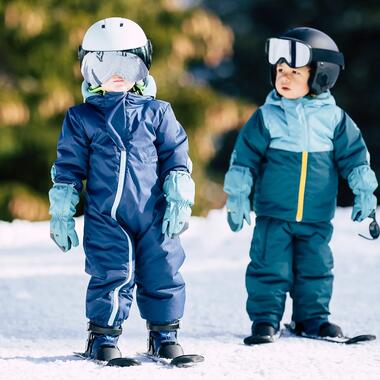 Sledge, mini-skis, Snow Garden… Find out from what age you can put your child on skis and how to introduce them to the first sensations of sliding.
From 12 months, the sledge is perfect for him·her
Got a trip in the snow planned?
Don't forget to take a sledge!! Of course, you can also rent one on site. If your baby is daring and sits well, they can go down small slopes alone on the sledge. On the condition that you are at the bottom to meet them. Ideally, plan on a large, quiet area with a flat landing.

If your kid is a little worried about being along on the sledge or doesn't sit well alone then get on board with them! These initial descents will give your baby chance to familiarise themselves with the slide. A first step towards learning to ski.
At what age should a baby begin to familiarise themselves with skiing?
Altitude clearly has an impact on little ones, particularly their ears, unless you already live in the mountains. Therefore, it is not recommended to take a baby too high up below a certain age. Choose medium altitude resorts (between 1,000 and 1,500 metres), and whatever happens take break during the climb to give your kid a drink, or give them a dummy, to unblock their ears. In addition, before climbing to altitude it's essential to ensure they don't have an ear infection. With age, the eardrums will mature and you can climb higher.

In any event, the perfect age for your baby to begin familiarising themselves with the mountains in winter is around one. They are starting to walk which is essential when learning to slide and they will be amazed by the snowy mountains.
How should a baby dress for the ski slopes?
If you want your tiny tot to enjoy their days on the slopes sledging or skiing then it's important to cover them up properly. The right equipment also protects them from injuries so remember to buy a helmet. Yes, yes, even if they are only sledging downhill! Gloves, sunglasses, ski suit and hat (under the helmet) provide a good base as well as a pair of warm waterproof boots.

If you would like more details on the right ski equipment for your baby, we have advice on that:
If you feel at ease on skis and if your kid is asking, teach them to ski with you. If they are ready for a pair of "real" skis, you can teach them to stay upright on their skis by giving them your pole and trying to pull them towards you.

For your enjoyment and theirs, take them under the arms, between your legs and push them along a little on the snow. If you feel they are at ease and could do more then get a harness. This will ensure that your kid is attached to the harness and you can let them go ahead in front of you while holding on for when they can no longer control their speed. You can hitch them up back to their feet (well, skis).

Even if they"sit down", they will not pick up bad habits and sharing this moment with them will be your greatest reward.
At 3 years old, your kid can start on the snow garden with their first skis!
From 3 years old, your children can spend time at the Snow Garden.

Accompanied by genuine ski instructors, in a world dedicated to kids and adapted to their size, there's nothing like it for mastering the glide and equipment in a fun way. Small slopes, magic carpet and bells to ring on the way, everything is set up for kids to have an amazing, fun time. Learn to slide without even thinking about it!
Sessions for the youngest last around 45 minutes so they don't get bored or cold. If they ask to go back, you can take them morning and afternoon but be careful they don't burn out. Your little one will learn quickly and gain confidence on their skis in a few sessions.

Does your kid need time to acclimatise and get their bearings?

In the Snow Garden, the instructors will let them observe, play, jump and slide in the snow with their ski boots and their little skis. It's not trivial, they become familiar with snow and their equipment.

And ski must remain fun. Make the most of the rest of the day with simpler activities such as sledging.
4 Years of age: the real lessons start with ski schools!
At 4 years old, when your kid is familiar with the snow and their equipment, they can calmly begin ski lessons and head out on the slopes with an instructor, just like the grown-ups!

Group lessons are organised by age and level. It's possible to have a lesson in the morning and go out with the family in the afternoon, on the condition that meal breaks and rest periods are respected so your little skier isn't exhausted too quickly.

If you want to ski with your kid who is a beginner, take into account their fitness and wishes otherwise they will tire quickly and be put off. It's up to you to adapt your speed and your route so that this outing is beneficial for them.

Finally, for family outings with peace of mind and skiing how you like it, you can choose "Family Plus" resorts where hosting families is specifically catered for with entertainment and workshops to keep little ones busy during the day, including ski lessons for those who are able.
You know everything about the right time and good habits for familiarising your kids with skiing and having fun all together on the slopes! All that's left is to decide where to go on your next mountain holidays. Enjoy the slopes!
Chloé
Wedze communication team, made up of skiing and snowboarding enthusiasts