Wakesurfing | faq for beginners 
Wakesurfing and wakeboarding has become one of the most popular watersports in recent years. If you are going to try it, you probably have lots of questions. Let us tell you everything you need to know before your first trip to the water.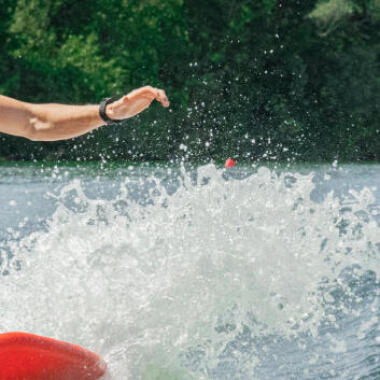 What are the differences between wakesurfing and wakeboarding?
A wakesurfer stays on top of the water by catching waves generated by the boat, and plays various tricks.

A wakeboarder stays on top of the water through a leash connected to the back of the boat, and is generally more demanding on wakeboarder's physical condition than wakesurfing as the boat rides at a higher speed.

A wakeboard usually comes with a binding to connect your feet to the board, while your feet can move freely on a wakesurf board.
Can i do wakesurfing or wakeboarding if i cannot swim?
Everyone can enjoy wakesurfing and wakeboarding, even if you cannot swim. What you need to do is remember to wear a buoyancy aid! Wakesurfing is not as demanding on physical condition, it is easier for women and children to learn and play.
Where can i do wakesurfing or wakeboarding in hong kong?
The most popular spot for wake sports is Sai Kung. Southern District, Tseung Kwan O and Tai Po are also good for practicing these watersports. Our teammates are happy to share more information with you!
How long should i book for a wakesurfing or wakeboarding session?
Watersport players usually share a session with a group of 2-4 persons and take turns. You may book 2 hours for 2-3 persons and 3 hours for 3-4 persons. During the peak season, you should book the boat 2-3 weeks in prior.
What should i bring with me for my first wakesurfing or wakeboarding trip?

Our IPX8 waterproof phone pouch and floating cord can help you capture the best video of your riding while keeping your phone well protected.

To prevent sunburnt, sun protection and sunscreens are highly recommended. Bring your sunglasses and hats on a sunny day to ensure the best vision under sunlight.

The last reminder is, always do warm up before getting into water, and stay hydrated!