Hiking | HOW TO CHOOSE TREKKING BOOTS?
Choosing a pair of trekking boots can be tricky, and requires a good understanding of the type of trails you are going to walk on.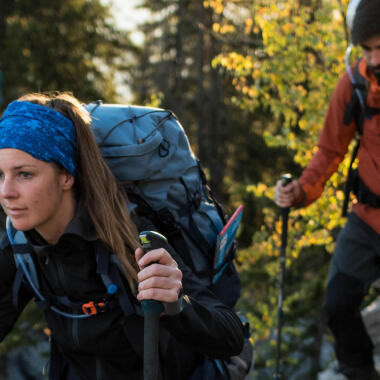 At Forclaz, we have identified 3 types of terrain:

- passable paths
- uneven trails
- off the beaten track


Consider what benefits you need for your boots, depending on the type of terrain:
- boots' flexibility
- level of sturdiness and protection
- level of overall support
YOU ARE SETTING OFF ON PASSABLE PATHS
For large paths, which are not too challenging, best to opt for flexible boots. They actually allow natural heel-to-toe transition, and you'll effortlessly cover plenty of kilometres. To make it heavier, protections are included in the most strategic areas : forefoot and heel. Lastly, the high-cut upper on these models provide good heel support, without making them too stiff, but serving to compensate for small footing misjudgement owing to tiredness, without restricting the joint's range of motion.~
SETTING OFF ON UNEVEN TRAILS
For narrow and uneven mountain trails, you have to select stiffer boots for extra support and agility on the technical sections: rocky slabs, embankments, muddy ascent or descent, etc. These more technical trails are "harsher" on the boots than passable paths. This is why, in general, there is greater protection and the materials more durable, providing an overlapping effect. The boot collar offers extra support on models made for uneven terrain, making it more comfortable on broken ground or embankments. 
VENTURING INTO THE BEATEN TRACKS
Lastly, on the beaten tracks, cairns are often your only point of reference. It is preferable to opt for stiff and higher cut boots with maximum protection.
Another important feature for trekking boots is the sole, whose grip and adhesion provide protection. That's why all models of Forclaz's boots come with maximum amount of adhesion fit for trekking on all types of terrain.

It's our commitment to safety. Are you ready to set off soon?