Hiking | tips for enjoying hiking in the rain
During the summer rainy season in Hong Kong, the weather can be hot and sunny one moment, and get rainy and stormy the next. Can I still go hiking in the rain? What should you do if you encounter a heavy shower in the middle of a hike? Should you continue or end your hike earlier? Here are some tips for enjoying hiking in the rain, to keep your hike happy and safe.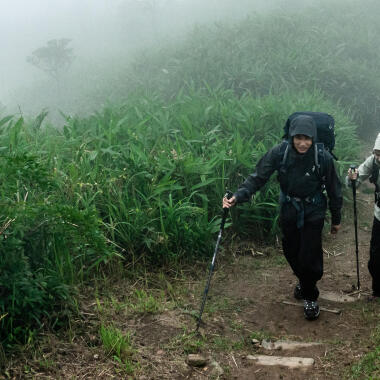 Can i go hiking in the rain?
Hong Kong enters the rainy season in June. The weather becomes hot and humid. Animals, plants and other creatures in the woods are active in the summer, showing you the other side of the subtropical city.



Hiking in small rain can be refreshing in hot summer. If you are an experienced hiker and have done your homework on weather forecast, hiking routes and personal gear, you can consider hiking in small rain. If the weather becomes worse than expected, it is always safer to end your hike earlier.



Remember to walk with caution on wet trails to prevent slipping. Also, do not hike when the Thunderstorm Warning is issued.
1. Check weather before hike
Hong Kong Observatory provides weather forecasts. Always check weather before your hike. Pay attention to temperature, wind direction, wind speed and precipitation. If there is a Thunderstorm Warning, DO NOT hike.
2. Adjust your routes
Easy routes are preferable for hiking in the rain. E.g. Concrete trail. Avoid routes near streams or rivers. Water level can rise rapidly, leading to flash floods and landslides. Mountain peaks and empty grounds should be avoided too; these are risky zones during a thunderstorm.
3. Personal gear for rainy hike
Waterproof yourself from head to toe! When you go hiking in the rain, do not forget to put your belongings in waterproof containers in your backpack. Keep your body dry and reduce the appearances of blisters, especially for your feet.
3.1 Waterproof jacket and trousers
There are many waterproof apparels in the market, pricing from tens to thousands. How to choose?~Waterproof material normally divides into 2 categories: Waterproof and Water repellent.



Water repellent means the water droplets slide away on fabric under attraction of gravity. Many jackets claimed to be rainproof but are actually water repellent. In areas where the rain is hard to slide, for example, shoulder belts or other areas with pressure exerted will make the water seep into the water repellent material. Therefore, water repellent apparels are more effective in the city than hiking in the rain in the countryside.
As hiking often means staying outdoor for several hours, waterproof fabric performs better than water repellent fabric. Below is a guide for waterproof fabric:



Waterproof level

The waterproof level of fabric is commonly measured in millimetres. Basic 2000mm waterproof jacket can withstand hiking in small rain, while a 15000mm waterproof jacket can keep you dry even in storms. In a word, the larger the number, the better the waterproof performance.




2.5 layer vs 3 layer

Except waterproof level, waterproof fabric can also be divided into 2.5-layer or 3-layer. Different structures affect waterproof level, ventilation, thickness and price.



Basic waterproof jacket = fabric + waterproof coating → Low waterproof level, affordable.

2.5 layer = outer fabric + waterproof membrane + inner film→  Thin, light and high waterproof level.

3 layer = outer fabric + waterproof membrane + inner anti-abrasion and breathable layer →  Highest waterproof level, and most durable.



Summer in Hong Kong is hot and rainy. If you go hiking in the rain, bring a light and highly waterproof 2.5 - layer jacket is the best seasonal choice. It takes only a little room in your backpack, but can keep you dry when you need it the most. If you are planning to go trekking abroad, a 3-layer jacket is a better option, as its enhanced waterproof treatment can keep you dry for a longer period of time.
3.2 Waterproof hiking shoes
The waterproof treatment for shoes is similar to apparel. It includes a water repellent outer coating, plus a middle waterproof layer. It is a must-have item if you go hiking in the rain.

Waterproof hiking shoes are useful in the summer of Hong Kong, even when not raining. The trail may stay wet with little water ponds for several days after a rain under the humid weather. With waterproof shoes on, walking on wet trails is not a problem anymore.

Except for the waterproof level of the shoe material, the height of hiking shoes/boots is also a major factor of shoes' waterproof performance. Low bolt shoes are flexible, but susceptible to water splashes; they should be used along with waterproof gaiters or replaced by high hiking boots. Some hikes like to stuff the end of trousers into hiking shoes, this will let water droplets slide in your shoes easily. The correct way is to cover your shoes with trousers, to avoid water or sand getting into your shoes.

Socks that can absorb sweats are essential. They allow sweat to evaporate easily. If you go hiking in the rain,  bringing an extra pair is also a good idea, in case the pair you are wearing get wet. Keeping your feet dry is very important. Wet shoes and socks not only make your feet smell, but also increase the chance of getting blisters.
3.3 Backpack rain cover
Though hiking backpacks are normally made of water repellent material, they cannot withstand rain for a long time. A rain cover is very helpful in a constant rain. It can protect your backpack from water and dirt. If it is a heavy rain, you can cover yourself and backpack with hiking poncho, to give you extra waterproof protection.
3.4 Waterproof bag/plastic bag for electronics protection
Cell phone, charger, bluetooth earphone should have waterproof protection too. You can buy an extra waterproof bag for them, or just use a plastic bag/lunch box in your kitchen. 

 

Try it! So are you ready for a rain hike now?