Last minute checklist for marathon
4 Equipment to Boost your 10km, Half Marathon, Full Marathon Performance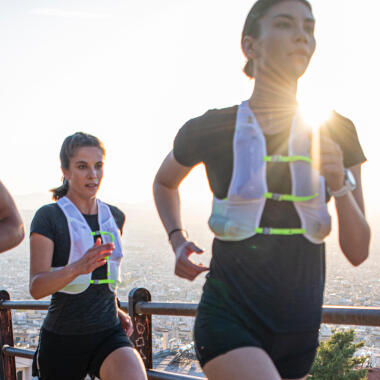 The first large-scale sports event in Hong Kong since the pandemic is happening soon, let's get well prepared for it.
Check out the below 4 equipment to boost your running performance and help you to break your personal best!
1. Clothing - lightweight and quick dry running t-shirt and shorts 
This year's competition will take place in late October, when the weather is still rather warm. A set of quick dry and breathable running clothing comes even more important. Polyester is known as a great athletics apparel material for its moisture management capability.  If you aim for good results in running competitions, also pay attention to whether the clothing is anti-chafing. 
2. Hydration 
Water loss varies between 0.5 and 1 litre per hour during a running session. But that can reach 2 litres depending on the intensity and weather conditions, causing dehydration. We recommend you to get hydrated everytime you pass through the water station. To be more eco-friendly, you may bring along a lightweight foldable water cup. If you also want to carry salt pills or energy gels, we recommend the specialised running belt. 
3. Sun protection
Whether it's a 10km, half marathon or full marathon, they take place outdoors. When doing sports under the ultraviolet for a long time, you would want to have good sun protection work ready. Wearing a running cap or a running sleeve is the most direct and effective way to block the ultraviolet. 
4. Recovery 
We all know we need to warm up before exercising, while post workout recovery is also as important. Many folks have experienced muscle soreness after high intensity sports. After a running competition, our feet, quadriceps, hip flexors, IT Band are prone to soreness as well. In such a case, foam rolling is our best friend to relax fascia and muscle. 
Making running accessible is the core vision of Decathlon. Whether you are running for health, running for competition, or running to challenge yourself. Decathlon helps you to find your rhythm and enjoy your pace.