Hong kong ultra-triathlon 260 challenge post-race interview
Running coaches Stephen Poon and Wai Hung have been hit hard by the Covid-19 pandemic. Despite being unable to take part in competitions, they have carried on training and recently completed the Hong Kong Ultra-Triathlon 260 Challenge, which they hope will inspire people to stay motivated and achieve their goals.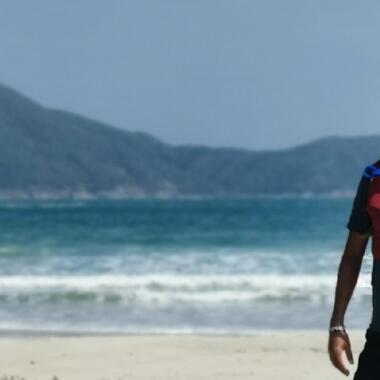 The Hong Kong Ultra-Triathlon 260 Challenge was designed by Stephen and Wai Hung, who decided to set themselves a new 260 km challenge comprising a 10 km swim, 150 km cycle ride and 100 km run in less than 40 hours. The challenge started with a swim at Sha Ha Beach in Sai Kung, followed by a long cycle route around Kowloon and the New Territories and a hill run along the mighty MacLehose Trail.
Challenger background
Tse wai hung(wai hung/tse sir)
Registered Track and Field coach

Coach of running group, OXYONE

Celebrity coach of TV show "疫境自強"
Challenger background
Poon wing shing(stephen sir)
Marathon finishing time:2hour 38min

Head running coach of NGO, weSport

First Hong Konger that completed run around Taiwan (2014) 

Author of《環台跑不是夢》
1. What was the idea behind the hong kong ultra-triathlon 260 challenge?
Stephen: With many restrictions, Hong Kong is not an ideal place for triathlons, so we usually go elsewhere to take part in competitions. There are lots of ultra-triathlons overseas, but training in Hong Kong isn't easy, so we weren't sure whether an ultra-triathlon would be feasible here. We've been thinking about the idea for a long time, but it wasn't until the pandemic took place, when all our coaching work was cancelled, that I got together with Wai Hung to discuss things in more detail.

Wai Hung: As running coaches, Stephen and I weren't able to work during the pandemic. Even though we couldn't travel to participate in competitions, we didn't stop training, and we came up with the idea of the Hong Kong 260 Ultra-Triathlon Challenge, which we hope will inspire people to stay motivated and achieve their goals.
During their 10 km swim challenge, Stephen and Wai Hung were joined by friends in kayaks, who provided support along the way.
2. As you did not have the support of an official organiser, what did you have to consider when planning your 260 km route?
Stephen: The considerations for each part of the challenge were different. For example, the swimming route did not cross any shipping lanes, so it was relatively safe, and we could rent kayaks to support us along the way. For the cycling route, we didn't want to do multiple laps of a short track, so we had to find a longer route. We also decided to start in the evening to avoid the busy traffic. The route, which passed through Kowloon and the New Territories, enabled us to see Hong Kong from a different perspective.

Wai Hung: In most ultra-triathlons such as the 226 km 'Ironman Triathlon', the running section of the race is a full marathon. In Hong Kong, without road closures, it's difficult to find a route suitable for a 42.195 km road run, so we decided to run the entire length of the MacLehose Trail. This increased the difficulty of the challenge and was an additional test for our endurance.
3. How did the ultra-triathlon 260 challenge differ from previous ultra-triathlons, both in terms of preparation and fueling strategies?
Stephen: In terms of preparation, it was very similar to other triathlons in that we needed to complete enough kilometres of training before the big day. We trained hard for each part of the race and tried out the route to see where we could stop for fuel and what kind of fuel we would need. We also had to plan the location and time of our rest stops.

Wai Hung: The longer distances meant that we needed a different fueling strategy. In a standard triathlon, the swim is only 3.8 km, so there's no need to stop and refuel, but in an ultra-triathlon the distances are longer and you have to think more about the final two parts of the race. This means stopping to refuel after a certain distance to ensure that you have enough energy to continue with the rest of the challenge. During the cycling section of a standard triathlon, we normally just take energy gels and other food that's easy to eat while riding so that you don't need to stop. However, in an ultra-triathlon, we stop to refuel whenever necessary. During our run along the MacLehose Trail, we had to refuel at regular intervals.
Decathlon Sport Leader Anthony (centre) joins part of the route.
Decathlon Sport Leader Anthony followed the triathletes and posted photos on social media to keep everyone up-to-date on their progress.
4. Both in terms of distance and the route, this ultra-triathlon was more challenging than previous triathlons in hong kong. what were your tips for the challenge, and was your training affected by the pandemic?
Stephen: This challenge was a test of willpower. Every time I felt tired I stopped and took a nap for 5 to 10 minutes. I listened to my body and refueled whenever I needed to keep me fit for the road ahead.

Wai Hung: The pandemic obviously affected our ability to train – for a few weeks we had to wear masks while running, which took some getting used to.
5. The hong kong ultra-triathlon 260 challenge involved completing a 10 km sea swim, a long cycle ride and a 100 km run along the maclehose trail. how did you feel on the day?
Stephen: At first I thought I'd have no problems finishing – it wasn't until the run that the real challenge started. I already felt tired at the start of the run, and around the half-way mark I even thought about giving up, which I'd never done before. I just decided to grit my teeth – even though I was too tired to run downhill and had to walk at times, my friends were there to cheer me up at each rest station, and Decathlon's Sport Leaders also helped to spur us on to the finish line.

Wai Hung: I had no problems doing each part of the challenge on separate days, but this time we were moving non-stop for 52 hours – we didn't have enough time to rest, so it was very challenging. Thankfully, Stephen was there to help me along, otherwise I would have given up well before the finish line!
Friends waited at the roadside to cheer Stephen and Wai Hung on during their cycling challenge. 
An ultra-triathlon involves being on the move for many hours and requires a high level of physical fitness. The most difficult parts of the 52-hour challenge tests the limits of human endurance.
6.What was the most unforgettable/difficult part of the challenge?
Stephen: The most unforgettable part of the challenge was the support we received from everyone, including Decathlon's Sport Leaders, who completed the challenge with us. The most difficult section was climbing Kai Kung Shan – I was already really tired and wanted to sleep, and the path was very rocky, so it was a real mental challenge.

Wai Hung: The whole route was challenging! For me, the swim was the most difficult part. Due to the tide, the water was very shallow at times, so I got injured by the rocks and shells. Also, at around half past ten in the evening when we were 12 hours into the challenge, I suddenly felt the urge to sleep, and my shoulders were aching after the long 10km swim. Thankfully, my friends were waiting to cheer me on along the route, and gave me the motivation to carry on.
7. Do you have any tips for running the maclehose trail? did you need any special gear? 
Stephen: Physical fitness is really important, so I spend lots of time training. I also use gear that helps boost my performance, such as Decathlon's trail running hydration pack, which has lots of pockets for storing your belongings. Best of all, it comes with height-adjustable chest straps. Decathlon really understands the needs of athletes and designs its products accordingly.

Wai Hung: We had to run 100 km, so our shoes were very important. Decathlon's MT Cushion trail running shoes have an excellent grip and are very lightweight, so they were very comfortable along the entire route.
8. Would you encourage other hong kongers to complete the ultra-triathlon 260 challenge? why? 
Stephen: Getting to the finish line is a real achievement! It just doesn't only test your physical fitness – it's also a real mental challenge, because it's so easy to give up.

Wai Hung: I really hope other people decide to take up the challenge, because you can always do better when there is someone else to motivate you.
After reaching Kai Kung Shan on the MacLehose Trail, Stephen and Wai Hung still had plenty of energy, but fighting the urge to sleep was mentally challenging.
To support their challenge, Decathlon has sponsored 2 full sets of gear.