Sup | 3 benefits for your body, mind & family
The nice thing about stand up paddle is that you do physical activity without realizing it. At the same time, you would also benefit from the spirit "escapes" thanks to a new and stimulating environment, and an original point of view on the earth and the sharing of these nautical pleasures.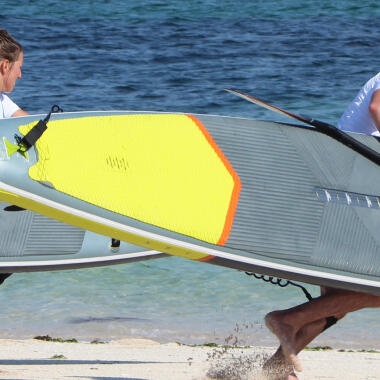 Tone your muscles
Rowing on the stand up paddle, even at slow pace, requires the cardiovascular system but also a lot of muscles:          

 - legs that provide stability (proprioception),         

 - the abdominal belt that transmits the rowing effort to the board      

 - the upper body (shoulders, arms, dorsal) which is activated in the rowing movement. If you use an inflatable paddle, using the pump for a few minutes to reach the correct inflation pressure is also a good way to warm up before practice.
Go on an adventure
Evolving on the water in an unfamiliar environment is like going on an adventure near your home, rediscovering the land from the water, going where you've never been before. Without necessarily much to get away from the edge, you can easily reach very quiet places in the countryside. This sensation of freedom and discovery is exhilarating and makes it easy to get rid of your daily worries. Be careful, you may want to go back to the water very quickly!
Family fun
With a single stand up paddle, you can have fun with your family. It's easy to take your kids to the front for a stroll. And you will see that they will soon want to try to stand up and paddle like you. In any case, they will use your board as a floating pontoon from which they will dive again and again! And if you have a second stand up paddle, you get the 2-way getaways on the water, where everything is quiet.
Starting a new sport
After the hesitations at the beginnings, have you decided to put yourself seriously into Stand Up Paddle? You can go for longer and longer tours along the coast at sea, on a lake or on a river by loading your board with waterproof bags.~Or put you to participate in local races with a long, slender board.~Or you burst into the waves with a board of supsurf.~Or all the three alternately because finally, why choose if everything is possible?
IF I HAVE NOT CONVINCED YOU WITH ALL THESE ARGUMENTS, I SUGGEST YOU TRY STAND UP PADDLE AS SOON AS POSSIBLE. AND WHO KNOWS, MAYBE YOU WILL BECOME AS ADDICTED AS ME ...